Frustrating Moments In Bears History – Episode V: 2014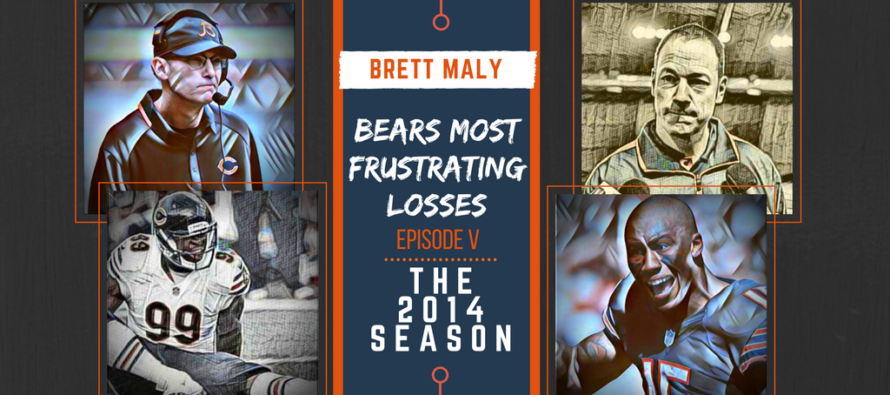 As bad as things are with today's Chicago Bears, at least there are no delusions of grandeur, no lofty playoff aspirations, no Super Bowl dreams to be crushed. (Back-to-back victories is a major milestone for the current administration.) There's just simply no point in getting frustrated when expectations are so low.
That wasn't the case entering 2014. The Bears were a fluky 4th down bomb from Aaron Rodgers away from a division title and playoff birth in 2013, coach Marc Trestman's first year, and looked loaded for Bear(s) going into the season. We had two 1,000 yard receivers in Brandon Marshall and Alshon Jeffrey, a 1,000 rusher (and 600 yard receiver) in Matt Forte, a Pro Bowl caliber tight-end in Martellus Bennett (916 yards and 6 TDs in 2014), and a mercurial, yet immensely talented QB who had a slew of weapons at his disposal and an offensive minded head coach. Dreams of a return to division dominance danced in the heads of most Bears' fans.
It certainly did in mine. I'm not normally a smack-talker (as a Bears' fan, what smack can I talk?), but when a Packer buddy posted a meme of Aaron Rodgers to Facebook following his last second, season-ending dagger to Randall Cobb which read, "You broke my collarbone, I broke your hearts," I let him have it. Here's exactly what I posted in response:
You won this round, but the balance of power in the division is shifting. We finally have a GM who can identify deficiencies–not just mask them. I lost respect for both McCarthy and Capers as coaches this year. The talent on the Packers was good enough to overcome their coaching deficiencies, but I think this may be their last hoorah.
The tide is turning, that's all I can tell you. The Bears aren't afraid of the Pack anymore and their stretch of dominance is ending. I know you can feel it, too…you're just in post-victory denial.


Mark my words, the Bears will win the North next year. 
Oops.
My friend, to his credit, has only rubbed my nose in it a couple of times. (He's a Packer fan—he can afford to be benevolent.) But can you blame me? Years of frustration came to a head in that post. Outside of Lovie Smith's first couple seasons, my entire adult life the Pack have raped and pillaged our Bears like Vikings in a Norwegian fishing village.
And in defending them I was the village idiot.
It's surreal how spectacularly the Bears went off the rails that season. Not content with their usual injuries and incompetence, 2014 featured locker room fights, player altercations with coaches, and anonymous Woodward and Bernstein-esque leaks to the press.
Brandon Marshall wonders which of his teammates leaked Aaron Kromer's apology http://t.co/3tw1TFPKfX

— ProFootballTalk (@ProFootballTalk) December 13, 2014
Lamarr Houston injured himself celebrating a sack with the teamdown five touchdowns.
Where's Gary Sinise when you need him? #Bears pic.twitter.com/jHLszpqahe

— Command Sign (@CommandSign) October 27, 2014
Brandon Marshall seemed to cry during every interview.
Look at Brandon Marshall crying like a little girl after that 4th down. Smh sit down. Face it we suck this year

— Jacob (@Cubs2016champs) October 19, 2014
Jimmy Clausen (!) started over a healthy Jay Cutler.
Dogs and cats living together… mass hysteria!
I was never an angrier fan than I was at the end of 2014. Football seasons are precious, and that one was a complete waste. It's one thing to suck (I've seen plenty of sucky Bears teams in my life), but the four-month slide from hopeful to hopeless was particularly painful. There were no dynamic young rookies to watch develop, no burgeoning team chemistry, no hope that brighter days were ahead. It was simply one fiasco after another.
So count your blessings this holiday season, Bears' fans. The only thing that got me through the holidays in 2014 was the promise the season was ending.
At least 2017 is a season ending with promise.
Brett Maly
Brett lives in Vegas, baby. Vegas. When he's not appraising and selling fine art in Las Vegas, where he appears as art expert for History Channel's PAWN STARS, Brett's indulging his other passions—his family and Chicago Bears football (not necessarily in that order)! Brett has a private Twitter account so if you want to contact him send an e-mail to bearndesert@aol.com
---
---
Related Articles
Vikings Barroom Assistant Editor Drew Mahowald reacts to the Minnesota Vikings acquiring Sam Bradford from the Philadelphia Eagles. After Minnesota
Five weeks into the 2014 NFL season and Green Bay fans finally got a look at the Eddie Lacy who
Draft Dr. Phil's Chicago Christmas captures the disappointment of being a Chicago Bears fan, but also how the Bears Barroom