Bears 100 Proof: Fire John Fox Rap Song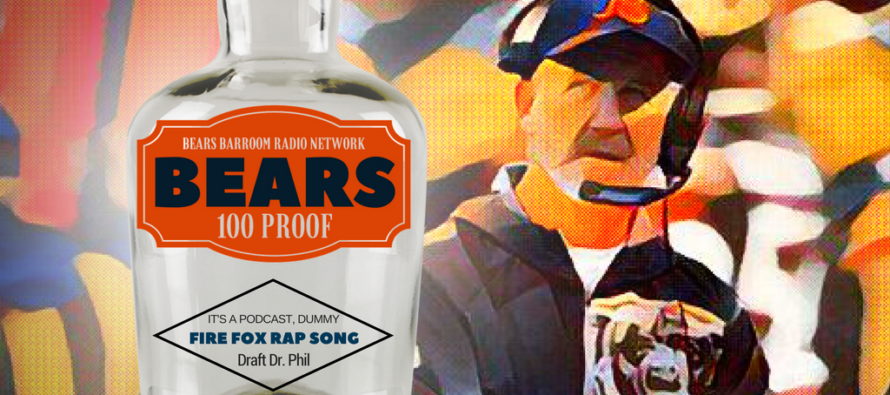 This week's podcast is the most special one in Bears Barroom Radio history. That's right. With over 250 different podcasts already out in cyberspace this is the first one that has introduced a totally original song. The rap tune is produced by Draft Dr. Phil Ottochian. Take a listen to this incredible production where Phil designed the music, wrote the lyrics and performed all of the vocals. Here's the show rundown:
Pre-Show Banter…. 00:00 – 01:32
Fire John Fox Rap Song … 01:33 – 05:19
Disclaimer ….. 05:20 – 05:53
Show Open… 05:54 – 16:35
Videos/Photos From You… 16:36 – 17:40
Why Fox Must Go … 17:41 – 45:54
Tweet Awards … 45:55 – 1:06:10
Bears Up/Bears Down … 1:06:11 – 1:27:44
Show Close …. 1:27:45 ….  1::41:59
Aldo Gandia
Among my career highlights I have produced two films while in high school that received nationwide attention; leaned out of a helicopter over the Gulf of Suez at the age of 20 to shoot movies of oil rigs; won an Emmy award for a sports special and another for a kid's fitness show; and led a team of very talented creative professionals to produce break-through corporate communications.
---
---
Related Articles
Bears Barroom loves to create short movies that capture the mood of our podcasts. Our latest reveals our slavish dedication
The guys end the show by giving their annual thanks… but before that there's two hours of Bears analysis, original
Vikings Barroom Assistant Editor Drew Mahowald is in Mankato for Minnesota Vikings training camp. He talked to a few players about