Fire John Fox Campaign Begins Today: #FireFox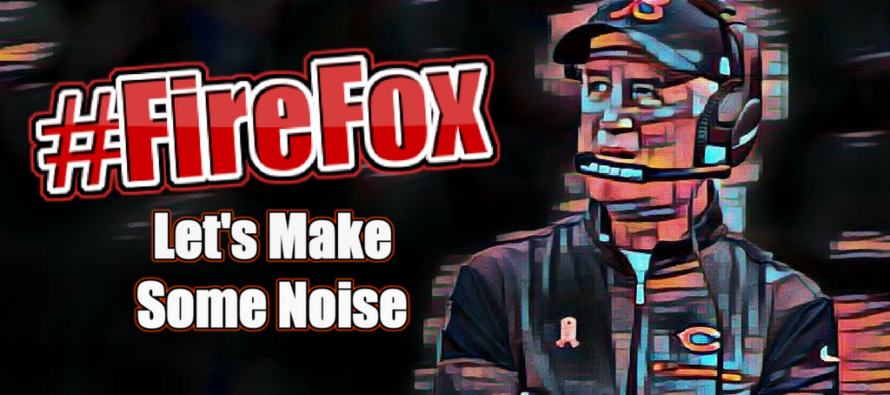 What happens at Soldier Field when the Bears' defense is facing a 3rd down play and the offense needs the ball back? The crowd makes noise. Lots of noise. The higher the decibel count the more helpful it is for the Bears. That's the idea behind what we're doing here at BearsBarroom.com. We're making noise to help the team.
We never thought we'd take an activist role to helping run the Chicago Bears, but its clear that we have to in order to correct the team's many problems. We've learned that the Bears management is ineffective at making decisions to move the franchise forward. Whether it's the playing surface at Soldier Field or the acquisition of free agent players with injury histories the Bears leadership team gets it wrong time after time.
Our first effort was our cry to replace quarterback Mike Glennon with rookie Mitch Trubisky. The movement started with Draft Dr. Phil Ottochian, the Barroom's senior analyst, openly questioning the team's decision to hand the starting position to Glennon without a quarterback competition. Then after the first preseason game Phil immediately pointed out that Glennon was not starting quarterback material. As the preseason games went on it was clear that Phil was correct and we later began our #TrubiskyNOW movement.
Did our social media efforts, movies, podcasts really lead to the Bears making a quarterback change after four games? Unlikely. Nonetheless, we feel it's important to make noise.
And now our noise is directed at head coach John Fox. We here at the Barroom want the Bears to relieve Fox no later than October 30th the day their bye week begins.
We do not take the demand that someone lose their job lightly. But, the facts supporting our case are undeniable. They include, but are nor limited to:
A 10 and 27 won lost record
A 5-14 record at Soldier Field
Poor player personnel decisions
Inept clock management
Question game strategies
Poor communication skills
A condescending attitude to fans and the media
There are more reasons why general manager Ryan Pace should fire Fox and we will cover them all in detail over the next few weeks.
But, now this post is intended to announce our campaign and seek your help. We ask that you use the hashtag #FireFox as often as possible on social media. We want to learn your reasons why Fox should be fired and will soon set up a voicemail box where we will ask you to call in with your thoughts. We also ask that you share all of #FireFox material. Retweet. Post on Facebook. Tell your friends and family. Make noise!
Aldo Gandia
Among my career highlights I have produced two films while in high school that received nationwide attention; leaned out of a helicopter over the Gulf of Suez at the age of 20 to shoot movies of oil rigs; won an Emmy award for a sports special and another for a kid's fitness show; and led a team of very talented creative professionals to produce break-through corporate communications.
---
---
Related Articles
Why does Bears Barroom Chief Analyst Draft Dr. Phil Ottochian think that Mitch Trubisky gives the Chicago Bears the best
Vikings Barroom Assistant Editor Drew Mahowald explains why an Adrian Peterson rushing title will happen once again in 2016. In some ways,
The Bears Hour Live and Bears Barroom crew share their picks for the Chicago Bears draft over all seven rounds.