Fire Fox Rap Song Gaining Traction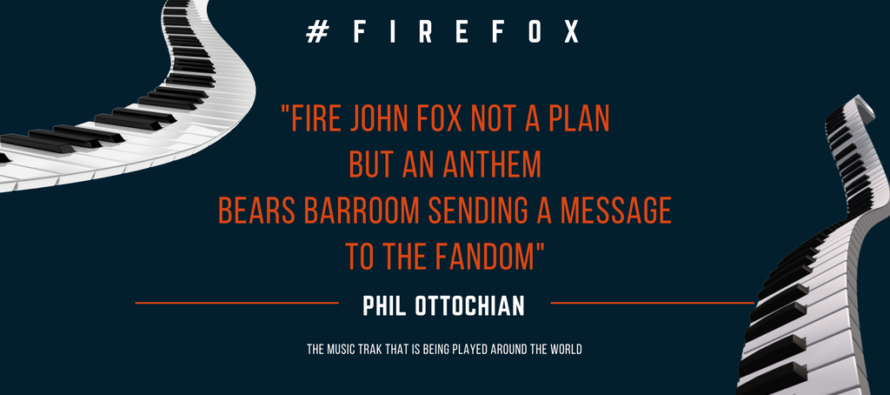 Phil Ottochian had a rap career long before he became Draft Dr. Phil. He's now dug back to his roots and combined his passion for the Chicago Bears and his love of rap to create a rap anthem imploring fans to support the #FireFox movement.
Released Wednesday October 25th, Bears Barroom fans from Canada to England, the Middle East to South America are sharing the song with friends and the response has been terrific.
TFW you wish you had the single in your playlist for your morning run.#NotAPlanButAnAnthem #FireFox @BearsBarroom @FulphilO pic.twitter.com/qEuRD8enbY

— BearsGrl (@BearsGrl80) October 26, 2017
The rap intro is epic!

— Moumo THE BEAR (@ChiBearLR) October 26, 2017
Great podcast but that rap song Phil! Fantastic work

— Mark (@DubaiMark) October 26, 2017
@FulphilO Wow, Phil You Killed It! Man, that was smooth! I'm putting that sh*+ on my playlist! Jayz looking for you boooy! Let's Go!

— George T Ray (@georgetray3) October 26, 2017
A music video is scheduled to be released next week…
Follow@FulphilO  @BearsBarroom and @wasram  for more info on all things Chicago Bears and #FireFox.

Make sure you keep sending us your videos and photographs.. we're planning on doing something special with them.
---
Related Articles
(Third in a series) Voting for the NFL Pro Bowl has come to an end with official rosters set to be announced on
I surrender. Like John Fox's team appeared to do Sunday, I quit! The Bears defense came out on to Lincoln
The Bears Barroom's smartest man, Shayne Marsaw, had a tweet go viral on the same day the solar eclipse was