Draft Dr. Phil Releases His First Parody Chicago Bears Christmas Song, "O Football Town of Chicago"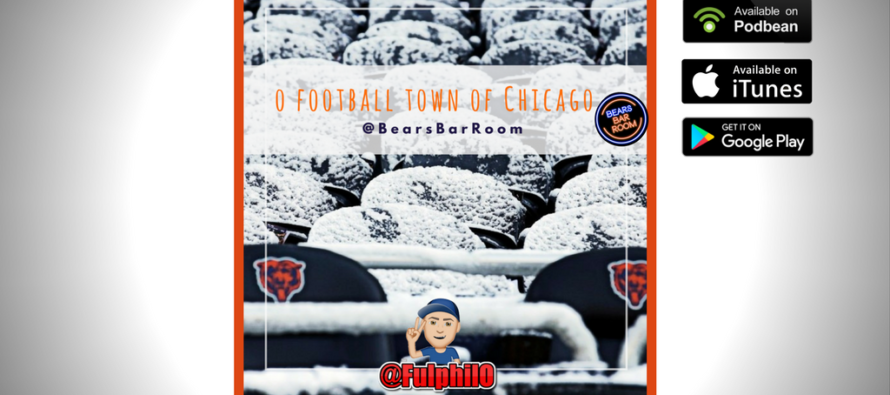 Draft Dr. Phil Ottochian has the well-deserved reputation of being a respected football scout and analyst. What many may not know is that one of his other passions is music. In fact, years ago he signed a recording contract. Football drew him back to his first love, but the fire to create music still burns.
Recently, his interaction with his fellow radio co-hosts and Barflies* has rekindled his passion to create music. He's already written, produced and performed several songs for Bears Barroom, including the highly requested Fire John Fox rap anthem.
Now, Phil is applying his musical talents to Christmas songs. But, they are not just holiday songs, they are parody songs with lyrics poking fun at our beloved Chicago Bears.
His first offering is entitled, "O Football Town of Chicago." And, over the next month, we'll release all 22 songs he's producing. Yes, 22! There will be one more this week… and then in the 20 days leading up to Christmas we'll release another daily.
Interested in getting a CD with all of the songs!?
Well, we're working on the details!
Below the audio player we have the lyrics for this song.
*Barflies is what we call the passionate Bears Barroom listeners, readers and friends.
Oh Football Town of Chicago
Where the Bears, they play their games
They used to be called the Midway Monsters
Now they call them a joke again
Oh Chicago Bears
Three years have been too long
This coaching staff is always lost
Decisions always wrong
Oh Football Town of Chicago
Your coach and field are a mess
Lay down the brand new field turf
Slip counts prevent success
Oh Chicago Bears
It's clear you need a new coach
Harbaugh, McDaniels, David Shaw,
Frank Reich or David Toub
Oh Football Town of Chicago
You finally got your young quarterback
Don't make the dreaded football mistake
Of bringing Coach John Fox back
Oh Chicago Bears
Hire a football man up top
Stop living off 1985
The losing ways might stop
O Football Town of Chicago
A football city you proclaim
There is an arrogant football coach
Who's won only 3 division games
Oh Chicago Bears
The Playoffs you bemoan
There is one answer to this mess
Ryan Pace bring Harbaugh home
Ryan Pace, Ryan Pace
Ryan Pace bring Harbaugh home
Lyrics and production by Draft Dr. Phil Ottochian
Aldo Gandia
Among my career highlights I have produced two films while in high school that received nationwide attention; leaned out of a helicopter over the Gulf of Suez at the age of 20 to shoot movies of oil rigs; won an Emmy award for a sports special and another for a kid's fitness show; and led a team of very talented creative professionals to produce break-through corporate communications.
---
---
Related Articles
Brian Urlacher is headed to the Pro Football Hall of Fame. Well, he's a step closer. Urlacher was one of 27
As frustrating as the 1995 season was, I still felt the arrow for the team was pointing up, and that
From the team that uncovered the secret conversations by Teddy Bridgewater, Adrian Peterson, and Greg Jennings, Vikings Barroom Investigates has