Doctor's Office: Cameron Meredith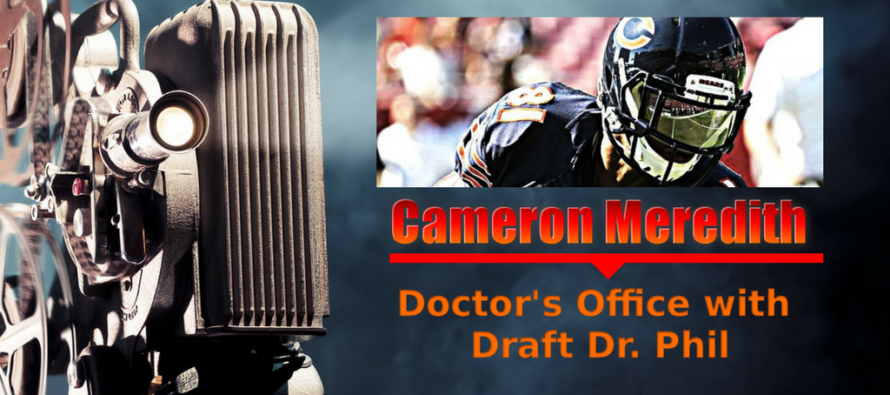 Phil Ottochian's video series, Doctor's Office, returns with a series of videos on integral players for the 2017 Chicago Bears. Draft Dr. Phil puts the stethoscope to wide receiver Cameron Meredith. The 2015 undrafted free agent from Illinois State finished his rookie season with only 11 receptions for 120 yards, but he showed promise. Certainly his size – 6'3″ and 208 pounds – quickness and grit didn't hurt him.
Meredith began his second season as the fifth receiver on the Bears depth chart. He took advantage of injuries to Kevin White and Eddie Royal and the four game suspension of Alshon Jeffrey. In his first career start (for the injured White) Meredith caught nine passes for 130 receiving yards and a touchdown against the Indianapolis Colts.
Meredith concluded the season as the most targeted receiver on the team. He finished the year with 66 catches for 888 yards and four touchdowns. His best game, arguably, was against the Washington Redskins when he caught nine passes for a season-high 135 receiving yards and a touchdown on Christmas Eve.
Ottochian is excited about Meredith's potential. In fact, he called for him to start over White early in the 2016 season because he felt Meredith was much more polished in his route running. At the end of the season the feelings on the part of the coaching staff were extremely positive about Meredith. Head coach John Fox said,  "I like his growth pattern and where he's going and that will catapult him to next season as well." Offensive coordinator Dowell Loggains added, "Where Cam has made the biggest jump is he has become very consistent. He has become reliable and the quarterbacks trust him."
---
---
Related Articles
Bears Barroom analysts Danny Shimon and Jose Cotto both analyzed the play of new Chicago Bears quarterback Mitchell Trubisky.
Producing this video on the top ten Chicago Bears players from 2000 to 2015 was a tonic for the recent
All it takes is a beer or two for Aldo Gandia to take a simple mock draft and make it