Desperately Seeking A Quarterback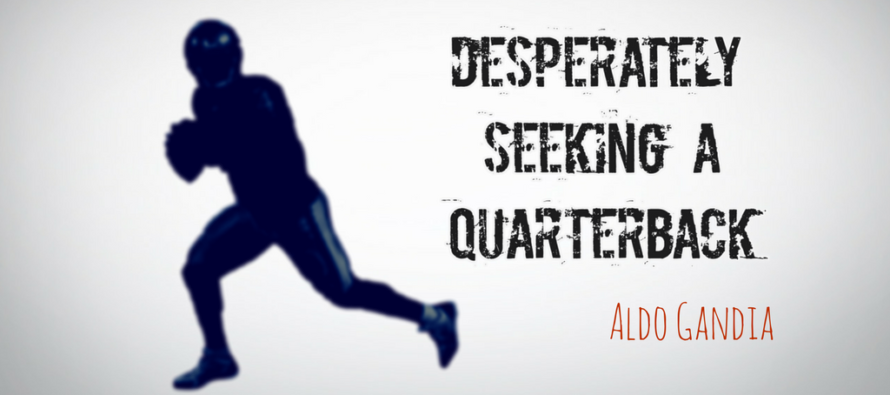 What happens when the Best Player Available philosophy, which Ryan Pace professes to abide by, means that the Chicago Bears' biggest need, quarterback, doesn't coincide with what is available with the third pick of the first round of the draft?
That's the dilemma currently facing the Bears general manager.
Ryan Pace is in an unenviable position. He's in his third year with the team and he has not yet solved the quarterback problem that's plagued the team since his arrival.
The main components of the Bears' DNA has always been defense and running the ball. For a long time that was the scientific way to win championships. But, in today's NFL the running back has been supplanted by the quarterback. Third round caliber quarterbacks have been elevated to first round status. For those quarterbacks, two years of carrying the clipboard and learning the game have been reduced to a couple of tape sessions.
Pace faces a draft where there are at least several quarterbacks who will almost certainly be chosen in the first round. NFL Network draft maestro Mike Mayock captured the essence of what's happening with quarterbacks in this year's draft when he said:
Mayock says these QBs have 1st Rd. talent but 2 rd. Grades pic.twitter.com/46RPzNpBfb

— Bears Barroom (@BearsBarroom) March 4, 2017

So, what is Pace going to do?
At his NFL Combine media conference Pace reiterated his intention to draft the Best Player Available. He also talked about how free agency will allow him to adhere to his business philosophy.  That has led pundits to deduce that Pace will solve his quarterback dilemma by signing Mike Glennon.
And, that's what all of the gossip about Glennon is about.
He currently has no agent. So, there is probably no one from the Glennon camp planting this information. And, Pace has proven to be more secretive than our country's intelligence agencies. So, I will deduce that a reporter speculated about Glennon, maybe correctly, and that the organism known as the media reproduced the speculation into headline news.
[graphiq id="hTqQzmnsly5″ title="Mike Glennon Career Passing Stats" width="600″ height="450″ url="https://w.graphiq.com/w/hTqQzmnsly5″ ]
But, I'm still very skeptical Glennon is Pace's top choice.
Pace is right to not reach for a quarterback with the No. 3 pick. Yes, all of the top quarterbacks offer some kind of promise, but, it's not the almost iron-clad guarantee that several other players offer.
Put it to you this way… most draft boards have Alabama tight end O.J. Howard at around No. 10.  I think that's fair.
Deshaun Watson, DeShone Kizer, Mitchell Tribusky are no where near Howard. If the Bears were choosing at No. 10, they'd be wrong to bypass Howard over any of these quarterbacks.
Jason Goff is the perfect example. Choosing any of this year's top quarterbacks with the No. 3 pick is as stupid as picking Goff was with the No. 1 pick last year.
So, what to do?
With Cutler a 99.99% certainty to go that means the only quarterback currently under contract for 2017 is Connor Shaw.
Shaw is that undrafted free-agent long-shot. He's hoping to follow the footsteps of Kurt Warner and Tony Romo.  It's unlikely he will. Pace signed Shaw to provide insurance in case Plan A, B and C go wrong.
Here's my guess on what those plans are:
Plan A: Without giving away his first round pick, Pace wants to trade for Jimmy Garoppolo. That's not likely to happen because Bill Belichick holds the cards. But, there's a remote possibility, despite what Adam Schefter, says that a deal could be arranged.
In a move that will have a ripple effect on all QB-needy teams, Patriots are not expected to trade QB Jimmy Garoppolo, per league sources.

— Adam Schefter (@AdamSchefter) March 1, 2017
What if Pace offers two second round picks (2017 and 2018) and wide receiver Kevin White. The oft-injured wide receiver might capture Belichick's interest. Dealing for Garoppolo, but without over-paying, is the biggest test Pace will face as Bears GM.
Plan  B: Trade down. Pace would love to add additional draft picks. So, trade the third pick of the draft and choose your (hopefully) franchise quarterback in the mid or late, or even, second round. If we learned anything about this weekend's NFL Combine it that this is a great draft to have as many picks as possible. The 2017 NFL draft is loaded with excellent athletes. Some of those excellent athletes may not be ready to offer immediate prime-time contributions, but with proper coaching could develop into really good football players.
Look at this scenario. The Cleveland Browns will pick Myles Garrett with the overall No. 1 pick (if not the franchise should move, overnight, to a city outside the borders of the United States). If the Browns likes one of the top three quarterbacks on the board, but believe neither will be there when they choose again with their next pick, No. 11, then they might be interested in moving up to No. 3.
If that happens, the Bears receive the No. 11 pick of the first round and Cleveland's top pick in the second round (No. 33 overall) and additional picks later in the draft (the Browns have 11 picks this season).
So, who is he Bears quarterback in this scenario? If Watson, Kizer and Trubisky are all gone at 11, then reach for Patrick Mahomes at 11 or maybe he falls to that 33rd pick. If not Davis Webb and Brad Kaaya will be there.
Is the bridge quarterback Hoyer, Glennon or someone else? If you're drafting a developmental quarterback with a first or second round pick you want a a mentor. I think that is Hoyer or maybe even (super longshot) Josh McCown.
Plan C: Okay so feelers have been put out and trading down seems improbable. Sign Glennon and find a developmental quarterback somewhere in the draft (staying true to the Best Player Available philosophy). But, you can not overpay for Glennon unless you really believe his upside is better than advertised.
When I found this fantasy football graphic it revealed that seven of Glennon's (statistically) best games were in losing efforts when garbage-time yards were easy to accumulate.
[graphiq id="aZVKBfdKYHb" title="Mike Glennon Best Games of Career" width="600″ height="651″ url="https://w.graphiq.com/w/aZVKBfdKYHb" ]
Keep in mind, though, that those games were all in Glennon's first two years in the NFL – the years he should have been carrying a clipboard. His development may have been inverse, but maybe he has developed.
None of this is as clear as we Bears fans want.
But, for me, what has become more clear this weekend is that Pace should stick with his Best Player Available philosophy. And, from what I've seen there are several better players available with the third pick of the draft than this year's top quarterbacks.
Aldo Gandia
Among my career highlights I have produced two films while in high school that received nationwide attention; leaned out of a helicopter over the Gulf of Suez at the age of 20 to shoot movies of oil rigs; won an Emmy award for a sports special and another for a kid's fitness show; and led a team of very talented creative professionals to produce break-through corporate communications.
---
---