Could the Oakland Raiders Trash Be The Chicago Bears Treasure?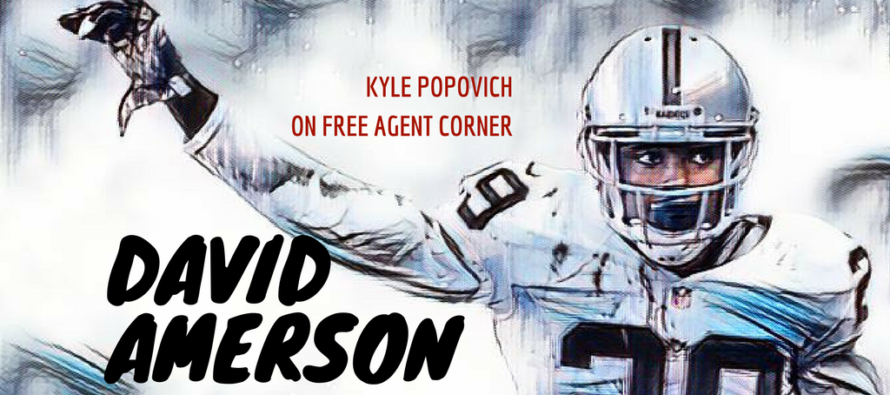 The Chicago Bears are in the market for help at the Cornerback position. With their top three corners due to hit free agency (Kyle Fuller, Prince Amukamara, Bryce Callahan) and Marcus Cooper Sr. almost certainly facing release for his disappointing season the depth is thin at the position. The Bears got great play out of former 1st round pick Kyle Fuller in 2017. After missing the entire 2016 campaign with a knee injury, Fuller rebounded with a season where he recorded a career high in pass breakups, two interceptions, and asserted himself as the clear-cut #1 CB on an ascending defensive unit.
These CBs made plays in 2017! pic.twitter.com/0Ns3ImXxqj

— Pro Football Focus (@PFF) January 29, 2018
The lowest catch rates on contested passes from 2017 pic.twitter.com/NB0YTayPhr

— Pro Football Focus (@PFF) January 4, 2018
Unfortunately, the Bears did not pick up Fuller's 5th year option (rightfully so, at the time) and he is now due for a major pay day. The hope is the Bears find a way to lock down Fuller long-term before he hits the open market. The team could slap the Franchise Tag on Fuller, as the process begins February 20th.
As it seems, though, the Bears already have their sights set on finding cornerbacks. According to Ian Rapoport, the Bears immediately scheduled a visit David Amerson who was released by Jon Gruden's Oakland Raiders.
Free agent CB David Amerson, released yesterday by the #Raiders, is already garnering serious interest. He's visiting the #Bears tomorrow, source said. Other FA visits are scheduled.

— Ian Rapoport (@RapSheet) February 6, 2018
David Amerson was released by Oakland on February 6th, a move which saved the Raiders $6 million in cap space. Amerson had a down year in 2017, just a year removed from inking a 4 year, $34 million dollar extension. In 2017, Amerson played only six games before suffering an ankle injury in week 7 that ended his season. In those six starts, he racked up 18 tackles and just 4 passes defended.
Now Ex-#Raiders CB David Amerson allowed a 156.3 passer rating before going down injured in 2017, ranking dead last among the 159 NFL cornerbacks to play at least 40 coverage snaps this past season.

Injures, drop in production surely led to Amerson's release. https://t.co/PCoRBrTQGN

— Austin Gayle (@AustinGayle_PFF) February 5, 2018
#Raiders release David Amerson. QBs targeting Amerson this year completed 23 of 31 for 391, 4 TDs, 155.6 rating. That was highest rating vs any defender w/ 20+ targets per @SportradarUS

— Josh Dubow (@JoshDubowAP) February 6, 2018
David Amerson's Background
Amerson entered the league young, only 21, when he was drafted 51st overall by the Washington Redskins in 2013. At North Carolina State, Amerson was a takeaway machine with 18 collegiate interceptions (13 in 2011, which led the nation). He spent his first two seasons as one of the Redskins primary cornerbacks, playing in 31 games and starting 23 of them. He compiled 109 tackles, 17 passes defended and two interceptions in his first two seasons combined.
#Raiders David Amerson pick-six off of #Chiefs Alex Smith. Amerson was #Redskins 2nd round pick that OAK claimed – https://t.co/ME4jB99mPC

— Dov Kleiman (@NFL_DovKleiman) January 3, 2016
In 2015, Amerson was waived by the Redskins after week 2 when he slipped in the Washington depth chart. The Oakland Raiders claimed him, and that's when Amerson's career took off.
Amerson immediately picked up the Raiders' defense and made an instant impact with the club. His next 14 games would end up being a career year for the ascending cornerback, as Amerson's 2015 season ended with 58 tackles, 4 interceptions and 25 PBU's, which would finish 2nd in the NFL. Amerson followed up his breakout year with another strong 2016 campaign, where he earned an extension and became a building block in the Raiders secondary. In 15 games, he finished with 64 tackles, two interceptions and 16 PBU's.
David Amerson meets with #DaBears today. I am no expert on David Amerson, but here are a few highlights from 2016 that show he has the talent to be something in this league. Great closing speed to get a hand on the ball and break up plays. I will be thrilled if we land him🐻🏈 pic.twitter.com/TF8ogoN5Vn

— Midway Monster (@Jmuller402) February 7, 2018
Since joining the #Raiders in 2015, David Amerson's 43 Passes Defended rank second-most in the league.

— Maliik (@Obee1ne) August 12, 2017
Fit in Chicago
As I like to believe; one man's trash is another man's treasure. David Amerson has the potential to be a buy-low/high-reward signing for GM Ryan Pace. Amerson will likely come cheap on a short-term/prove-it deal, and will likely make significantly less than his projected $6 million dollar cap hit for 2018. When projecting a deal, these are contracts that come to mind:
Prince Amukamara (CHI) – 1yr/$7m
Morris Claiborne (NYJ) – 1yr/$5m
J. Hayden (DET) – 1yr/$3.75m
Still only 26, Amerson has proven he has high upside ability as a physical corner, who's played both press and zone. He's not a No. 1 cornerback. But, Amerson can very well succeed as a No. 2 or 3 option. This is exactly what Pace should be looking for, as their first priority should be locking up Fuller. Next step at the position is to find a playmaker opposite Fuller, and Amerson has that upside. Prince Amukamara (14 games, 48 tackles, 7 passes defended) was a fine #2 in 2017, but he turns 29 in June and the turnovers were not there.
2018 Free Agency Preview: Chicago Bearshttps://t.co/AKar7xe3IJ pic.twitter.com/RkyNCEmsQX

— Pro Football Focus (@PFF) February 7, 2018
The Bears should look to get younger and more aggressive at the cornerback position, and Amerson offers just that. His length/size combo (6'1, 205) is ideal for what Fangio likes out of his cornerbacks, and his history of being around the ball could pay off in the long run for Chicago and a defense that is trending in the right direction. The Bears fielded a top 10 defense in 2017, and had the 7th best pass defense in the NFL, only allowing 211 YPG. If Amerson can get back to his '15-'16 form, he could very well be the steal of free agency, and potentially create a lethal pairing at corner with Kyle Fuller. A secondary that already has its safeties locked in with Adrian Amos and Eddie Jackson (and as Barfly Alec Lifschultz calls them: "The Smash Bros."), locking up Kyle Fuller and adding David Amerson may help this secondary take that next step, making Vic Fangio's defense that much more improved heading into 2018.
---
---