Ciarán's Comments – Lions Bears Preview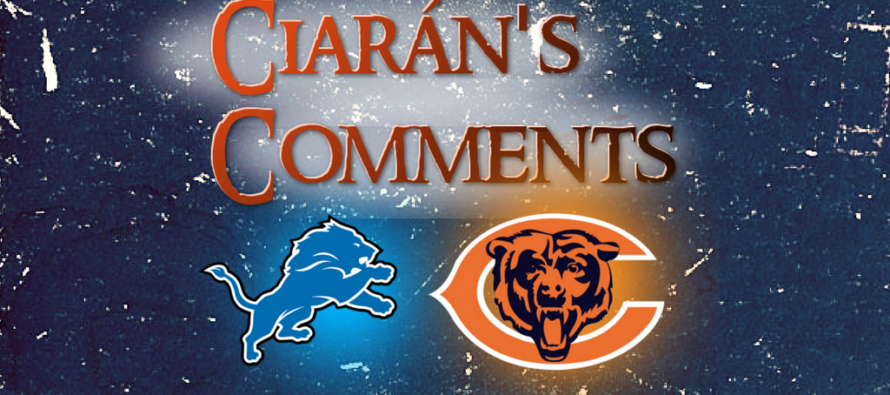 As always I begin my preview of the upcoming Chicago Bears game with a review of their last game… and if you thought I was a disgruntled fan last week… well… hold my beer.
What can this Irishman say… Another all-too common result from another Packers – Bears game with Chicago failing to defeat their arch rivals. The difference Sunday was there was no Aaron Rodgers and the Bears were overwhelming favorites … yet they still found a way to lose the game. That is exactly what bad teams do. They find ways to lose. The Bears did that in 2016 with losses to the Colts and Jaguars and now in 2017 against Green Bay. This loss though is the most frustrating feeling I've ever had after a loss to the Packers.
You remember the 2015 Thanksgiving win over the Packers at Lambeau Field. That Bears team was fired up and won because they were more motivated to win than the Packers. The Bears, though, have never looked that fierce again. They are 7-22 since that game. Do you remember a game since that Thanksgiving win where the Bears came out with a will to win that gave you hope they could line up with anybody?
The Bears' coaching staff's inability to get players prepared for the game has me filling my beer mug yet again. It is now three straight seasons that the Bears have come out flat from a bye week. It has been a staple of the John Fox administration.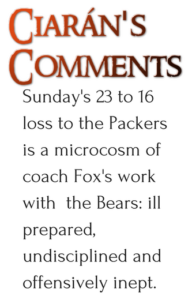 Sunday's loss to the Packers is a microcosm of coach Fox's work with the Bears: ill prepared, undisciplined and offensively inept. The gameplan against Green Bay was an utter embarrassment. Fans, analysts and the game's TV commentators are now predicting play calls with amazing accuracy. If that is allowed to happen how easy is it for a defense to replicate and shut down the Bears offense.
This is what Packers' linebacker Clay Matthews said after the game, "We ended up with five sacks, a number of quarterback pressures and hurries. That's what you expect to do when a team is so one dimensional."
On offense, the protection for Trubisky was atrocious. Do I have to tell you that Hroniss Grasu is not an NFL calibre center. He was consistently pushed back into Trubisky and probably could've sacked Trubisky himself by the way he was playing.
Here's Grasu again I'm sick to my stomach this is only 4 plays in….he knows the snap count, he doesn't get help on the shade, but has to work hard to the whistle and stick to his man for cutback. He's content @BearsBarroom pic.twitter.com/iwdjYP32jm

— Draft Dr. Phil (@FulphilO) November 13, 2017
The Bears are scheduled to have Kyle Long back against the Lions and even a 50% healthy Long at guard is better than a 100% healthy Grasu on the roster.  If Grasu has to play again this Sunday it will be another long and dangerous day for Trubisky.
I was extremely irritated by Dowell Loggains' offensive play calling. Yes, the Bears did some good things in the 2-minute drill, but their run-run-pass pattern through most of the game made Loggains' play-calling pathetically predictable.  Additionally, personnel decisions and penalties limited what the offense could do.
In what world is Josh Bellamy a better wide receiver that Tre McBride, Markus Wheaton or even Tarik Cohen.
Adam Hoge, in his recent WGNRadio.com column pointed out that Cohen's snaps are dramatically decreasing as the season goes on. This despite the coaches' assertion that Cohen is the most explosive offensive player on the team. From Hoge's column these are Cohen's snap counts by game, with the percentage of offensive plays in parentheses:
ATL: 28/67 (42%)
TB: 40/64 (62%)
PIT: 28/65 (43%)
GB: 18/68 (26%)
MIN: 17/61 (28%)
BAL: 26/80 (32%)
CAR: 7/38 (18%)
NO: 18/67 (27%)
GB: 13/60 (22%)
The decisions being made by the coaching staff are extremely worrisome.
The penalties against the Packers, after a bye week, speak to a team coming out of the tunnel un-focused and not ready too perform at an elite level!
The only bright spots I can point to offensively is that Trubisky is doing better when he is blitzed. He made some very accurate throws and his bomb to Bellamy came on a blitz.
TRUBISKY TO BELLAMY

LET HIM THROW
pic.twitter.com/fquCYPNIfu

— Thankful Mitch 🦃🥔 (@DrunkTrubisky) November 12, 2017
Dontrelle Inman is another positive. He made some good plays even if he did drop a critical pass late in the 4th quarter and finally there was an Adam Shaheen sighting. However, I go back to the decision making and the Bears coaching staff, after an impressive first quarter from Shaheen. Trusbisky threw him the ball twice and after that… zero! Shaheen was only on the field for 13 passing snaps out of 40.
So, heading into the team's 10th game what we have is this: coaching decisions are getting worse, penalties are increasing and the team is on another precipitous decline.
Defensively, it was awful from the lack of a pass rush against a banged up offensive line, 2nd string QB and 3rd string RB, the Bears defense got dominated. They made Brett Hundley look like Rodgers. They were unable to stop the run or the pass, it was probably the worst defensive performance by a Vic Fangio team in a long time. Kyle Fuller was singled out by Green Bay and he couldn't handle the fire. He was attacked and there was no answer. All that can be said is that the defense needs to learn from their mistakes and bounce back quickly with an impressive performance against the Lions.
Bears Vs Lions Thoughts
Chicago Bears (3-6)
Detroit Lions (5-4)
This Bears team is now at a crossroads. At 3-6 and with the Lions coming into Chicago a loss to Detroit will be disastrous. That would mean three straight losses and with the Philadelphia Eagles looming in week 12 the Bears are facing four straight losses. Last year, the Bears finished the season with four straight losses. And, they had three stretches of three straight losses!
A loss to the Lions makes it difficult to imagine that Fox's players won't start looking towards 2018. Players will know that Fox is a lame duck. He won't be back as head coach in 2018 and when that occurs, guys typically zone out and fail to give 100% effort on a weekly basis. So, I'm afraid to say, we have not hit rock bottom in 2017 but that is where this sinking ship is headed. The game against the Packers was a must-win game because it will be extremely difficult to generate positive results from the Lions and Eagles games in the next two weeks.
The Bears, by my estimation, will only be favourites in two more regular season games, against the lowly Browns and 49ers. And, keep in mind, that by the time the Bears face the Niners Jimmy Garoppolo will be under center and it's possible the Eastern Illinois product could lead an upset of the Bears at Soldeir Field. If that happens the Bears would fail to win more that 6 games and still not surpass Fox's best year with Chicago (6-10 in 2015).
As fans, many of us are already beginning to look beyond this season. However, I hope our Bears' players and coaching staff are only focused on the Lions. We need to show progress and develop a winning attitude. The team needs to take it one game at a time and pull out a surprising win Sunday.
The Lions have been an inconsistent outfit in 2017. While they have now won two straight games the victory over the Cleveland Browns last week, at Ford Field, was unimpressive. The Browns had two lead changes in the game and might have pulled off an upset if not for DeShone Kizer's injury. He, inarguably, played his best game of his rookie career.
The Lions top to bottom have a better roster offensively than the Bears. They will trouble the Bears defense. However, on the other side of the ball, with a varied and balanced offensive gameplan, this Lions defense can be attacked. The Lions will be without run stuffer Haloti Ngata and pass rusher Ezekiel Ansah.
Keys to the Game:
Games between the Lions and Bears have historically been tight. In the last four meetings the Lions have won by three pints twice (one in overtime) and four points once, while the Bears won by three last season at Soldier Field (17-14).
The Bears, again, need to keep it close and ensure they are not giving away field position with needless penalties. When coming up with keys to a Bears victory it's all about the basics:
Be Prepared. The Bears came out last weekend flat, uninspired and totally unprepared to face the Packers. If that is replicated, the Lions could score early and often and the Bears do not have the talent to come back from a substantial deficit.
Limit the Penalties. The Bears under John Fox have been undisciplined and that has effected the offensive production. The Bears need to ensure they are not giving away yards to the Lions and put themselves in a position to be successful.
A Balanced Attack. The Bears need to run the ball and open up the passing game. A they need to trust their quarterback. Utilize more formations, alter the sequences of when they run and pass and give him more audible possibilities. It is essential that the offense become unpredictable.
Makes the Lions One Dimensional. It is imperative that the Bears force Matthew Stafford into mistakes to win the ballgame. In order for that to occur, the running game needs to be stopped. The Lions, amazingly, haven't had a 100 yard rusher since Reggie Bush and Jahvid Best. The Bears need to ensure that doesn't happen on Sunday.
My Prediction:
Detroit Lions 28
Chicago Bears 14
All of the confidence I had in the Bears going into the game against the Packers is now gone. It was a false sense of optimism. Until the Bears can show that they can put together a professional offensive game plan and limit mistakes, I will not pick them to win many, if any games, for the rest of the season. The Lions have too much firepower for the Bears to be able to keep up. While I see the Bears' defense improving on Sunday, I can't see them holding the Lions to a very low score which is needed in order to win the game.
The Bears need to show signs of accountability from last Sunday, the only way that occurs is with a tough hard nosed performance against the Lions. The coaching staff's days are numbered. With a new coaching staff comes a new locker room, the players are playing for their Chicago Bears futures. On Sunday, we will see those who are commited to the Chicago Bears and those who need to be shipped off along with John Fox and Dowell Loggains.
Bold Predictions:
Mitch Trubisky throws for 250 + Yards and 1TD and 0 INT's
Eddie Jackson gets his second INT of the Year.
Tre McBride gets more snaps than Josh Bellamy.
Aldo Gandia
Among my career highlights I have produced two films while in high school that received nationwide attention; leaned out of a helicopter over the Gulf of Suez at the age of 20 to shoot movies of oil rigs; won an Emmy award for a sports special and another for a kid's fitness show; and led a team of very talented creative professionals to produce break-through corporate communications.
---
---
Related Articles
Sleepers. They are the players that can elevate a team from pretender to contender. The Bears hit on one in
If you've never played Fuck, Marry, Kill the rules are pretty simple. You name three people and you determine whether
Matt Krier — @matthewkrier — is a lifelong Minnesota Vikings fan. He remembers fondly a man who we lost all too soon,