Ciarán's Comments: Bears at Lions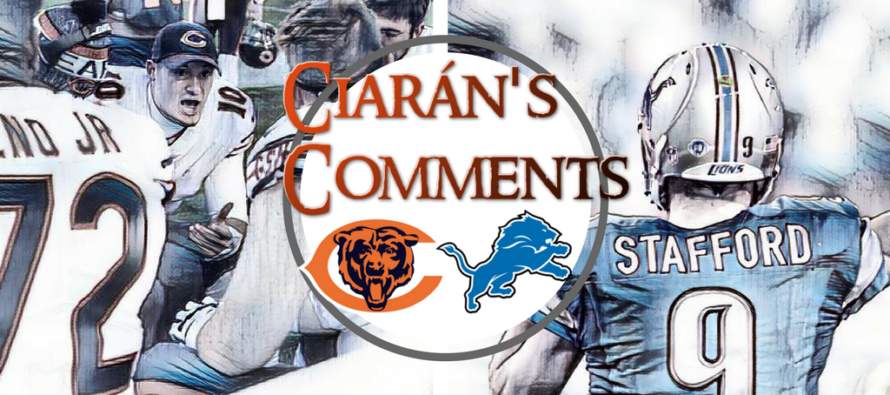 As always I start my preview of the upcoming game, Bears at Lions, by reviewing last week's Chicago Bears game.
Chicago Bears 33
Cincinnati Bengals 7
After a devastating and soul crushing loss to the San Francisco 49ers in week 13 the Chicago Bears followed up in the most surprising way possible. The crushed the Cincinnati Bengals on the road. Yeah I didn't expect that either.
It took Bears took 13 regular season games to look like an NFL offense. The play calling was much better, the personnel use was almost impeccable (Mike Burton go away!) and the offensive line gave quarterback Mitch Trubisky time to scan the field and make plays.
However, while all of this is positive moving forward into 2018, what the victory did was hammer the final nail on the coffin for John Fox's tenure as Chicago Bears head coach.
WHERE WAS THIS 13 WEEKS AGO or even 10 weeks ago or five weeks ago or against the GOD DAMN 49ers???
This Bears offensive display can not solely be attributed to a wounded (physically and emotionally) Bengals team. The playcalling was more balanced and there was clearly a flow to the offense. This is something that has been missing in the Bears' playcalling and has led to mistakes by Trubisky. Dowell Loggains has continually failed in calling plays that would help the offense get into a rhythm.
It finally happened on Sunday. Too little too late for this Bears fan, while it gives me hope for the future, it just pissed me off that we had to endure three weeks of Mike Glennon and 9 weeks of stale, disgusting offensive football because John Fox dictated a conservative, predictable offense. There has been signs for weeks that it was the head coach holding the offense back. Trubisky said as much and now this week, Kendall Wright, who was a standout performer on Sunday made a very interesting comment on the state of the offensive coaching and game planning.
" Antonio Brown will go out there and have fifteen targets, and he's great. You come to our game, we have two, and 'Oh, the Bears need receivers. They don't need receivers. When you balance it up, you see what us and our receivers do."
Kendall Wright's comments are not only scathing about the lack of effective coaching and game planning, but they are incredibly accurate.
All season long I've posted, in my keys to the game section, the need for the Bears to run a balanced offensive attack. Now we have proof that a Bears offensive attack, when balanced and unpredictable, can be effective. When wide receivers have been criticized by pundits, they have not really seen what is visible on the tape. Receivers and tight ends are creating separation. Not every play. Of course not. But, there are opportunities downfield.
Don't get me wrong, the Bears offense should always start with #10 and #24, but that does not mean you use the same formations, the same plays and telegraph every damn move. Those are invitations for the defense to stack the line with eight or nine defenders. Change it up, mix up the plays and keep defenses guessing.
Was Trubisky ready to take advantage of those opportunities downfield? He would have been if allowed to compete for the starting quarterback job. It's was the first big blunder of Coach Fox's 2017 season. Perhaps, he thought the veteran Mike Glennon was going to help him keep his job. Instead, Glennon being gifted the starting gig was the first nail on the coach Fox coffin.
It is going to be time for change very soon and I for one am excited and positive about my team moving forward. While, we need to upgrade in many areas we have one thing many teams looking for a new head coach do not have, the answer at the quarterback position.
Now, back to the game. This was a game for Ryan Pace to feel more confident about his 2017 draft class.
Trubisky was sharp and controlled the game from start to finish throwing for over 270 yards and scoring a rushing and passing TD. Tarik Cohen was dynamic. He had a TD called back for stepping out of bounds, but he was electric and was creative with the ball in his hand. Jordan Howard on the other hand was predictable, but unstoppable. He was bruising the Bengals defense. He's a patient runner who finds his hole and hits it with such force that arm tackles become missed tackles Howard was my MVP of the offense against the Bengals.
After an 18 yard pass play the #Bears roll with Cohen on a direct snap & 2 rushes by Howard for the TD. #CHIvsCIN pic.twitter.com/MZ6GJPrkIa

— Bears Barroom (@BearsBarroom) December 10, 2017
Adam Shaheen, was finally given appropriate amount of snaps and target and he was excellent. Shaheen showed he is able to separate, get open and make open field catches. This was against a team that has had good success defending against tight ends. The rookie notched his third TD catch of the season. Shaheen is proving the dozens of analysts who criticized the Pace pick wrong. Chosen in the second round, Shaheen's development has only been slowed by the coaching staff not trusting in him more.
Another Trubisky-Shaheen touchdown! pic.twitter.com/aHiKkcFXmE

— Kevin Marchina (@kg_holler) December 10, 2017
Kendall Wright made play after play and was a go to receiver for Trubisky. A truly terrific offensive performance and one that was badly needed for a fanbase waning in positivity. It was the first time in a long time that I enjoyed watching the Bears offense.
The defensive performance was just as impressive. Remember this was a defense that was unable to get after the 49ers, but against the Bengals they looked faster and more athletic. They were pressuring quarterback Andy Dalton. Defender were in his face on nine of his 31 drop backs, and he went 3-of-7 for 46 yards while under pressure. Dalton did throw a touchdown pass while pressured as safety Deon Bush, playing for the injured Adraian Amos and the incompetent Chris Prosinki was late on an assignment.
Kyle Fuller did a masterful job on AJ Green. My biggest fear going into the ballgame was if any of the Bears DB's would step up and take on Green and Fuller really stepped up. It is very simple, he deserves a contract extension. He has been one of the most impressive guys on defense, he just needs to get his confidence back in terms of getting his interceptions. When that happens, he will be given more credit than he is receiving now.
In Pro Bowler company.

RT to #ProBowlVote @kbfuller17! pic.twitter.com/eSVHGfszcB

— Chicago Bears (@ChicagoBears) December 13, 2017
Eddie Jackson, as I said at the beginning of the season, is a god damn Pro Bowl free safety. He really was worthy of, not a 4th round pick, but, in my estimation, a 1st round pick. The Bears should be counting their lucky stars he broke his leg and dropped so far in the draft. He has been everything we Bears fans have been looking for in a FS and Amos in 2017 has been just as impressive alongside him. Jackson has the knack for getting to the football and recorded another pick and forced a fumble on a super effort.
Sneaky play here by Eddie Jackson, this is a fumble by AJ Green. EJ has been a stud in his rookie season. Chicago stole a long term star in the draft. pic.twitter.com/81njFYb1pC

— Cagen Cantrell (@CeeingTheDraft) December 10, 2017
The Bears defense is still growing and my hope is that these centrepieces Akiem Hicks, Eddie Goldman, Danny Trevathan, Leonard Floyd, Kyle Fuller, Adrian Amos and Eddie Jackson are all back next season healthy and realize their potential.
Chicago Bears (4-9)
Detroit Lions   (7-6)
After that impressive win in Cincinnati, my head says we are down for an epic John Fox style meltdown in Detroit. The Lions are in the middle of a playoff race. They must win-out and their remains three opponents are against winnable teams.
However, defensively the Lions are prone to giving up lots yards. The Bears gained 222 yards in their last match-up.
What the Lions defense is adept at is creating turnovers. Their defensive backfield has been excellent and they are 3rd in the NFL in takeaways.
The offensive firepower is their passing game s their run game is last in the NFL. They have, unquestionably, two excellent receivers in Marvin Jones and Golden Tate and keep an eye on Kenny Golliday, as offensive coordinator Jim Bob Cooter hinted that the rookie is getting up to speed on the playbook. Holliday had 53 receiving yards against Bears last time.
The Bears must not allow any explosive plays. A pass rush is vital to force Stafford into his occasional bad throws. He's thrown nine picks this year. If the Defense can be effective and not breakdown, the Bears will have a chance in the ballgame. It is extremely important that the Bears are able to slow down the Lions passing attack, if that is done this game will be very close in the 4th Quarter.
The Bears will have opportunities on offense. It is now up to John Fox and Dowell Loggains to decide how they would like these final three weeks to go. It can either be a time for development with a continued balanced offensive attack or we can go revert back to the run, run, pass offense that turns reasonable Bears fans into lunatics.
Personally, I pray and hope that the Bears saw something against the Bengals and that they trust their young signal caller. Let the young guys play, give them experience and allow them to grow together and win together.
Keys to the Game:
Limit the Penalties- I feel like I have to say this every week but it just does not get better. The Bears have to stop shooting themselves in the foot and keep themselves in manageable distances.
Be Balanced in Offense – Okay… I say this too every week. They need to continue from the display against the Bengals and keep the offense unpredictable. Give the receivers a chance to make important plays for the offense.
Take the ball away – If the Bears can create turnovers, like they have been doing they will give themselves a chance in this game. Stafford can at times make bad mistakes with the football. It will be important that the Bears make sure they take advantage of those mistakes.
Bold Predictions:
Eddie Jackson intercepts Matt Stafford for his second pick 6 of the season.
Mitchell Trubisky throws for over 200 yards and 2 TD's.
Both Tarik Cohen and Jordan Howard are in the endzone.
Adam Shaheen has more than 7 catches on the day.
My Prediction:
Detroit Lions: 38
Chicago Bears: 35
I make this prediction with hope in mind that this could be an offensive game where both teams are aggressive and just go for it. However, I do not believe nor have faith in a John Fox coached team to be aggressive two weeks in a row. We are probably all in for a rude awakening and the seat for John Fox may get hotter on Saturday evening. I believe that the Bears have the talent to stay with the Lions. It will just be up to who makes more plays at the end of the game. As of right now, I believe the Lions edge the Bears in terms of offensive fireworks and so I have them beating the Bears on the score line.
A success in this ballgame, is if Fox allows the offense to function effectively and the Bears come out in Detroit as an aggressive offense with eyes to 2018 and beyond and it will give an apathetic fanbase a reason to cheer on their beloved Chicago Bears for the final games against the Browns and Vikings.
Kevin Schroeder's Bears Player Performance Grades vs Bengals
---
---
Related Articles
Bears Hour Live is our weekly live show with Draft. Dr. Phil Ottochian. In this episode he goes over all
There's lot of controversy regarding whether Mike Glennon should be starting the Chicago Bears first regular season game. I have
When Marcus Cooper was selected in the 2013 draft he was two picks from being Mr. Irrelevant, the moniker bestowed