Kevin Schroeder's Chicago Bears Player Performance Grades – vs Browns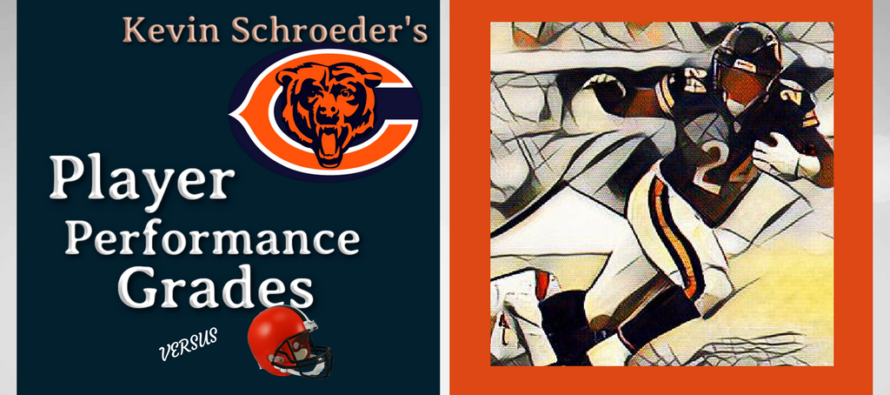 To get to 0-14 in the NFL, you have to be incredibly bad. If you think that sounds like an obvious statement, you're underestimating how bad you have to be. Anybody can beat anybody on any given Sunday, so to not be able to do it once in 14 tries means reaching a level of suck that would be impressive if it wasn't so darn pathetic.
Last year, the Browns started 0-14 before getting their first win of the season over the then San Diego Chargers on Christmas Eve. This year, they started 0-14 and took on the Bears on yep, you guessed it. Not the greatest of omens for a team that's already laid a couple eggs in games they definitely should've won.
But they didn't lose this one. They played one of their better games of the season. A huge caveat applies – the Browns are baaaaaaaaaaaaaaad, but right now, you take what you can get. It's been a rough season, so it was nice to get a win and this had the added bonus of showing us what true incompetence looks like. The Bears are just not a good team right now. They're not a dumpster fire. Far from it. The Bears have their QB of the future. The Browns spent a second-round pick on the latest Notre Dame QB who people gas up before the draft but actually stinks, DeShone Kizer. You would think they would have learned from the Brady Quinn Experience, but nah. They would have traded a second-round pick and a third-round pick (that's right – more than San Francisco traded for Jimmy Garoppolo) to the Bengals for A.J. McCarron if they had filed the trade with the league. Now Josh Rosen is pretty much saying he doesn't want to play there. The Browns have some talented young players on defense…but they're being coached by a guy who went through almost an entire season thinking the best way to use Jabrill Peppers was to line him up 25 yards away from the line of scrimmage. Dowell Loggains has done some truly moronic stuff this year, but at least he didn't try running the triple option with Mike Glennon. The point is, the Bears are closer to being successful than they are to being the Browns. A lot closer.
Player Performance Grades
The grading scale goes from -3 to +3 for each play. Penalties are counted in whatever phase they were committed. "Short" throws are 10 yards or less, "Medium" is 10-20, "Deep" is over 20. Everything else (scrambles, throwaways, etc.) is under "Miscellaneous."
You May Need To Hold Your Phone In Landscape Format To View Entire Graphics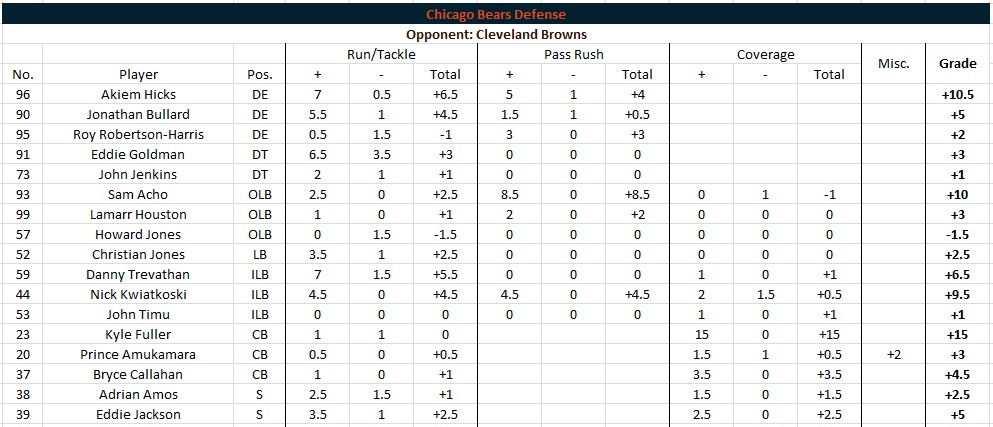 So what happened?
With conditions being what they were, the goal here was to get the lead and then not do anything stupid. Mission accomplished. The Browns put together a long drive, but that ended when DeShone Kizer put one right on the money for Kyle Fuller in the end zone. They got themselves into field goal range in the final seconds of the half to cut the lead to three, but the Bears found the end zone on their first two possessions in the second half and the one real chance Cleveland had to make it a game again ended when Rashard Higgins tried to do too much after making a catch and fumbled in the red zone. After that, the plan was to kill the clock and go home.
Mitchell Trubisky did a good job of taking care of the ball. He didn't force passes and just took off if he didn't see anything. Just under a third of his passing yards came on a pair of screens to Benny Cunnigham. Aside from one pass down field to Dion Sims, the rest were on shorter throws. He did have a really impressive throw where he put it right on the money for Tarik Cohen while he was being hit. He had a couple throws that were a bit off, but nothing dangerous. Good day for him. Jordan Howard was held to two yards a carry with the Browns bringing guys down to help against the run. The patchwork offensive line didn't do him any favors. With Josh Sitton out and Tom Compton unavailable, the Bears went with Bradley Sowell at left guard. That went…not well. When Bobby Massie went out, Sowell moved over to right tackle and Cameron Lee came in at left guard. That went less well. Whitehair was solid and Charles Leno held his own against Myles Garrett, though.
On defense, Kyle Fuller had a huge day. That number's not a typo and is totally bonkers for a corner. Yes, it's the Browns, but he did that against Josh Gordon and Corey Coleman. Coleman's been underwhelming thus far in his career, but Gordon's legit. Time to pay Fuller. In fact, the entire secondary had a strong outing. Adrian Amos made his presence felt in his return to the lineup. Bryce Callahan had a pick of his own. Nick Kwiatkoski and Akiem Hicks had very nice games. Sam Acho had a great day rushing the passer.
Only a couple real complaints here. Trubisky got sacked five times and a couple times there was a free hitter. I thought maybe Grasu was screwing up some of the line calls, but Thursday morning, Olin Kreutz tweeted this
5 sacks against CLE 1 was on the OL. Grasu points 52 back has 58. Cross means switch assignments. Sowell should stay on Garrett. pic.twitter.com/is6330iKJP

— Olin kreutz (@olin_kreutz) December 28, 2017
I can definitely believe that Loggains just didn't adjust and put in a couple short, quicker-developing routes to give Trubisky somewhere to go with the ball when the Browns brought pressure.
My only other real complaint: stop punting to Jabrill Peppers. Who was more likely to make a play to get the Browns back in the game, him or Kizer? Exactly.
#FireFox (not the Mozilla product (though if Mozilla wants to sponsor this section, I will gladly extol the virtues of the Mozilla product)) status
Fun fact: John Fox has a more wins against the AFC North than he does against the NFC North as head coach of the Bears, despite having played 13 more games against the latter. Fox gets a lot of crap from us, and he deserves it. And he's getting fired next week, and he'll deserve that, too. But at least he's not Dirk Koetter, who publicly admitted that rumors about his job security are a distraction.
Staley Nickels
My award system can give up to three nickels per player. Keep in mind that I might not award the optimum amount of Staley Nickels to the highest-graded players since different grades mean different things to different players.
Offense
3: Mitchell Trubisky
2: Cody Whitehair
1: Charles Leno, Jordan Howard, Dion Sims
Defense
3: Kyle Fuller, Sam Acho, Akiem Hicks, Nick Kwiakoski, Bryce Callahan
2: Eddie Jackson, Danny Trevathan
1: Jonathan Bullard, Adrian Amos
Staley Nickels Count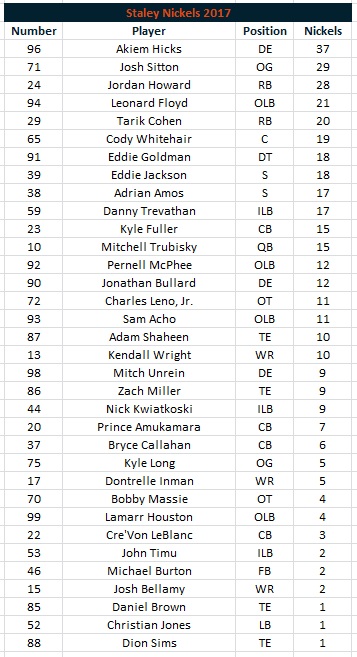 Kevin Schroeder
Football guy, be it NFL or college, even the CFL. If you take football out of his life, he's not going to function well. Kevin also writes about Michigan football and Blackhawks hockey at goodifitgoes.com. Find him on Twitter @KSchroeder_312.
---
---
Related Articles
Originally established as the Central Division in 1967 as part of the NFL Western Conference prior to the AFL-NFL merger, what
Is it absolutely necessary for the Chicago Bears to draft a quarterback in round one? Bears Barroom Radio host plays
John Buffone dishes up a fast-paced, info-filled look at the Chicago Bears – New Orleans Saints match. He does so by