A Look At Chicago Bears Free Agency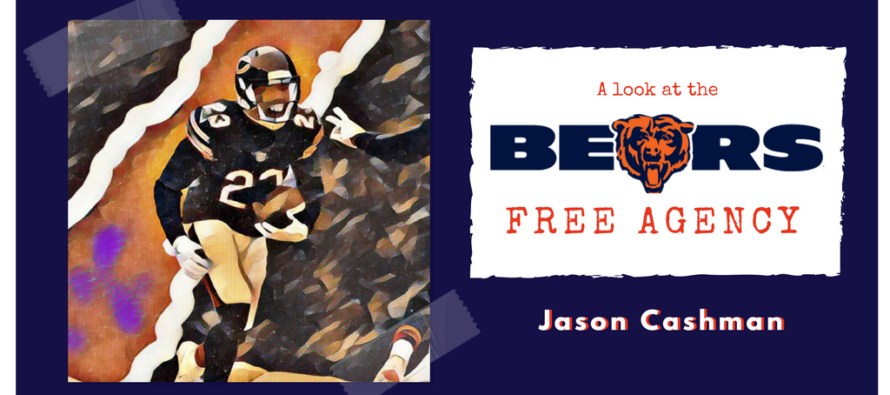 We continue our series of sharing media reports on the Chicago Bears.
Now that the Bears coaching vacancy is filled, general manager Ryan Pace, head coach Matt Nagy, and the Bears new staff now must dive into who they want to re-sign or buyout from their current roster. Pace signed several free agents to multi-year deals last off-season, but gave himself the ability to buy them out after one year.
Adam Jahns of the Chicago Sun-Times, who was the first to break the Matt Nagy as head coach news, lists what players the Bears can buy out cut and how much dead money is on the books if they do so.
https://chicago.suntimes.com/sports/making-the-cuts-bears-easily-can-retool-roster-with-new-players-for-new-coach/
Don't know what dead money is? Here is a quick article from Bleacher Report's Tyler Raborn explaining what dead money is:
http://bleacherreport.com/articles/1566775-nfl-free-agency-a-basic-expliantion-of-the-complex-concept-of-dead-money
If you want a quick explanation, the author offers this: "Simply put: Dead money is the salary cap space a team must allocate to a particular player who has been cut. It serves as a device to ensure that every dollar a team has paid players is eventually allocated to that team's salary cap."
If you want to do some calculations, here is a list of the Bears salary cap for the 2018 season so far barring any changes, hopefully there are, from spotrac.com:
http://www.spotrac.com/nfl/chicago-bears/cap/2018/
Spotrac.com also does the best job, that I know of, of estimating cap space. After the top 51 salaries are totaled, the Bears have  cap space of $42,031,517. That would put them at 12th in the NFL. But, again, that total can grow after the Bears buy out some of the deadweight contracts. See the entire NFL list here: http://www.spotrac.com/nfl/cap/
Back in December, Chris Roling from Bleacher report did a good job assessing the Bears cap situation, who the Bears may want to bring back for the 2018 season, and possible extensions for some players.
"This projected cap gives the Bears enough wiggle room after inking a draft class to go out and sign one of free agency's top players." "The Bears will likely look for wiggle room here soon knowing down the road they're going to want to extend a guy such as Leonard Floyd."
You can catch the rest of that article here: http://bleacherreport.com/articles/2745377-assessing-chicago-bears-2018-salary-cap-situation
Ryan Pace has signed his head coach, but prior to that James Fox from The Loop Sports explained why the Bears coaching job was such an attraction.
"The Bears should have between $55-$75 million in salary cap flexibility this off-season and the club will have seven draft picks with the ability to possibly acquire more."
https://theloopsports.com/2018/01/02/bears-head-coaching-job-extremely-attractive/
The next part of the process for Pace is to re-sign players, who he believes can help the Bears' immediate future, before they hit free agency. Here is a list of bears free agents for this off-season:
http://www.spotrac.com/nfl/free-agents/chicago-bears/available/
Wondering what the Bears will do with cornerback Kyle Fuller, their top player to hit free-agency? Before you make up your mind read Chris Emma's thoughts http://chicago.cbslocal.com/2018/01/02/kyle-fuller-open-re-signing-bears/ who writes that Fuller is willing to stay in Chicago, "It would mean a lot," Fuller said. "I started here. I'm happy. Just being able to work with the guys that are here, help them be a leader. That would definitely be really important for me."
Stop by the Barroom's twitter feed and let us know who you think the Bears should re-sign. Here are some poll results:
First of several polls of #Bears free agents;
What to do about FA cornerback @kbfuller17… Fuller had 69 tackles, 22 pass break-ups and two interceptions in 2017.

— Bears Barroom (@BearsBarroom) January 16, 2018
Second of several polls getting your reaction to #Bears Free Agents: @PrinceAmukamara had 48 tackles and seven passes defensed in 14 games with Chicago. Prince has not had an INT since 9.24.15 What do you do?

— Bears Barroom (@BearsBarroom) January 16, 2018
3rd in our #Bears FA Poll:
After arriving via trade Dontrelle Inman, @mrinman15, caught 23 passes for the #Bears. (Inman needed 25 catches for Bears to relinquish 7th rounder). Inman will be 29 years old later this month. Do the Bears

— Bears Barroom (@BearsBarroom) January 16, 2018
I'm Jason Cashman, please send me whatever you think is appropriate for this new Barroom feature, you can find me on twitter @jason_cashman or send me an e-mail at cashman.jason@uwlax.edu
---
---