Chicago Bears Free Agency: The Case Against Jarvis Landry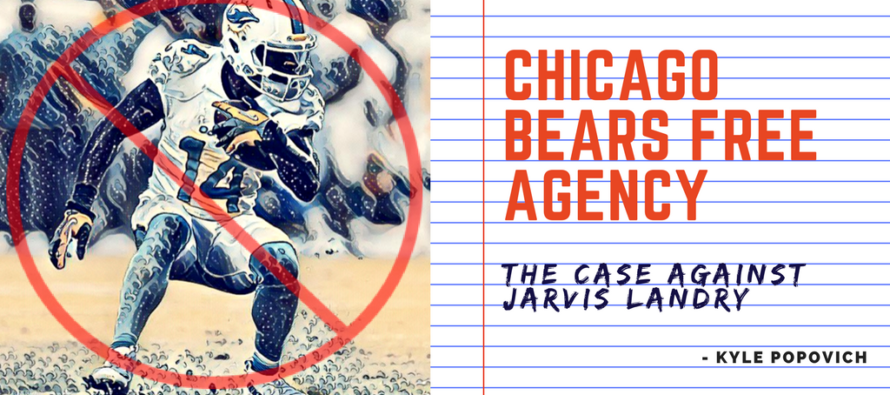 It's no surprise that the Chicago Bears are going to be in the market for multiple wide receiver additions this upcoming offseason. With a projected cap of $42 million (per Spotrac) heading into free agency and room to create more cap space with multiple contract buyouts available to the team, the Bears should be able to find the needed additions in the free agent market.
The tricky thing about the free agent market, though, is value. In my mind the top candidate in the free agent class of receivers is Jarvis Landry of the Miami Dolphins. With Davante Adams re-signed in Green Bay and the Jacksonville Jaguars' Allen Robinson coming off of a torn ACL the 25-year old Landry is projected by most to be the number one free agent target at receiver.
But, I am going to make the case to avoid Landry in free agency. Bear with me here.
High Volume – Low Production 
Jarvis Landry is a talented receiver. There is no doubt in that. In 2017, Landry was targeted 161 and had 112 receptions with only 3 drops. In his first four NFL seasons he has accumulated 400 receptions. That's the most for any wide receiver in the history of the NFL in that span.
Most Receptions in 1st 4 Years of Career:

1) Jarvis Landry – 400
2) Anquan Boldin – 342
3) Larry Fitzgerald – 330
4) AJ Green – 329
5) Brandon Marshall – 327

— NFL Stats (@NFL_Stats) January 3, 2018
If you look at the four names that follow on the list, you can assume Landry is in good company. The problem is those other receivers were playmakers all over the field, lining up inside the slot and outside the numbers. Unfortunately, for Landry, he's almost strictly a slot receiver who does most of his damage around the line of scrimmage.
Jarvis Landry led the NFL in slot receptions this season pic.twitter.com/CtAPDdfOvh

— Pro Football Focus (@PFF) January 16, 2018
Jarvis Landry had 112 catches in 2017 with 987 yards receiving. He became the first player since 1995 to have over 100 receptions and less than 1,000 yards receiving. #NFL pic.twitter.com/7NKVp0LuId

— FantasyData (@nfldata) January 18, 2018
Landry led the NFL in receptions out of the slot position in 2017, with 68. And yes, in 2017, his 1222 receptions was an NFL (and career) high. But, it was for a measly 8.8 yards per catch (a career low).
That 8.8 YPC ranked 74th in the NFL amongst WR's who qualified (per Pro Football Reference). Landry's career YPC is only 10.1.
Better Value Elsewhere 
To reiterate, Landry is a productive wide receiver when fed the ball properly. The worry the Bears should be concerned about is the soon-to-be free agent, Landry, is going to have a hefty price tag come March. Barry Jackson of the Miami Herald (http://www.miamiherald.com/sports/spt-columns-blogs/barry-jackson/article195079339.html) reports that Landry has found the Dolphins' handling of his contract situation disrespectful, meaning he's surely going to test the market. That same report also comes with his supposed desire for a Davante Adams-like contract.
The Packers wide receiver earned a contract extension that will pay him $58 million over 4 years ($32 million guaranteed). That's an average of $14.5 million per year. Paying Landry, a slot receiver, $14.5 million or more would be a mistake for the Bears moving forward. For example, some of the best slot receivers in the game don't make that much per year. (Note: AAV salaries taken from Over the Cap).
Seattle's Doug Baldwin ($11.5m AAV)
Minnesota's Adam Thielen ($4.8m AAV)
Detroit's Golden Tate ($6.2m AAV)
New England's Julian Edelman ($5.5m AAV)
If we're talking pure slot, Kendall Wright could return on a similar deal as last season ($2m/yr). Wright was the most productive receiver for Chicago with 59 receptions for 614 yards (10.4 YPC) and one touchdown. Wright built chemistry with Mitchell Trubisky and bringing the 28-year old receiver back could expedite the quarterback's development.
#Bears WR Kendall Wright with a sweet double move to get open here… Trubisky knew the soft spot of that zone coverage pic.twitter.com/BPaBQNe9Jk

— Alec (@TreyBizzy) December 16, 2017
Wright may serve better as a less expensive slot option with better outside receiver talent surrounding him. That would also include the re-signing of restricted free agent Cameron Meredith.
Though the Bears will have plenty of cap room to work with, they should be smart when indulging in the free agent market. That's one area general manager Ryan Pace deserves credit; he's yet to overpay with long-term contracts for talent while looking for better value.
I expect him to continue that theme in the 2018 offseason, though possibly being a bit more aggressive as the rebuild is entering year 4. He knows, as does everyone else, that results need to materialize on the field and translate into wins. The Bears would be better off utilizing their money towards other receivers that offer better value in Matt Nagy's offense.
Other Free Agent Candidates 
Paul Richardson (Seattle) – The soon-to-be 26-year old Richardson had a career year in 2017, setting a career high in receptions (44), yards (703) and touchdowns (6). Richardson provided Seattle a weapon on the outside (16 YPC) with his speed and ability to compete for contested catches. If Seattle lets him walk, the Bears would be wise to sign the up-and-coming receiver.
Russell Wilson hits Paul Richardson for a 61-yard #Seahawks TD!pic.twitter.com/odDEjgvlYW

— Def Pen Sports (@DefPenSports) December 11, 2017
Allen Robinson (Jacksonville) – This is a high risk, high reward signing Ryan Pace should definitely consider. Robinson was becoming one of the best overall receivers in the game before tearing his ACL in the first game of the 2017 season. Nonetheless, the 24-year old offers tremendous upside, as his first three seasons consisted of 201 total receptions, 2,831 yards and 22 touchdown receptions. That kind of production would benefit any offense. I'd assume Robinson considers the "Alshon Jeffery" mindset in taking a one year prove-it deal (1yr/$9.5m) to show his value. Jeffery chose an ascending team (Philadelphia Eagles) with a talented young QB (Carson Wentz) to prove his value. Robinson could very well do the same in Chicago with Mitchell Trubisky.
RT ChatSports: Heck of a catch here by Allen Robinson (Thee_AR15) pic.twitter.com/5MxwKO0Xf7

— Seahawks Fan (@centurylinkfiel) August 25, 2017
Albert Wilson (Kansas City) – The 25-year old also had a career year under Matt Nagy in Kansas City, getting a chance to be the team's go-to slot receiver. He set a career high in receptions (42), yards (544) and touchdowns (3). Wilson (13.2 YPC) would be a cheap, youthful option for Trubisky to develop with moving forward. Already having history with Nagy and his offensive concepts is a bonus.
Albert Wilson got shakes 😮 pic.twitter.com/MSKXdYI5su

— The Checkdown (@thecheckdown) January 6, 2018
Marqise Lee (Jacksonville) – The 26-year old contributed nicely in 2017 for the Jaguars, building off of his strong 2016 campaign. In 2017, Lee caught 56 balls for 702 yards and 3 scores. Lee has been durable in his career, only missing 11 games of 64. Lee could be a nice second-tier signing in the free agent market.
.@BBortles5 finds @TeamLee1 in the back of the end zone for SIX! #Jaguars pic.twitter.com/auyNbwra40

— NFL (@NFL) December 3, 2017
---
---
Related Articles
The Chicago Bears have made hundreds of draft picks, trades, and free agent signings in their nearly 100 year history.
(Third in a series) Voting for the NFL Pro Bowl has come to an end with official rosters set to be announced on
If you've listened to our Bears 100 Proof podcasts you probably heard us mention that some of us spend quite