Can John DeFilippo "Flip" the Bears Around?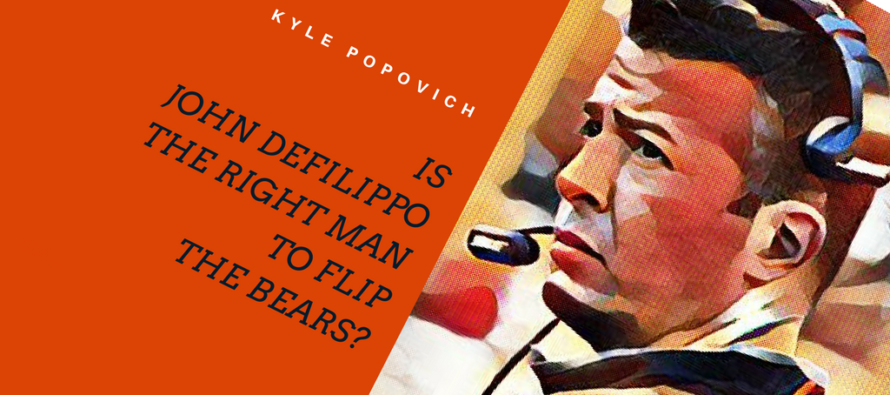 The search for the Chicago Bears' 16th head coach in franchise history – fourth in the last six seasons – is approaching week two. General manager Ryan Pace is reportedly leading the interviews with team president Ted Phillips and chairman George McCaskey along for what Pace says is a "collaborative effort." Phillips and McCaskey have assured fans that Pace will have final say. The club has confirmed these interviews have either taken place or will:
Chicago DC Vic Fangio – Wednesday, January 3rd

Minnesota DC George Edwards – Thursday, January 4th

Minnesota OC Pat Shurmur – Friday, January 5th

New England OC Josh McDaniels – Friday, January 5th

Philadelphia QBC John DeFilippo – Saturday, January 6th

Kansas City OC Matt Nagy – Sunday, January 7th
The one applicant who has caught my eye, and the eye of many organizations looking for a head coach, is John DeFilippo, QB coach of the Philadelphia Eagles. DeFilippo joined Doug Pederson's staff in 2016, with the goal of developing Carson Wentz, the 2nd overall pick of the 2016 draft.  DeFilippo has garnered plenty of national praise due to Wentz's rapid second year development which sparked the Eagles to an 11-2 record.
Could the Chicago Bears hire Coach "Flip" to do the same with Mitchell Trubisky.
DeFilippo's Quarterback Repertoire:
John DeFilippo began his coaching career in 2000, where over the span of five seasons, he worked extensively with quarterback's for three different colleges.
Fordham (2000)
Notre Dame (2001-2002)
Columbia (2003-2004)
Flip entered the NFL ranks in 2005 as the New York Giants Offensive Quality Control Coordinator.
In 2007, DeFilippo was hired as the Oakland Raiders' quarterbacks coach and he had his first developmental project with an NFL QB: the 1st overall draft pick of that year, JaMarcus Russell. In his first season, the Raiders rotated Josh McCown, Daunte Culpepper and Russell at the QB position as it was clear Russell was far from ready to become an NFL quarterback.
In 2008, Russell got his chance to show his worthiness as the face of the franchise. Under DeFilippo's tutelage, Russell started 15 games throwing for  2,423 yards and 13 TD's to 8 INT's. He completed the season with a measly 53.8 completion percentage. During that season Flip noticed Russell would look tired and sleepy during morning meetings and, as CBS News reports, confronted the QB, asking him what he was doing for nightlife. When Russell replied that he was just "chillin," Flip demanded he get medically checked. The Raiders discovered Russell had sleep apnea a disorder that causes excessive fatigue during the day.
Flip left Oakland following that season and Russell"s career ended up being a nightmare; he played one more season, seeing a major regression as a passer, and has since been out of the NFL.
Flip moved over to the New York Jets in 2009 where he had a chance to work closely with the 5th overall draft pick, QB Mark Sanchez as the assistant quarterbacks coach (Matt Cavanaugh was the QB coach).  In his lone season working with Sanchez the Jets started the rookie in all but one regular season game and the team went all the way to the AFC Championship game. Sanchez didn't have the greatest statistics completing only 53.8% of his passes, while throwing 20 INT's to just 12 TD's. But, Sanchez did win Rookie of the Week Award three different times.
The Jets trimmed down their coaching staff and chose Cavanaugh over DeFilippo forcing him back to the college ranks for the following two seasons at San Jose State.
Text from someone who worked with John DeFilippo at San Jose State: "I would run through a wall for him. Love the guy."

— Adam Hoge (@AdamHoge) January 5, 2018
In 2012, DeFilippo returned to the Raiders under Dennis Allen as the QB coach for the next three seasons. In that time, he helped Carson Palmer get his career back on track, which saw Palmer hit the 4,000 yard passing mark for the first time in five seasons and drop his interception percentage to its lowest mark (2.5%) since 2006 (2.5%). Carson also hit a QB rating of 85.3, which is a mark he hadn't touched since 2007 (86.7). Oddly, after Palmer's explosive 2012 season Oakland traded him to Arizona and for less than the Raiders received when they acquired him from the Bengals.
In 2013, the Raiders shuffled through three different starting quarterbacks in another predictably lost season. In 2014, DeFilippo got another crack at working with a rookie quarterback: 2nd round draft pick Derek Carr. Despite winning 3 games, Carr started all 16 games of his rookie campaign, throwing almost 600 passes and completing just over 58% of them. Carr led all rookie QB's in attempts (348), completions (599), yards (3,270) and TD's (21).
After a successful start to Carr's career, DeFilippo earned his first chance to call plays in the NFL. In 2015, DeFilippo joined Mike Pettine in Cleveland to help second year quarterback Johnny Manziel, as the Browns relied on him to become the face of the franchise after drafting him 22nd overall the year prior. Carr had this to say:
"As long as Johnny is open to what Flip is telling him to do, he'll get better as a quarterback. Johnny just has to trust what Flip is saying, and I'm sure he will. Johnny will love him. I can promise you (DeFilippo) is going to be one of those guys in a few years who's up for a head coach job. The Browns did a very good thing by hiring John DeFilippo. He's an amazing coach and a great person."
In his lone season there, the Browns offense finished 30th in scoring (17.4 PPG), 21st in passing (236.4 YPG) and 22nd in rushing (95.6 YPG). In this season, both Josh McCown and Johnny Manziel saw the majority of the reps at QB, with Austin Davis making a spot start here and there. The three QB's combined to eclipse the 4,000 yard mark with 20 combined passing touchdowns, and only 12 interceptions. The Browns also finished the season with over 1,500 rushing yards from Isaiah Crowell and Duke Johnson carrying the load. For a dysfunctional organization these are impressive numbers.
After the Browns ended the season at 3-13, the coaching staff was wiped clean, and that's where DeFilippo reached his current destination in Philadelphia. On January 21st, 2016, Pederson wanted Flip to work closely with him and offensive coordinator Frank Reich as the team's sole QB Coach.
Three months later, on April 20th, the Eagles officially traded up with the Browns for the #2 pick in the 2016 draft. With that selection came Wentz. Think about it. In 2016, the Browns lost DeFilippo and Wentz.
In 2016, Wentz started all 16 games as a rookie, leading all rookies in passing yards (3,782), interceptions (14) and 2nd in touchdown passes (16). Wentz made a jump in year two that made him an MVP candidate before tearing his ACL vs. the Rams in Week 14. At that time, Wentz led the league in touchdowns (33), and only two QB's who threw at least 400 pass attempts had fewer interceptions, Alex Smith with six and Tyrod Taylor with five. Wentz finished with seven.
Wentz also threw for almost 3,300 yards in just 13 games, though his CMP% dipped from 62.4% in '16 to 60.2% in '17. Still, Philadelphia's offense sparked from the get-go, and Wentz was the biggest reason for that.
DeFilippo Deserves an Opportunity 
DeFilippo earns a lot of the credit behind Wentz's rise this season. He uses a robust teaching method to get through to his quarterbacks. He shared one method with Les Bowen a Philadelphia sportswriter:
"Every time we watch the tape, I open it up and say, 'Be your own worst critic.' He does a good job with that. He doesn't take things personally. He can take hard coaching. I'm a pretty detailed guy and expect things a certain way. He's bought into what we're telling him to do, and he's very, very coachable for a guy that's having a lot of success, especially at a young age."
DeFilippo likes to test his quarterbacks, literally. A quote from Sheil Kapadia of The Athletic puts it like this:
"Every Friday, DeFilippo hands his quarterbacks a test that also serves as a tip sheet. It's 20 to 30 pages and about 55 questions with photos and text containing information about the upcoming opponent."
Also, below is a video of John DeFilippo taking over the draft room, doing a great job of talking with Carson Wentz during the draft process about his play at NDSU. It's evident that DeFilippo has a good grasp on developing QB's and what expected of them.
There are three things to me that are vital in the development of a franchise quarterback: a running game to lean on, a defense that can keep a lead, and a coaching staff that can promptly develop the quarterback. The Bears currently have two of those.
Based on DeFilippo's history, I believe he is the perfect candidate to step in and make Trubisky into the quarterback Ryan Pace drafted him to develop into. He's worked with five first or second year quarterbacks in his career, and has certainly made the most of them. Especially his work with Carr and now Wentz.
My only worry is his limited experience actually calling plays. I trust his background in scheming offenses and extensive NFL experience will help him overcome that lack of experience.
The Bears are building a talented roster and are a talented coach away from making the jump to not only compete within a tough NFC North, but in the NFC overall. Surrounding Trubisky with the proper coaching staff will help make that jump as we've seen with Jared Goff in Los Angeles and, of course, with Wentz.
The Bears need to make that same jump. Chicago has now missed the playoffs for seven consecutive seasons, which is the fourth longest drought in the NFL.
Longest active NFL playoff droughts:
Browns – 15 seasons (last: 2002)
Buccaneers – 10 seasons (last: 2007)
Bears – 7 seasons (last: 2010)
Jets – 7 seasons (last: 2010)

— Scott Kacsmar (@FO_ScottKacsmar) January 1, 2018
It also marks the longest stretch for the franchise since going 13 consecutive seasons without playoff football from 1964-1976.
Late word on Saturday is that DeFilippo's interview with Ryan Pace went very word. Fellow Barroom writer Ciaran Hall tweeted the following:
Friend from Philly just texted. Rumors swirling in Philly that John DeFilippo is as good as gone and his interview with the Bears today was extremely impressive. Will be interesting to see if any nuggets come out from guys close to the Eagles.

— Ciaran 🃏 (@PowerSportzHall) January 6, 2018
39 year old John DeFilippo can be the guy that successfully flips the NFL's charter franchise around and get the Chicago Bears back on top.
---
---