Buffone 55 – The John Buffone Show – Thursday, September 21, 2017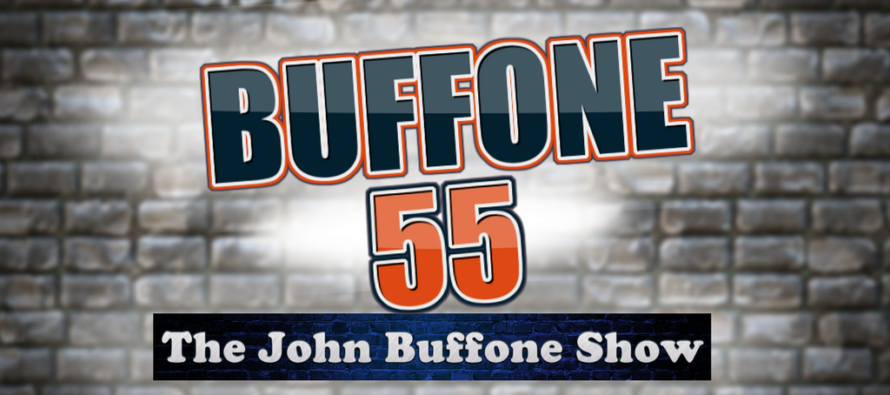 The very first episode of Buffone 55 The John Buffone Show airs live every Thursday at 10am. This is a re-broadcast of that show.
And don't forget you can access all of the Bears Barroom Radiio Network shows by going to Podbean which will allow you to subscribe to the Network through their service or they provide a link to access the show via iTunes, and Google Play. Just  CLICK HERE.
As a reminder, this is our line-up for the week:
Mondays – Bears Hour Live… Host Draft Dr. Phil Ottochian shares his unique insight into the Bears previous game. BHL is live on Mondays at 9PM CST with replays available at midnight.
Wednesdays – Bears 100 Proof… This is not your mother Theresa Bears talk show. It's loaded with great insight… and R-Rated humor. Phil, Shayne Marsaw and Aldo Gandia provide the mid-week mayhem.
Thursdays – Buffone 55 The John Buffone Show… John's blood spills Navy blue and orange. He brings that famous Buffone passion to his analysis of Bears football and their upcoming opponent.
Fridays – Bears On Tap… Host Aldo Gandia invites a  media member who covers the Bears upcoming opponent to gain a better understanding of their strengths and weaknesses. We also get an update on all the late week Bears news.
Please enjoy Buffone 55…
---
---
Related Articles
After the debacle in Philadelphia it became apparent that the Chicago Bears football is now playing with less enthusiasm and
Chicago Bears Attn: Anyone That Will Listen 1920 Chicago Bears & Football Drive Lake Forest, IL 60045 September 28, 2017
On Sunday, October 29, approximately 2:30 PM central time, Zach Miller caught a touchdown reception that should have been legendary.  He leapt