Three Big Wide Receivers The Chicago Bears Might Target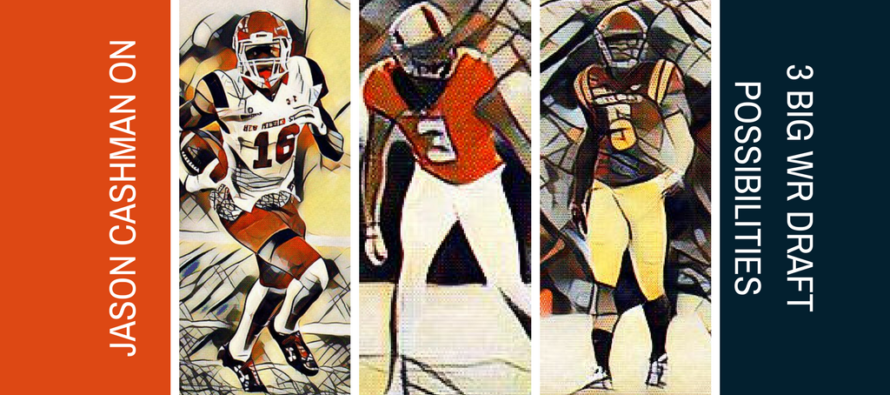 Everyone knows that the Chicago Bears need wide receivers. It's likely general manager Ryan Pace will address the need in free agency which officially begins March 14th. But, Pace will surely also address the need through the draft and we can rightly assume Pace will select at least one receiver in the upcoming draft which begins April 26.
But, with needs at cornerback, pass rush and the offensive line choosing a receiver in round one seems unlikely in a draft filled with an abundance of mid-round talent.
The Bears will aggressively move in free agency for wide receivers. My prediction is Pace's draft board will be loaded with mid-round targets – developmental players who have upside but may need a year or two to develop.
With Cameron Meredith and Kevin White both returning after injuries I think the Bears will target a large wideout to compete and eventually replace one of these players. A big target gives Trubisky a solid end zone threat in the future. During my research, I have found that these three are the biggest wide receivers in this senior class that the Bears can go after with a third or fourth-round pick: Allen Lazard, Marcell Ateman, and Jaleel Scott.
First up for this piece is Allen Lazard. Lazard who is a 6-5, 222-pound wideout from Iowa State. Tommy Birch from Des Moines Register has great coverage of how Lazard did at the Senior Bowl.
"Mayfield tossed a fade to the corner and Lazard was able to overpower 5-foot-10 North Carolina cornerback M.J. Stewart with his body and rip the ball away from him as he fell to the ground."
I can imagine a future where Trubisky and Lazard are connecting on similar plays for touchdowns. I certainly can. You can catch more of that read here:
https://www.desmoinesregister.com/story/sports/college/iowa-state/football/2018/01/28/how-iowa-states-allen-lazard-did-senior-bowl/1073056001/
In another article from Tommy Birch, spoke with CBS' draft scout Dane Burgler who said:
"I think (Lazard) is going to do his best work moving the chains and in the red zone".
Catch what else Burgler said at:
https://www.desmoinesregister.com/story/sports/college/iowa-state/football/2018/01/29/allen-lazard-nfl-draft-receiver-senior-bowl-iowa-state/1074429001/
Seeing is believing … here are his senior highlight plays:
The next receiver that stood out to me was Marcell Ateman from Oklahoma State who measures at 6-4 and 216 pounds. Matt Eurich from 24/7 Sports wrote a small piece on why the Bears should take Ateman in the second round, which for me, may be high depending on what happens in free agency, but Eurich had this to say:
While James Washington has been receiving all the praise as the (Oklahoma State) Cowboys top wideout, Ateman was quietly putting up strong numbers at Oklahoma State. After two average seasons in 2013 and 2014, Ateman caught 45 passes for 766 yards with five touchdowns before his foot injury in 2016. In his four years he caught 146 passes for 2,466 yards with 13 touchdowns.
I do believe that Trubisky could use Ateman as a great red zone target, and if you want to read the rest of the article, you can find that here:
https://247sports.com/nfl/chicago-bears/Bolt/Marcell-Ateman-tabbed-as-a-fit-for-the-Chicago-Bears-in-2018-NFL-Draft-113742672
Chris Pflum from Big Blue View dot com, which yes, I know is a Giants website, says some really good things about Ateman that I believe the Bears' brass is saying, too.
At first glance he looks more like a basketball player, but he is definitely a football player. Ateman is a big, physical presence, fully capable of bullying smaller defensive backs. He is also a red zone threat, able to out-leap almost any defender put on him.
Since the departure of Alshon Jeffery The Bears have not had the big go up and get it receiver. Free agency doesn't seem to have a good reliable receiver for that, so I think the Bears could target Ateman for that reason. If you want to take a closer look at that article, you can do so here:
https://www.bigblueview.com/2018/1/28/16941932/2018-nfl-draft-prospect-profile-marcell-ateman-wr-oklahoma-state-ny-giants-news-scouting-report
Check out this video from the Senior Bowl game of Ateman catching a tight window pass for a touchdown here:
http://www.nfl.com/videos/nfl-draft/0ap3000000911407/Kyle-Lauletta-ropes-a-tight-window-TD-pass-to-Marcell-Ateman
If you want to watch more of Ateman, check out his highlights at:
The wideout that I researched most was New Mexico state's Jaleel Scott who comes in at 6-6 and 216 pounds. Chris Trapasso from CBS Sports wrote how Scott is a major NFL Draft sleeper who could have number one receiver potential. Trapasso goes on to write.
"Anytime you're dealing with a wideout that's, say, 6-foot-2 or taller, you want to him to thrive at the catch point. Scott certainly does."
Trubisky would thrive in the red zone if he got to work with a receiver like Scott for years to come. If you want to catch the rest of that article, you can do so here:
https://www.cbssports.com/nfl/draft/news/jaleel-scott-is-a-major-2018-nfl-draft-sleeper-with-no-1-wideout-potential/
I came by another article from Assassin32, yes, I know weird name, who writes on SBNATION fan post called Silver and Black pride, and they go in depth as to why Scott will be a great addition to the Raiders. I believe that everything this article has could also be applied to what the Bears are looking for in a receiver. Assassin32 writes:
"I've never seen a WR with more athletic ability with size than Jaleel Scott, and to make it even better, he has hands and speed."
The name is weird, but Assassin32 puts together a great article infused with videos and clips that show off Jaleel Scott in a way that Bears fans could get very excited about. Barflies can read/watch the rest of that piece here:
https://www.silverandblackpride.com/2018/1/25/16935384/diamond-in-the-rough-jaleel-scott-wr-new-mexico-state
After reading those articles, I wanted to watch more tape of Jaleel Scott, and the way I did that was here:
You can also watch an interview from when Jaleel Scott was down in Mobile, Alabama for the Senior Bowl at:
http://www.clevelandbrowns.com/media-center/videos/WR-Jaleel-Scott-Josh-Gordon-is-a-freak-of-nature/ae754771-b23b-4f2f-a1f8-cbf2d865035d
I'm Jason Cashman, please send me whatever you think is appropriate for this new Barroom feature you can find me on twitter @jason_cashman or send me an e-mail at cashman.jason@uwlax.edu
---
---
Related Articles
The Minnesota Vikings defense came to the rescue in week one saving the team from defeat against the Tennessee Titans.
Sometimes when I can't sleep I'll think about things I wish I could do over. The boss I should have
If These Walls Could Talk: Chicago Bears by Otis Wilson with Chet Coppock From the highs of the 1980s Chicago