Bears Win Over Bengals Means Fox Should Have Been Fired Last Year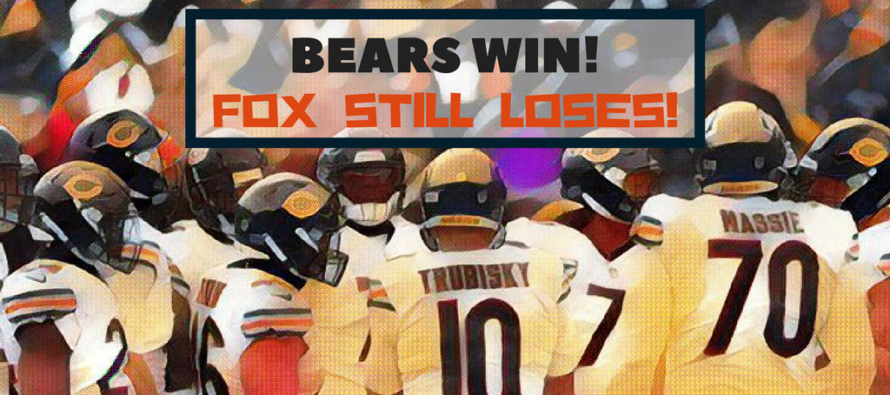 Scroll below Aldo's report to read Draft. Dr. Phil's quick take on the game. And make sure you tune into Bears Hour Live with Draft Dr. Phil Ottochian tonight at 9pm CST. Join us in the chat room tonight and interact with the Doctor!
Sunday's win by the Chicago Bears underscored one thing: Ryan Pace must still fire John Fox. Yes, Fox's team beat the tiger stripes off the Cincinnati Bengals in a road game. No this isn't my stubborn stance that Fox has to go because the Barroom has produced hours of podcasts and music dedicated to ousting the out-of-date head coach.
This is about not being fooled. This is about doing the right thing. This is about John Elway.
Many sports fans, especially in football, have a tendency of altering their evaluations of players and coaches from game-to-game. Especially in football. Bears win and you're in love again. Bears lose and you're out of love again. Don't fall in love because the Bears offense had 482 total yards of offense averaging 6.7 yards per play and 29 first downs. No. Not with John Fox. Remember how he's broken your heart over and over again. Remember the dumb mistakes. In fact, even in victory you could see the poor coaching. More on that momentarily.
For the development of quarterback Mitch Trubisky, where the franchise's hopes for the next generation rest, it's critical the Bears do the right thing and eliminate the quarterback's biggest impediment to success. Trubisky had his best game as a professional throwing for 271 yards on 25-of-32 passing with one touchdown pass and another TD rushing –  the first of his career. This Trubisky performance would have probably happened game three against the Pittsburgh Steelers had Fox had an open competition at quarterback. Trubisky would have won the job hands-down and his success would have begun much sooner. Fox's flub cost the team wins and Trubisky numerous frustrations.
Remember John Elway fired Fox at Denver, after he had won four consecutive division titles. But, as the USA Today documented the Broncos head honcho had numerous disagreements with the head coach's "in-game strategy, personnel decisions and game preparation." Look back at the 2012 division playoff loss by the Broncos to the Baltimore Ravens. Elway seethed when with 31 seconds to play, the score tied and Broncos holding two timeouts and the ball at their own 20, Fox chose to have his Hall of Fame quarterback, Peyton Manning, take a knee and force overtime. This gutless display is something we've seen all too often in Chicago.
The formula is simple. John Elway developed it. Fire Fox. Hire the right head coach. Win championships.
A LOOK AT THE BEARS WIN
Once the game began the Bears offense took on a new aggressive look. New for the Bears. Not new for fans. It's something Barflies and Barroom analysts have been praying for the last several weeks. Shayne Marsaw, the Barroom's senior analyst, sent Bears coordinator, Dowell Loggains, a polite tweet asking him to take the offensive.
You know what Dowell? Make a frigging statement here and let your QB go downfield. Let's be the aggressor for once you little inept troll. #Bears

— Shayne L. Marsaw (@wasram) December 10, 2017
After the Bears defense held the Bengals to only 11 yards in their first series, and provided the offense with half the field to work with, Loggains' offense went to work.
Trubisky passed on his first two plays of the game, only the second time he's done so in his NFL career (the 27-24 loss to the Lions was the first time). A play-action roll-out completion to Josh Bellamy for 16 yards set the ball on the Bengals 35 and the Bears proceeded to score rushing touchdowns on successive plays. The first was was actually nullified when the officials, correctly, detected Tarik Cohen had stepped out of bounds. But, in the very next play Jordan Howard opened the scoring.
Tarik Cohen steps out of bounds on his way to a TD, but Jordan Howard gets it done on next play pic.twitter.com/iICRWrfqtN

— Bears Barroom (@BearsBarroom) December 10, 2017
The first series for both the Bears offense and defense personified what the Bears should have been throughout the season. A team ready to play after the 100 television commercials were done playing. A pesky defense that disrupts a quarterback's timing with very little blitzing (the Bears pressured Andy Dalton on nine of his 31 drop backs, according to Pro Football Focus and blitzed only five times). And an offense capable of moving the ball through the ground or the air. Because one thing is obvious to most sober fans (I don't drink during most games… anymore) there's talent on this roster to get the job done. Yes there are personnel deficiencies, but there's talent to be competitive and at least be a .500 team.
On the next Bengals offensive series they went three and out and it was clear they were going to target Kyle Fuller who was primarily working on Bengals All-Pro wide receiver AJ Green. Fuller, scheduled to be a free-agent after the season played his best game of the year. His agent was probably raising his asking price on almost every pass thrown his way. PFF states Fuller was targeted 9 times and allowed only three catches for 14 yards with three pass breakups. Yes, he did not come up with a interception despite a couple of excellent opportunities, but he only allowed one yard after the catch as his tackling was the best it's been all season.
On the Bears second offensive series we were reminded of why John Fox has to go.
Poor player personnel decisions like fullback Michael Burton. Why is he on this roster?
Michael Burton's job on the Bears offense is to get completely owned at the point of attack and then run over to help the running back to his feet after he's tackled

— The Mall Krampus (@cakotz) December 10, 2017
Burton stops and catches a defensive lineman. This is hilariously bad again. You have to stay low and explode through the man. It's coaching it's lack of talent being allowed to take reps from Shaheen @BearsBarroom

— Draft Dr. Phil (@FulphilO) December 10, 2017
Updated player profile picture for #Bears FB Michael Burton pic.twitter.com/Qh6V769F91

— Bears Barroom (@BearsBarroom) December 10, 2017
Burton played 19 of the team's 76 offensive snaps (yes! 76!). I get it. Loggains wants a blocking fullback to help Howard power his way towards first down markers. But, Burton sucks. I wonder if during the tape review of Burton's work his agent barges into the room and hands out cigars and promises of free drinks and lap dances at the local strip bar.
The second reminder was Fox's incomprehensible challenge of the officials obviously correct ruling that Trubisky had stepped over the line of scrimmage on a pass play. Fox won't reveal the process of how he and his staff go about reviewing plays and deciding whether to challenge. But, he doesn't have to reveal that the process is as broken as his voice-box.
According to @WGNRadio in a November 2017 report, "Fox has the second-lowest winning percentage in Bears coaching history with a 12-28 record through his first 40 games." It got worse today. https://t.co/LWe9uQxizd

— Bears Barroom (@BearsBarroom) December 10, 2017
Once the Bengals took over for their third possession I began to fear another typical Bears loss.  The defensie gave up an explosive play, a 21 yard Gio Bernard run, Prince Amukamara flubbed a turnover opportunity and a mix-up in the Bears defensive backfield led to a 14 yard Brandon LeFell TD catch from Dalton.
The next two Bears drives resulted in field goals as Trubisky and the run game accumulated 25 plays of offense. Unfortunately the team's red zone efforts fell short. There was a highlight play that needs to be pointed out. On a 4th down and three with three minutes to go in the half, Fox finally flashed some balls and allowed Loggains and Trubsiky to go for it. Out of the shotgun with Howard and Cohen flanking the quarterback (yes, you read that right, both running backs finally in the game together during a big play moment), Trubisky completed a 16 yard pass to Adam Shaheen for the first down. Those four players are the future of this offense. Add a playmaking wide receiver during the offseason and this team will score many more 30+ point games.
Under the radar play that speaks volumes for @Bears future. Howard, Cohen, Shaheen & Trubisky get it done on 4th down. The pieces are there pic.twitter.com/OwGg9quvPg

— Bears Barroom (@BearsBarroom) December 11, 2017
It was a fairly impressive half of football for the Bears. But, they left points on the field (new kicker Mike Nugent missed an extra-point kick and the two failed TD attempts in the red zone) and the team continued their troubling trend of committing too many penalties.
In the second half, Trubisky's connection with slot receiver Kendall Wright began to heat up.
Just a great anticipation ball and ball placement by Trubisky to wright. @BearsBarroom accuracy and confidence. Go up and get it. Perfect pic.twitter.com/Y6Q7b8vQUJ

— Draft Dr. Phil (@FulphilO) December 10, 2017
The drive resulted in Trubsiky scoring his first rushing touchdown of his career.
After an 11-yd run by Howard inside the 5, Trubisky wisely keeps the ball after the fake to his star RB. #CHIvsCIN pic.twitter.com/NE8HJd5yPw

— Bears Barroom (@BearsBarroom) December 10, 2017
The nine-play 76 yard drive was the first of three successive touchdown drives.
The next TD was another example of why fans of the team are so disappointed and frustrated with the coaching staff. Many of us have been asking for more involvement in the offense by rookie Adam Shaheen. Coming into the game he had only been targeted eight times for the entire season. Against the Bengals he finally saw a healthy five official targets and on a sixth he drew a pass interference penalty.
Dowell Loggains does have a set. On 3rd & 1 goes to TE for TD. After penalty goes right back to Shaheen for TD pic.twitter.com/UvuvKBMXjP

— Bears Barroom (@BearsBarroom) December 10, 2017
The Bears got the ball back four plays later when Eddie Jackson did a super job of stripping the football away from AJ Green.
Birthday boy Eddie Jackson with his 4th takeaway of the season! pic.twitter.com/1Ypgsa7Cwt

— Daniel Greenberg (@ChiSportUpdates) December 10, 2017
After the turnover the offense ran a super-efficient seven-play, 80 yard drive. Trubisky completed two-passes, both to Kendall Wright (33 yards total) and the running game did the rest against a Bengals defense that had the word QUIT stenciled on the back of their uniforms.
After an 18 yard pass play the #Bears roll with Cohen on a direct snap & 2 rushes by Howard for the TD. #CHIvsCIN pic.twitter.com/MZ6GJPrkIa

— Bears Barroom (@BearsBarroom) December 10, 2017
The defense was efficient all day with the exception of the 1st quarter TD. The Bears were only charged with one missed tackle in the game, (John Timu). They limited the Bengals to 234 yards of offense and Dalton managed to complete only 14 of his 29 pass attempts for 141 yards.
For Trubisky it was the biggest day of his pro career. He was particularly impressive when he faced pass pressure going 6 for 8 and 74 yards. That's a big improvement over his past games. Additionally the tales the in locker room about his leadership skills continue to mount. Adam Hoge at WGNRadio.com pointed out this comment from Bobby Massie.
"Mitch will tell us, 'Shut the fuck up' in the huddle. Mitch has got some balls. He's going to be a good quarterback."
But, it's important to remember that we can not go bipolar when evaluating this team. One of my favorite movie lines is from Pulp Fiction and it's appropriate here and one the players should heed. A mobster, known for his reputation of taking care of problems, is examining an impressive clean-up job of a bloody mess made by two hit men when they accidentally blew the brains off of a passenger in a car. After his approval he warns that the job still is far from done, "Let's not start sucking each others' dicks, just yet."
That's what these players have to do. Keep working and come out next Saturday in Detroit and continue to play better football.
And, Ryan Pace, after witnessing his 2017 rookie class playing balls out Sunday, needs to realize that John Elway did the right thing when he fired John Fox. To not pull out of his agreement with Fox would be like the two of them sucking each others dicks leaving only a sour taste.
DRAFT DR. PHIL'S TAKE ON BEARS WIN AND JOHN FOX
The Bears came to play no doubt. They were led by another showcase Jordan Howard performance and the arm of Mitchell Trubisky. But let's not twist this, Marvin Lewis brings a script with tons of coaching plot holes. This Cincinnati Bengals team is a major bomb.  You saw a Bengals team going through the motions with their $96 million dollar box office flop QB Andrew Dalton and a Betamax head coach who has been there for 12 years
That should give you pause as a Bears fan. While I applaud that the Bears played harder than their opponent I still know Fox should not direct the rest of Trubisky's career. Look at this one play. It's 4th-and-1 and you're at the 9 yard line of the Bengals. Fox decides to kick a field goal. You've won three wins this season. That's the coach John Fox is and will always be. A coward.
Yes, the win was dominant for the Bears. But, a coach that coaches not to lose is a loser and Fox has shown us he's a stubborn loser locked in his losing ways.
The John Fox movie has to end. You don't develop a franchise QB by limiting him. Imagine if the great director Martin Scorsese refused to allow Robert DiNiro to not ad-lib the lines, "You talking to me?" Or Joe Pesci? "Funny? Funny how? Like I'm a clown? I amuse you?"
Fox is limiting the team. Fox is limiting this great quarterback. And Fox is limiting the wins we could have. That's why his record and winning percentage as the Bears' head coach are a flop and the Bears need a new director and script.
Aldo Gandia
Among my career highlights I have produced two films while in high school that received nationwide attention; leaned out of a helicopter over the Gulf of Suez at the age of 20 to shoot movies of oil rigs; won an Emmy award for a sports special and another for a kid's fitness show; and led a team of very talented creative professionals to produce break-through corporate communications.
---
---
Related Articles
There has never been a single doubt regarding the athletic ability of Minnesota Vikings wide receiver Cordarrelle Patterson. His electrifying
The Bears Barroom has submitted the following song, Fire Fox Christmas, to the popular Waddle and Silvy show for their
Vikings Barroom Assistant Editor Drew Mahowald reacts to some notable Minnesota Vikings news from the week, including a report indicating Shaun