Bears Wide Receivers Hampered By Poor Coaching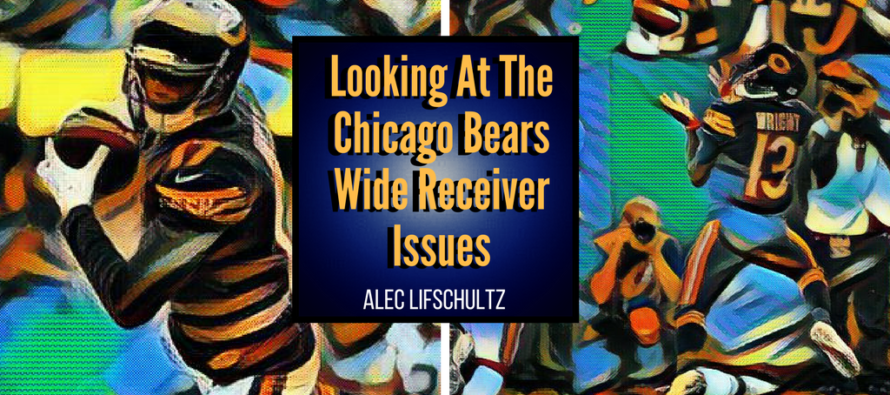 I've been away from writing to deal with some personal things, but I'm back to report that the Chicago Bears offense has gotten worse since I've been away.
Currently Dowell Loggains' offense is ranked last in passing yardage per game and overall yardage per game. I find it hard to believe that a team with running backs Jordan Howard and Tarik Cohen can be ranked last in yardage. The passing game continues to struggle from poor play calling. The Chicago Bears passing attacked has been subpar from a combination of coaching (shocking right?) and wide receivers failing to get open or create separation in coverage.
I'm on the record of saying I don't understand what the hell wide receiver Markus Wheaton is doing on the roster. Primarily because Loggains and John Fox don't know how to utilize him.
New #Bears WR Markus Wheaton making a catch during OTA's.

Reports have him penciled in as the #3 WR. He had shoulder surgery this offseason pic.twitter.com/RCQyk56FW0

— PirateLife Football (@PirateLifeFF) July 3, 2017
Wheaton looked explosive in training camp. He injured his finger during receiver drills and it wasn't until week three that he made his debut. Ironically, it was against his old team the Pittsburgh Steelers where the knock on him was his injury history.
Wheaton's debut was nothing to write home about as Mike Glennon (remember him?) couldn't connect with him in either of his two targets.
The following week, against the Green Bay Packers, Wheaton again went without a reception. Glennon threw his way three times and one of them was a huge overthrow that was intercepted.
When Mitch Trubisky made his debut against the Minnesota Vikings, I expected more production. Wheaton saw a season-high 46 snaps, but only caught one of five targets and it was for no gain.
Markus Wheaton #12 1st catch as a Bear challenge ruled incomplete: https://t.co/LbJznthPLk via @YouTube

— Smiley (@linkinpoem) November 10, 2017
Unfortunately, Wheaton injured his groin and missed three games. Healthy since the Green Bay game at Soldier Field, Wheaton has not seen a pass thrown his way in the last four games and in fact, has played only 17 snaps including a season low one against the San Francisco 49ers Sunday.
I don't think a single human being that watches or knows the game of football has any idea what the hell Loggains and John Fox are doing with player personnel decisions and quite frankly neither do they. Wheaton is getting paid $6 million guaranteed to be utilized like a practice squad player. Ryan Pace can't be happy about this.
Kendall Wright has been very reliable for Trubisky when he's had the pleasure of having the football thrown in his direction.
Kendall Wright #Bears pic.twitter.com/LzjQGpOphm

— Josh Cohen (@jco3215) December 4, 2017
Wright is on a veteran minimum and a lot of people believe he wouldn't make the active roster because of the likes of Victor Cruz. But, Wright outplayed Cruz in preseason and earned a roster spot as the starting slot wide receiver. He has a knack for getting open and has made some impressive catches for Trubisky on 3rd downs. We all remember the huge catch that Trubisky got all the credit for in overtime against the Ravens. Kendall Wright went up high and snatched that ball out of the air.
3ª p/ 11 na prorrogação, Mitch Trubisky consegue a conversão chave, jogadaça dele e do Kendall Wright #ScoutReport pic.twitter.com/BcGsXUcbGj

— FA Hoje (@FAHoje) October 16, 2017
The biggest weapon at wide receiver for the Bears is newly acquired Dontrelle Inman. Pace might have made one of his best moves when he traded a conditional 7th round pick for the veteran. He has a high catch radius, runs efficient routes, and seems to know soft spots in zone coverages. Trubisky has taken an immediate liking to throwing him the football — when allowed to actually go down field.
Mitchell Trubisky to Dontrelle Inman 8-yard TD pass. Inman's first TD as a Bear. pic.twitter.com/322DC7D4lW

— Kevin Marchina (@kg_holler) December 3, 2017
The only scoring drive from the Chicago Bears offense Sunday came from a touchdown pass to Inman on an in route. I would like for Inman to be around next offseason because he's shown more than any active wide receiver on the roster in his short time here.
Pace always seems to attack the position of the most need in the offseason by throwing multiple bodies in the mix. Last offseason he brought in several secondary players to have competition in training camp. This year the unquestioned position of need on the Bears offensive side of the ball is wide receiver.
Mitch Trubisky is the cornerstone that will determine which direction the Bears go in the next five years. Pace will do whatever it takes to make sure his shiny new quarterback is equipped to be successful. There are a plethora of good to great free agent wide receivers available this upcoming offseason. Some include:
Jarvis Landry
Sammy Watkins
Davante Adams
Allen Robinson
Terrelle Pryor
The Bears will have plenty of cap space to offer one or maybe even two of these guys enticing deals to come and play with a young, accurate, and athletic quarterback like Trubisky.
If free agency isn't exactly where you see Ryan Pace going after wide receivers don't worry there are a lot at the collegiate level that I've been scouting. I'll start with my favorite player in this draft for the Bears based on positional need: Alabama wide receiver Calvin Ridley.
Sometimes you got to hit the left blinker 🚦 & turn right ➡️🚦. @CalvinRidley1 Sticking! #ArtofRouteRunning #StickSystem #ReceiverFactory pic.twitter.com/lHzL6IZCyG

— RECEIVER FACTORY (@receiverfactory) November 21, 2017
Ridley has every tool necessary to be a 1,000 yard receiver year one in the NFL. His route running, quickness, and good hands are things that will immediately translate to the pro level and if the Bears are picking between eight and 15  I advise Pace to run to the podium.
I know. A lot of fans are hesitant to take a receiver in the first round because of Kevin White. Talent wasn't an issue with Kevin White, it's injuries. I've never seen a player with the kind of bad luck that Kevin White has with his bones. The man has gotten no good luck.
Another reason I'll justify taking Ridley is because he's not a project, he comes in knowing how to run the route tree.
Okay, if I haven't sold you on a first round wide receiver then my guy Dante Pettis in the second or third round would make Trubisky very happy. Fluid, fast, and quick-handed Pettis is definitely worth the pick.
Dante Pettis' clean route movements are such a joy. pic.twitter.com/cybMqsw6NN

— Jake Burns (@jake_burns18) November 11, 2017
He's excellent in punt returns but that isn't necessarily a need for the Bears. Pettis is amazing after the catch and the Bears need a young player who will make plays even when they aren't readily available.
Trubisky may seem like he's regressing and not playing up to his potential but give him time ladies and gentlemen. He's a first-year quarterback in a terrible offensive system and being handcuffed by his head coach. When a better system is set in place and better outside weapons are given to him I believe Trubisky will shine and look like the player we all want and expect for him to be.
Alec Lifschultz
Commercial Carpenter by day, Avid Bears fan by night and on weekends. I'm a Chicago native that has been watching the Bears since I was a kid. I enjoy going over the game film and writing and tweeting about it from my own perspective and insight. You can find Alec Lifschultz on Twitter/Instagram @TreyBizzy
---
---
Related Articles
Editor-In-Chief of NFCN Barroom Aldo Gandia loves to asks questions. Some think it's his background as a television news reporter.
Chicago Bears Attn: Anyone That Will Listen 1920 Chicago Bears & Football Drive Lake Forest, IL 60045 September 28, 2017
Draft Dr. Phil breaks down the Chicago Bears 27-24 loss to the Detroit Lions. Horseshoes and Hand Grenades Print