Bears vs Packers: Bears Fans Win At Trash Talking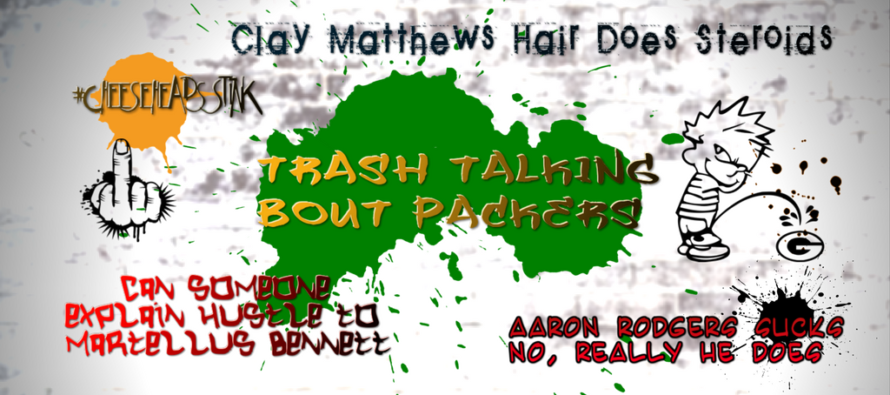 It's Packer week! And that means the trash talking between fans gets so heated cheeseheads start to melt by mid-week.
When Bears fans get into a trash talking session with Packers fans my money is on… da Bears fans.
Sure, Packer fans have some high-powered ammunition to work with: recent dominance over the Bears including some nasty beatdowns, a dynasty of division championships and one of the best quarterbacks of his or any generation.
But, we have IQs of over 100. They can't count to 100.
We have indoor plumbing. They have inbred parents.
They like living near the Illinois border to pick up our WiFi.
Take a look at our quickie Packer trash talking video and make sure you Tweet or Facebook your favorite Packer jokes to us.
Aldo Gandia
Among my career highlights I have produced two films while in high school that received nationwide attention; leaned out of a helicopter over the Gulf of Suez at the age of 20 to shoot movies of oil rigs; won an Emmy award for a sports special and another for a kid's fitness show; and led a team of very talented creative professionals to produce break-through corporate communications.
---
Related Articles
Every Monday night Draft Dr. Phil shares his thoughts about the latest Chicago Bears game on Bears Hour Live. The
Vikings Barroom Assistant Editor Drew Mahowald reacts to the Minnesota Vikings acquiring Sam Bradford from the Philadelphia Eagles. After Minnesota
Vikings Barroom Assistant Editor Drew Mahowald elaborates on a few things that caught his eye during first full pads practice