Bears Sign Veteran Dan Skuta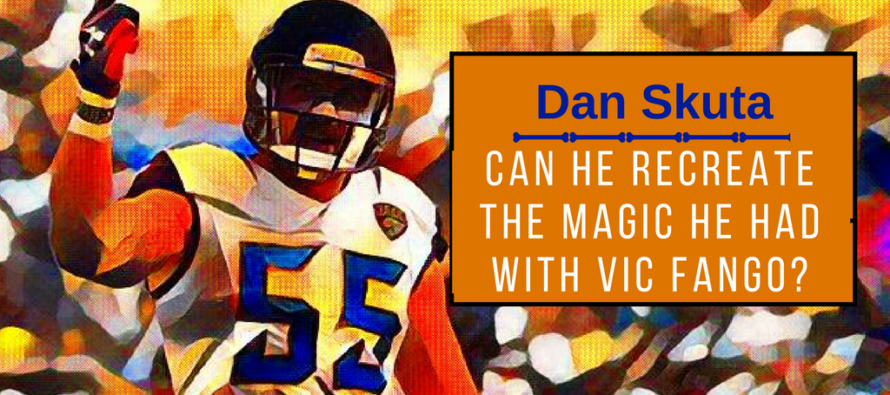 The Chicago Bears have added another Division II player to their roster when they announced the signing of linebacker Dan Skuta. The all-time sacks leader at Grand Valley State is a nine-year NFL veteran who was released by the Jacksonville Jaguars prior to this year's draft.
The 6-foot-2 and approximately 258 pound Skuta began his NFL career when he joined the Cincinnati Bengals as an un-drafted free agent. In four seasons there, he shined as a special teams player recording 56 special teams tackles in 56 games. In his first fill-in start at linebacker Skuta showed skills there, too, making seven tackles. He never missed a game while in Cincinnati and also lined up at fullback during a 2010 preseason game.
In 2013, Skuta signed a two-year deal with the San Francisco 49ers who were intrigued with his sterling special teams play and his overall versatily. He told the media he was proud of being able to contribute in all phases of the game. "That's something I've always been good at," Skuta said. "I feel like I'm pretty smart and can learn a lot of different things and be used in a lot of different ways."
Skuta built on his success at San Francisco and he gave a lot of credit to his then defensive coordinator Vic Fangio. The current Bears DC moved Skuta to the outside and by his second season with the Niners was (thanks in part to injuries) regularly starting there. In 2014, he had a career season high in sacks, five, and forced three fumbles.
Fangio got Skuta hooked on the outside linebacker position. "I was really fortunate that Vic saw that in me, to put me outside, and fortunate that he had the trust to play me last year and throughout this year," he said at the end of the 2014 season. "Wherever someone puts me, that's where I'm going to play. But (outside) is where I want to play."
Fangio must have loved Skuta's edgey play. It's also something Bears fans will find entertaining.
In the 2014 NFC Championship Game. Skuta was involved in a controversial penalty when he was called for a helmet-to-helmet hit on Cam Newton.
Skuta became a casualty of the 2015 coaching changes in San Francisco, but benefitted from the turmoil there when his agent landed him a $20.5 million, five-year contract with the  Jacksonville Jaguars with $8 million guaranteed.
It was a heck of a lot of more money Skuta was expect to get in free agency, but the Jaguars saw him as a plug and play strong-side linebacker. In his first game he had seven tackles and a sack of Cam Newton. Unfortunately, it was arguably his best game of that season. It didn't help that he suffered a groin injury in week 11 that hampered his play.
When 2016 began the plan in Jacksonville was to move Skuta to the position he played for Fangio, the pass rushing outside linebacker. The expectation was that with rookie Myles Jack; Dante Fowler returning from an injury that ruined his freshman year; and the additions of Malik Jackson and Yannick Ngakoue the Jags would have a dominant front-seven.
But, things didn't work out that way and Skuta's play disappointed. Again, an injury may have been a big reason why his play slipped (hip injury after week four). He saw his snaps reduced to 272, although he had more than Jack. Skuta finished the season with only 15 solo tackles and without a single sack.
Before the season began Skuta was arrested on June 19th for allegedly pushing a woman in the face and causing her head to hit a glass window in an Orlando bar, according to what police told the Associated Press. Charges, though, were never filed.
With the Jaguars investment in young players at the position, Skuta's age and growing injury history he was a prime candidate to be released by the Jaguars and he was on April 11th.
Skuta visited the New England Patriots before signing with the Bears. Fangio's familiarity with Skuta might help him resurrect his career, but if Skuta sticks with the Bears it's safe to speculate that his main role will be special teams and an emergency fill-in at linebacker.
[graphiq id="aDhIsInjpid" title="Dan Skuta Overview" width="640″ height="967″ url="https://sw.graphiq.com/w/aDhIsInjpid" frozen="true"]
Aldo Gandia
Among my career highlights I have produced two films while in high school that received nationwide attention; leaned out of a helicopter over the Gulf of Suez at the age of 20 to shoot movies of oil rigs; won an Emmy award for a sports special and another for a kid's fitness show; and led a team of very talented creative professionals to produce break-through corporate communications.
---
---