Aldo's Bears Post-Draft Mock Draft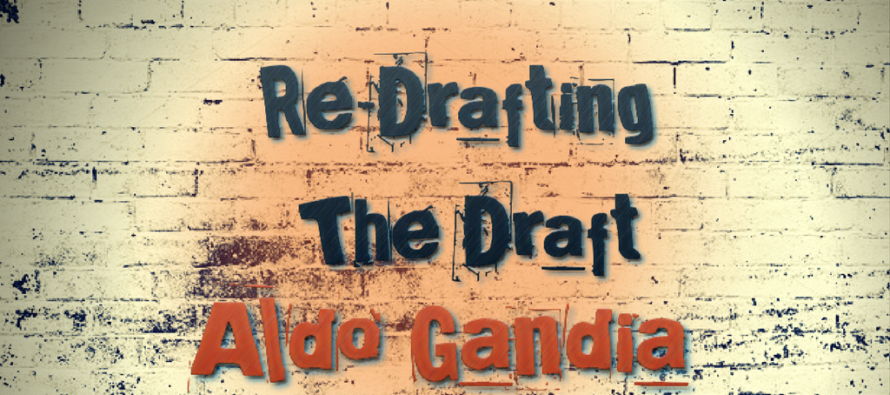 Can you recall a Chicago Bears draft that has been as vilified as Ryan Pace's third with the team? We've posted two stories, Brutal Reaction to the Trubisky's Transaction and Booing the Bears Draft by the media.
I'm still collecting my thoughts on the draft… I find that with many things in life it often makes sense to delay reaction until more facts are in. But, I can not deny that my immediate reaction was disappointment. This draft was loaded with talent and the Bears reduced choices instead of adding.
As always I'm interested in your take on the draft and have received dozens of interesting opinions on our Twitter account @BearsBarroom. That's why on Sunday I solicited opinions on whom you would have chosen had you been calling the shots in the Bears' war room. This is an exercise I always find myself doing… even years after a draft; I will daydream about the Bears choosing Muhammad Wilkerson instead of Gabe Carami in round one of the 2011 draft. A year later I prayed the Bears would trade up for Luke Kuechly.
So, let's do our re-draft right now. The rules are simple. No trades. Can't pick a player who went before the Bears' prescribed pick. In other words, the Bears original pick was No. 3, therefore Mitchell Trubisky is off the board, because he was selected at No. 2. We'll assume the Niners completed the Pace deal with some other GM.
We"re posting your picks on a separate page… you can see the links below. We'll hold on to all the re-drafts so that years from now we can compare not with each other, but more importantly with Ryan Pace.
Bears Re-Draft Mock – Round 1, No. 3: Jamal Adams
The Bears haven't drafted a safety in Round 1 since Mark Carrier in 1990. I like all top four quarterbacks in this draft (Trubisky was 4th on my board, Mahomes No. 1), but none is the kind of sure-thing guy that Adams is in my eyes. It won't take long to see Adams turbo-charge the New York Jets defense, where he really did go. Will he have the same impact as a franchise quarterback? No. But, I'm worried this draft might not have a franchise quarterback so I'm picking a safety who will much more likely become a franchise leader and defender.
Bears Re-Draft Mock – Round 2, No. 36 – DeShone Kizer
The football Gods are smiling at me. DeShone Kizer is still on the board. Mike Glennon will quarterback this Bears team for two or three years and Kizer will step in when needed. I am bypassing some players I'd love in round two like Obi Melifonwu and Tyus Bowser, but a developmental quarterback makes sense here and Kizer fits the bill perfectly.
Bears Re-Draft Mock – Round 3, No. 67 – Tarell Basham
I have a draft woody as I look at the board and see Basham with a come hither look. I know have Leonard Floyd and Basham as the EDGE rushers of the present and future. They will develop together, along with Adams as the foundation of the defense.
Bears Re-Draft Mock – Round 4, No. 112 – George Kittle
Almost identical in size to Zach Miller with similar pass-catching skills. Kittle is even a much better blocker now than when the 32 year old Miller was when he first joined the Bears in 2015.
Bears Re-Draft Mock – Round 4, No. 117 – Julie'n Davenport
Torn between Mack Hollins and Davenport here, but given we invested so much in receivers during free agency, I will go need here: a developmental tackle. Kid has great size and leadership skills. One you can't teach and the other he's already learned.
Bears Re-Draft Mock – Round 5, No. 147 – Demontae Kazee
It really gets tough down here to find the gem in all the muck. Kazee doesn't have the size I like in a corner, but you can't deny that he smells out the football better than some of the defense backs drafted earlier. In his college career he had 17 interceptions and six forced fumbles. That's big enough for me.
Bears Re-Draft Mock – Round 7, No. 221 – Devante Mays
Prior to the draft Shayne Marsaw and I yearned for the Bears to draft running back insurance. My favorites were all gone by round seven starting with T.J. Logan who went in round five. Therefore I'm going with a poor man's Jordan Howard. Mays is 5'11" and 230 pounds. Like Howard he has the lower body strength to spare. Like Howard he suffered injuries in college that had him below the radar. I'm stashing Mays on the roster in the event… I'm not even going to type it!!!
CLICK HERE FOR JOSE COTTO'S RE-DRAFT
CLICK HERE FOR SHAYNE MARSAW'S RE-DRAFT
CLICK HERE FOR YOUR MOCK DRAFTS
CLICK HERE FOR THE BEARS HOUR LIVE CO-HOSTS RE-DRAFT
Aldo Gandia
Among my career highlights I have produced two films while in high school that received nationwide attention; leaned out of a helicopter over the Gulf of Suez at the age of 20 to shoot movies of oil rigs; won an Emmy award for a sports special and another for a kid's fitness show; and led a team of very talented creative professionals to produce break-through corporate communications.
---
---