Kevin Schroeder's Player Performance Grades: Bears vs Vikings
by Aldo Gandia | October 13, 2017 8:04 am
If this were a movie, Mitchell Trubisky would have led the team down the field for the game-winning touchdown Monday night and then on a run to the playoffs. But this is not a movie. Trubisky did not lead the team down the field for the touchdown, he threw an interception and we're here thinking about the old adage about horseshoes and hand grenades.
But he looked good. Or at least as good as one could reasonably expect him to look given what's around him. Trubisky took the blame for the loss and the next day said he was below average. Neither of those things are true. It's an impressive way to carry oneself, though, especially for a rookie.
Let's not make any mistakes here; Trubisky is not and was never going to be a panacea for the team's problems. He alone does not make this a playoff team. But it appears that, finally, the most important position on the field is not a glaring problem for the Bears. The future is bright.
Player Performance Grades
The grading scale goes from -3 to +3 for each play. Penalties are counted in whatever phase they were committed. "Short" throws are 10 yards or less, "Medium" is 10-20, "Deep" is over 20. Everything else (scrambles, throwaways, etc.) is under "Miscellaneous."
WHEN VIEWING THE GRAPHICS ON SOME DEVICES YOU WILL NEED TO HOLD IT HORIZONTALLY TO SEE IT IN ITS ENTIRETY




So what happened?
Well, for a decent chunk of this game, I had to wait for the all-22 to go up to find out. Seriously, the TV director for Monday Night Football sucked. If there was a space in the charts for him, he'd have been about -15.
Anyway, Mitchell Trubisky's stat sheet looks rather pedestrian: 12-25, 128 yards, 1 TD, 1 INT, 3 rushes, 22 yards. It is at this point I should mention that various teammates took turns letting him down. Trubisky had two completions called back by penalties, ticky-tack though they were, and Markus Wheaton couldn't get a knee or second foot down on a comeback route. As debuts go, it was a fine one, especially considering his receiver group consists of a guy in Kendall Wright who would be a fine #3 receiver and various jabronis who have a long way to go to even be that good. The game never looked too big for Trubisky. He showed great poise and knew when to get out of the pocket. He displayed a very impressive arm. My only real knock on his performance is that he tried to do too much on a few occasions.
While Trubisky himself didn't light the Vikings up, having an actual passing threat at QB did open things up a bit for Jordan Howard. Howard averaged exactly 4 yards on 19 carries – a nice outing. Howard was aided by an offensive line turning in a second consecutive great performance on the ground, this one against a more stout defense. Sitton and Whitehair in particular were outstanding. Whitehair's grade was hurt by a poor pass blocking score, which included a holding call and a pair of bad snaps. As far as the snaps go, Whitehair bounced between center and guard during camp and the preseason games and has had to work with two quarterbacks. I'm not going to get down on him just yet.
The receivers were of little help to Trubisky once Minnesota realized that this quarterback could actually throw and adjusted their coverage. I'd like to see more of Adam Shaheen – his blocking looked much better this week and even if he's not consistently great in that regard just yet, the guy you're playing now, Dion Sims, isn't either and he's also not much of a threat in the passing game.
On the other side of the ball, the Bears allowed one sustained drive for a touchdown and had one big bust result in another. Let's look at the Vikings drive chart:
| | | | | | |
| --- | --- | --- | --- | --- | --- |
| Start | Spot | Plays | Yards | Time | Result |
| 10:13 1Q | MIN 12 | 3 | 8 | 1:00 | Punt |
| 7:01 1Q | MIN 16 | 3 | 4 | 1:38 | Punt |
| 2:27 1Q | MIN 10 | 2 | -10 | 0:56 | Safety |
| 12:52 2Q | MIN 20 | 6 | 11 | 2:55 | Punt |
| 7:03 2Q | MIN 25 | 8 | 16 | 4:29 | Punt |
| 2:28 2Q | CHI 13 | 4 | 5 | 1:26 | FG |
| 0:25 2Q | MIN 46 | 3 | 11 | 0:25 | End of half |
| 15:00 3Q | MIN 25 | 13 | 75 | 6:44 | TD |
| 5:23 3Q | MIN 18 | 6 | 82 | 1:52 | TD |
| 12:24 4Q | MIN 25 | 7 | 17 | 3:03 | Punt |
| 7:20 4Q | MIN 15 | 8 | 41 | 4:48 | Punt |
| 2:20 4Q | CHI 28 | 6 | 20 | 2:08 | FG |
Akiem Hicks was dominant. Leonard Floyd was a major problem for Mike Remmers. John Timu was solid before leaving with a high ankle sprain that will keep him out for 2-4 weeks. Everyone outside of Kyle Fuller had nice days in coverage. I'd like to see the Bears try Fuller at safety, but I can understand not wanting Marcus Cooper to be your #2 corner. It is at this point that either Chidobe Awuzie or Jourdan Lewis would have fit in very nicely on this team.
After the success of the #TrubiskyNow movement, Aldo has started the #FireFox movement[1], complete with movie[2], and upcoming podcasts dedicated solely to the topic. So every week in this space going forward, we will have the #FireFox (not the Mozilla product) status.
#FireFox (not the Mozilla product) status:
I lean to fire, but it depends on what you think of Loggains and Fangio.
There exists a scenario in which holding on to John Fox is a good idea and that's if you like Dowell Loggains and Vic Fangio as coordinators, but don't feel comfortable giving either the keys as head coach. If that's the case, any coach you hire would either be a young guy so desperate for a head coaching job that he'll take any one, even one where he's going to be told who his coordinators are or a retread looking for another payday. In either case, that coach is nothing but a stooge. You'd be firing Fox purely for the ceremony of doing so. There is no upside to the decision; the best-case scenario is that such a move turns out to be a lateral one.
So what of Loggains and Fangio? Well, uh, dunno. Fangio's definitely got a nice track record. The only major beef I have with him is the lack of turnovers this season and last. Given that his best cornerback is Prince Amukamara and he's a pretty big upgrade over anyone the team had a year ago, the lack of turnovers may not be Fangio's fault. Given his track record, I'm willing to give him the benefit of the doubt. Similar caveats apply to Loggains and the jabroni receiver group I talked about earlier. Loggains doesn't have the track record Fangio does, but he has less talent to work with than Fangio. Trubisky's play the rest of the season should factor into the decision here. Ask yourself: "is this the guy we want developing the man we hope is our franchise QB?"
Staley Nickels
My award system can give up to three nickels per player. Keep in mind that I might not award the optimum amount of Staley Nickels to the highest-graded players since different grades mean different things to different players.
Offense
3: Josh Sitton, Cody Whitehair, Jordan Howard, Zach Miller
2: Adam Shaheen, Kendall Wright, Kyle Long, Mitchell Trubisky
Defense
3: Leonard Floyd, Akiem Hicks, Adrian Amos
2: Eddie Jackson, John Timu, Mitch Unrein
1: Prince Amukamara, Pernell McPhee
Staley Nickels Count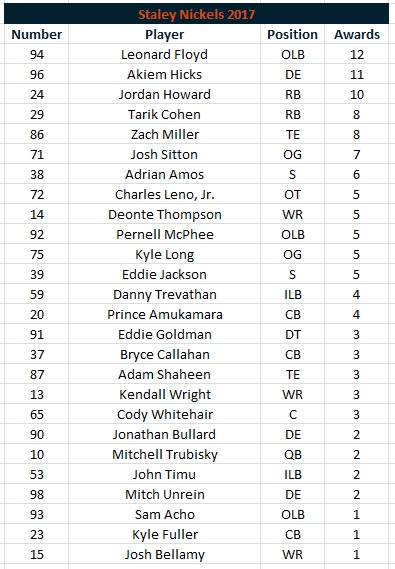 Would love to hear your thoughts… hit me up on Twitter @KSchroeder_312[3]
BearDown!
Endnotes:
#FireFox movement: http://bearsbarroom.com/fire-john-fox-campaign-begins-today-firefox/
with movie: http://bearsbarroom.com/firefox-the-movie-hes-irritating/

@

KSchroeder_312

: https://twitter.com/KSchroeder_312
Source URL: http://bearsbarroom.com/bears-player-performance-grades-vikings/
---