Kevin Schroeder's Bears Player Performance Grades vs Panthers
They say the best offense is a good defense. It certainly was for the Bears Sunday, as they scored fourteen points on defense. Since they played offense on defense, they felt comfortable playing defense on offense. Some fans found the offense's defensiveness offensive and are clamoring for a coaching change. In a turn of events from a couple weeks ago though, it appears some fences have been mended with Fox, as some fans get defensive when the idea of a coaching change is brought up, as they find it offensive to discuss such a move when the team is playing so well defensively. As for me, I'm on the fence.
Player Performance Grades
The grading scale goes from -3 to +3 for each play. Penalties are counted in whatever phase they were committed. "Short" throws are 10 yards or less, "Medium" is 10-20, "Deep" is over 20. Everything else (scrambles, throwaways, etc.) is under "Miscellaneous."
VIEWING GRAPHIC ON A PHONE ?
SHIFT TO HORIZONTAL VIEW TO SEE ENTIRE GRAPHIC ON THE SCREEN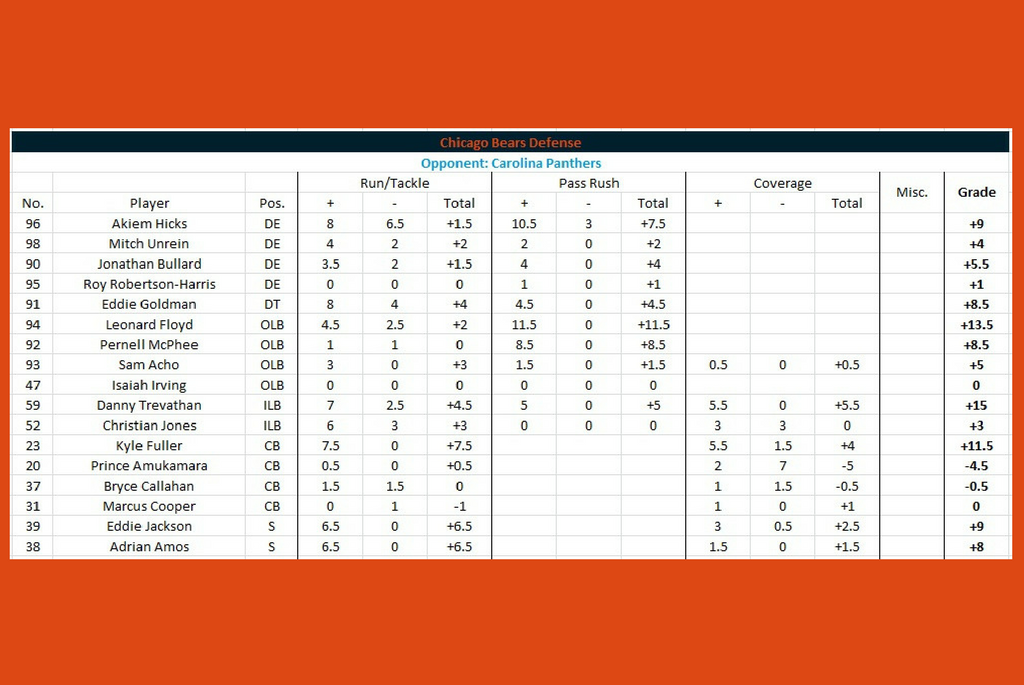 So what happened?
The defense had another excellent outing, with Eddie Jackson scoring on a fumble recovery and an interception. Danny Trevathan would get a pick of his own late in the game. The Panthers moved the ball a few times, but the defense did a great job of keeping them off the scoreboard. Panthers drive chart:
| | | | | | |
| --- | --- | --- | --- | --- | --- |
| Start | Spot | Plays | Yards | Time | Result |
| 15:00 1Q | CAR 25 | 9 | 47 | 6:01 | Fumble |
| 8:59 1Q | CAR 25 | 3 | -6 | 1:13 | Punt |
| 6:08 1Q | CAR 21 | 3 | -6 | 2:20 | Punt |
| 14:55 2Q | CAR 42 | 6 | 25 | 2:27 | INT |
| 12:28 2Q | CAR 26 | 16 | 56 | 9:10 | FG |
| 1:10 2Q | CAR 17 | 5 | 63 | 1:10 | End of half |
| 13:38 3Q | CAR 24 | 11 | 52 | 6:50 | Downs |
| 4:58 3Q | CAR 20 | 8 | 42 | 6:37 | Punt |
| 11:17 4Q | CAR 24 | 3 | 8 | 1:35 | Punt |
| 7:26 4Q | CAR 36 | 3 | 0 | 0:19 | INT |
| 4:29 4Q | CAR 11 | 3 | -2 | 0:53 | Punt |
Akiem Hicks ended up of the wrong side of a handful of blocks, but was a disruptive pass rusher. A facemask penalty kept his score from being really special. Eddie Goldman had another strong outing. Leonard Floyd and Pernell McPhee made life difficult for the Panthers' offensive tackles. Trevathan was excellent no matter how Vic Fangio deployed him. Prince Amukamara had a few biffs that led to a lousy score, but as a whole, the coverage was very good. Cam Newton often didn't have any place to go with the ball.
I swear I must be the only person not upset about the offense. I mean, you can't play every game like this, but if you're up two touchdowns and the defense is playing so well that your opponent doesn't look like a serious threat to even get one, "don't do anything stupid" is an acceptable strategy. Yes, low usage of Trubisky is a valid concern, but when he was called upon, he was generally good. He had two passes dropped by Tarik Cohen and a completion was called back on an illegal formation penalty. Counting the pass that was called back, Cohen was targeted four times, Zach Miller three times, and Tanner Gentry once. That says something about something. If the offense is still farting around next year with a quality receiver group (or if the receiver group sucks again), then go ahead and yell about this. As for Trubisky, he only had a few bad plays, but didn't get enough chances to make up for them to end up with a quality grade. The pass for Miller that he sailed can't be thrown and he can't take the sack that pushed the field goal attempt to 52 yards. Otherwise, this was another step forward. Small, but forward. The deep ball to Cohen was a touchdown if thrown a yard farther,and he said as much after the game. However, he's throwing to a 5'6 RB and that 5'6 RB had plenty of space, so just making sure he catches the ball is fine.
Jordan Howard averaged just over 3 YPC, but given how many times he had to make something out of nothing, I'm pleased with his performance. Josh Sitton and both tackles had strong days – this was Bobby Massie's best performance as a Bear. Dion Sims made more good plays than bad ones, but the bad ones were really bad. Adam Shaheen's role was expanded in this game and I imagine it's going to continue to do so.
#FireFox (not the Mozilla product) status
He looked competent. Maybe it's the beard. My only real complaint about Fox this week is that he should've challenged the ruling on Howard's run on 1st and goal. I didn't see an angle on the TV replays that would definitely prove he got in, but with two-and-a-half minutes left in the first half, and all three timeouts, and goal-to-go, why not take the chance? What are you saving the timeout for? We saw how conservatively they were playing on offense – I highly doubt the plan was to score, force a three-and-out and try to put together drive before halftime with a minute to minute-and-a-half and no timeouts.
Anyway, a win Sunday means this section goes on hiatus. With the way the schedule looked before the season, getting to the bye at 4-4 would be an achievement in and of itself, and the back half of the schedule features games against the 49ers, Browns, and Bengals, who have a combined to wins, and a home game against the Packers, who are riding with Brett Hundley. Win Sunday and we start talking about the p-word.
Staley Nickels
My award system can give up to three nickels per player. Keep in mind that I might not award the optimum amount of Staley Nickels to the highest-graded players since different grades mean different things to different players.
Offense
3: Josh Sitton
2: Jordan Howard, Bobby Massie, Charles Leno
1: Adam Shaheen
Defense
3: Eddie Jackson, Adrian Amos, Kyle Fuller, Leonard Floyd, Pernell McPhee, Danny Trevathan, Akiem Hicks, Eddie Goldman
2: Sam Acho, Jonathan Bullard
1: Mitch Unrein
Staley Nickels Count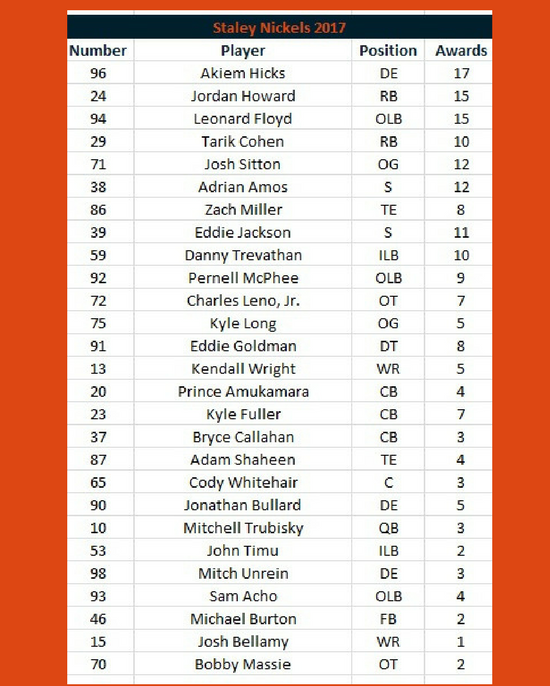 Would love to hear your thoughts… hit me up on Twitter @KSchroeder_312
Kevin Schroeder
Football guy, be it NFL or college, even the CFL. If you take football out of his life, he's not going to function well. Kevin also writes about Michigan football and Blackhawks hockey at goodifitgoes.com. Find him on Twitter @KSchroeder_312.
---
---
Related Articles
Choosing a Player of the Week for week eight is like picking your favorite Nickelback song… … or, watching fat
For the second week in a row our two finalists for the NFC North Barroom Player of the Week are
Deshaun Watson could soon become the franchise quarterback for the Chicago Bears. That's the hope of more and more people,