Kevin Schroeder's Chicago Bears Player Performance Grades vs Eagles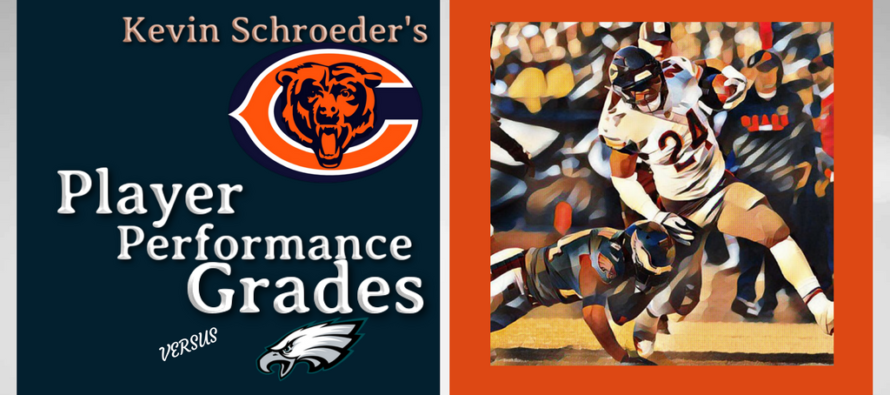 Draft Dr. Phil Ottochian didn't win a Grammy nomination for his Fire John Fox song and that's a shame. And, I won't pretend I have a shot with this little diddy… but here goes… play the piano music and my lyrics are below.
George McCaskey, why don't you come to your senses?
You've been sitting on fences
For too long now
Oh, you're a blockhead
I know that you've got your reasons
But it's another lost season
Hurting us all now
Don't you stick with Fox and Loggains, boy
They can't win; they're not able
Looking at the Rams is your best bet
Now it seems to me some fine things
Have been laid upon your table
Don't waste your time on ones that you can't get
George McCaskey, oh mom ain't getting no younger
Her pain and her hunger
They're driving you on
And Harbaugh, Jim Harbaugh
Well, that's just some people talking
So do the best that you can and get Matt LaFleur on the phone
Out of playoff contention by the wintertime
All we're asking is for a sign
That we'll be back to prominence someday
Trubisky's got nowhere to throw
Fox and Loggains need to go away
George McCaskey, why don't you come to your senses?
John Fox's offenses can't be excused
It's time for change now, tell the losers to kick rocks
Won't you please fire John Fox
(Please fire John Fox)
Oh, won't you please fire John Fox, and Loggains, too?
Player Performance Grades
The grading scale goes from -3 to +3 for each play. Penalties are counted in whatever phase they were committed. "Short" throws are 10 yards or less, "Medium" is 10-20, "Deep" is over 20. Everything else (scrambles, throwaways, etc.) is under "Miscellaneous."
Please Hold Your Phone Horizontally, In Landscape Format, To Properly See The Grades



So what happened?
This is going to be a relatively short post, because there's not a whole lot I can say about this game that I haven't said a half-dozen times already this year. The ground game went nowhere – even more so than usual. There was the usual "they're ready for the run and you run into a front you shouldn't anyway" stuff. This week, we added in some "offensive line doesn't play very well" stuff. And that's how you end up with 14 rushes for 6 yards. And four of those rushes and 12 of those yards belonged to Mitchell Trubisky, so that should tell you about what the backs did.
The passing game wasn't much more effective. This was easily Trubisky's worst game, but to say he had no help is to give the receivers too much credit. There were a few throws that were just bad throws, but there were a bunch where the receiver didn't make a play. Tre McBride got cut earlier in the week. Apparently, he was in an argument in the locker room with Josh Bellamy Monday. I don't know what the argument was about and I don't really care, just like I don't care about which guy they keep and which one they let go, because neither of those guys should be on the team next year anyway.
Cody Whitehair had a very good game. His run blocking score looks bad because he had a couple big whiffs and didn't get a chance to make up for them. In pass protection, he was excellent. Josh Sitton played well prior to leaving with a concussion. Nobody else was any good.
Defensively, things weren't much better. At least they were only bad instead of incompetent and one can see why they were bad. Turns out taking on arguably the best team in football without your two best pass rushers and top inside linebacker isn't a recipe for success. This was going to be tough to begin with and then the offense did absolutely nothing in the first half and in that same half, three of the six Philadelphia drives started either in Bears territory or darn close and when that's the case, you're almost always going to end up with something like this.
Cre'Von LeBlanc had the best game I've ever seen him have. Other than him, coverage was mediocre-to-lousy. Eddie Jackson had a real clunker of a game. A nickel says he'll rebound. Akiem Hicks was solid against the run. Sam Acho made a case to be on the team next year.
#FireFox (not the Mozilla product (though if Mozilla wants to sponsor this section, I will gladly extol the virtues of the Mozilla product)) status
Mozilla has chimed in!
So Butterfinger may have trolled Glennon, but @firefox has issued the best statement ever providing support and guidance for #Bears fans getting on board with the #FireFox movement. Read their brilliant statement below. 🐻⬇️

Well done @firefox…well done! 🔥🦊🙌👏 pic.twitter.com/ZOacMqmvBr

— BearsGrl – VP of International Relations (@BearsGrl80) November 28, 2017

Fox had another gem to the media this week:
#Bears coach John Fox to @WBBMNewsradio this morning pic.twitter.com/0NVFVEIj4J

— Zach Zaidman (@ZachZaidman) November 27, 2017
Seriously, stop letting him talk. You lose by four touchdowns and the coach goes on the radio and says "well, it could have been worse"? What in the world is that? The game plans stink, there are fights going on in the locker room, enough of this. To the pit of misery with him! Dilly Dilly!
Staley Nickels
My award system can give up to three nickels per player. Keep in mind that I might not award the optimum amount of Staley Nickels to the highest-graded players since different grades mean different things to different players.
Offense
3: Cody Whitehair
Defense
3: Cre'Von LeBlanc
2: Sam Acho
1: Eddie Goldman, Akiem Hicks, Jonathan Bullard
Staley Nickels Count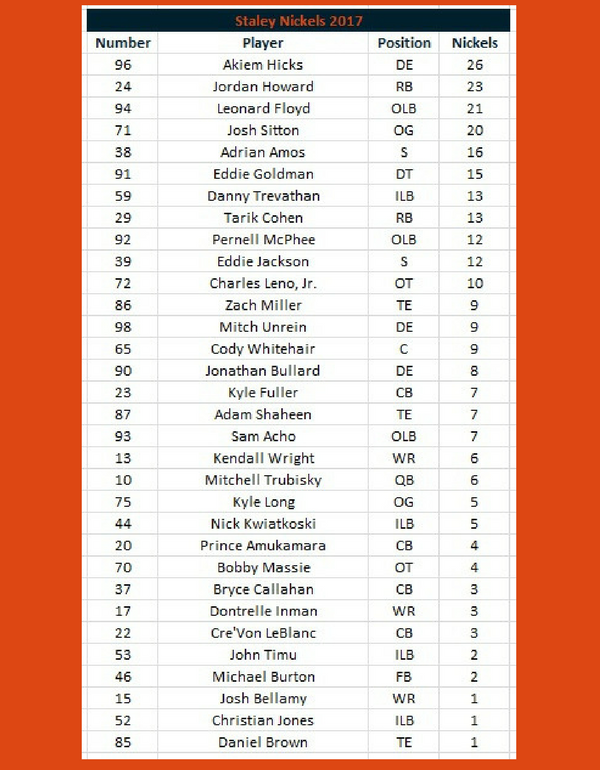 Would love to hear your thoughts… hit me up on Twitter @KSchroeder_312
Kevin Schroeder
Football guy, be it NFL or college, even the CFL. If you take football out of his life, he's not going to function well. Kevin also writes about Michigan football and Blackhawks hockey at goodifitgoes.com. Find him on Twitter @KSchroeder_312.
---
---
Related Articles
A quarterback tossing six touchdown passes in one half of football certainly deserves the honor of  NFC North Barroom Player
SKOL Brew Episode No. 7 — Does this Game Even Count? Vikings Fanalysts Austin Belisle (@austincbelisle) Robert Reidell (@RobertReidellBT)
Bears Barroom loves to create short movies that capture the mood of our podcasts. Our latest reveals our slavish dedication