Kevin Schroder's Bears Performance Grades versus the Packers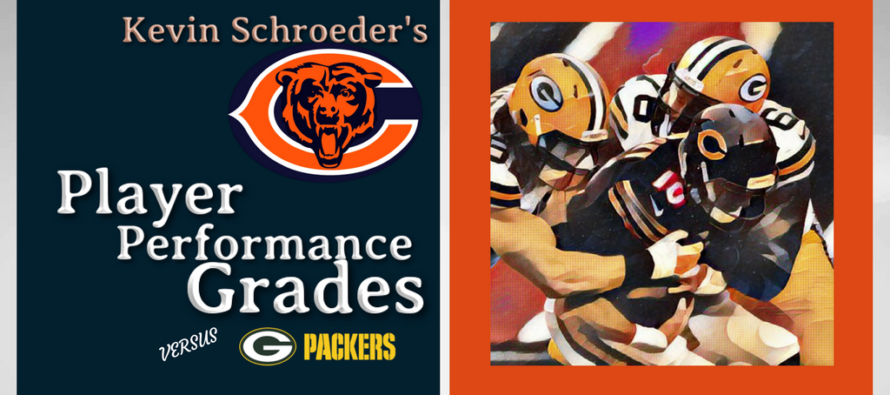 The Chicago Bears desperately needed to win against the Green Bay Packers if they were going to have any chance at the playoffs. They were at home, coming off a bye, playing their rival, who was on a short week and missing the one guy who makes them a perennial playoff team instead of 5-11 or some other putrid record. And the Bears found a way to lose, because this coaching staff is incompetent. How incompetent? Well, I'm writing this a few hours after Aldo stood outside the ESPN 1000 studio with his miniature boombox in rainy weather and the temperature in the mid-40s to get Draft Dr. Phil's "Fire John Fox" anthem on the air. That incompetent!
It only takes a spark to get a fire going. The fire John fox rally has begun. #bears pic.twitter.com/n5Ur6eEcwH

— Jurko (@Jurko64) November 15, 2017
Yes. Bears fans and analysts are beginning to seriously question whether John Fox deserves to play out the final year of his contract. And, they should.
Player Performance Grades
The grading scale goes from -3 to +3 for each play. Penalties are counted in whatever phase they were committed. "Short" throws are 10 yards or less, "Medium" is 10-20, "Deep" is over 20. Everything else (scrambles, throwaways, etc.) is under "Miscellaneous."
IF VIEWING ON A PHONE YOU MAY HAVE TO VIEW IN LANDSCAPE FORMAT TO SEE THE ENTIRE GRAPHIC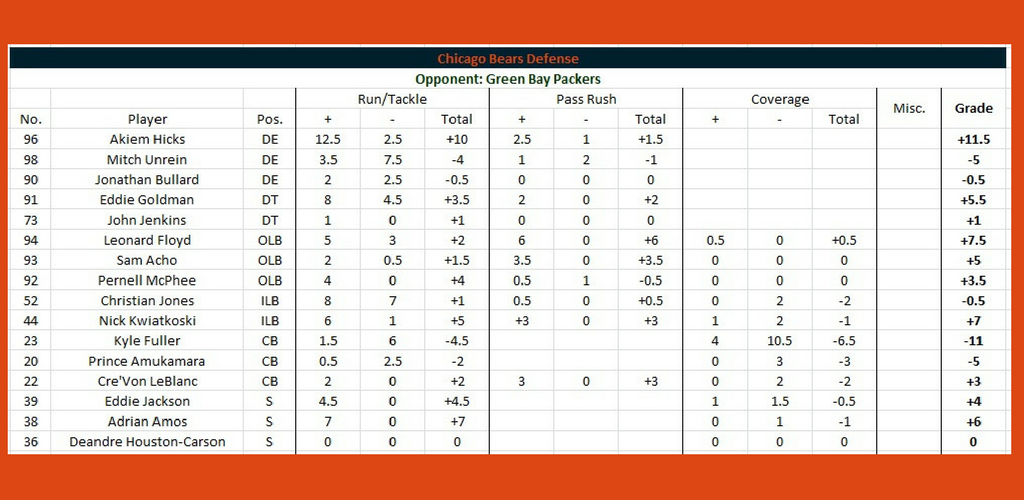 So what happened?
Well, let's start with the fact that the Packers scored 23 points with Brett Hundley at QB. That's not ideal. The game plan here should have been to lock down the receivers and make Hundley make throws to beat you. I would have liked to see more looks with two deep safeties, especially after it became clear that Kyle Fuller was outmatched. I'm not going to get too down on Fuller just based on this game alone, but seriously, woof. The "lock down the receivers" strategy relies on the run defense to continue playing excellently and the team didn't have Danny Trevathan available and that went about how you'd expect, so I'm not going to get too upset with Fangio. I'm still kind of upset, but he is exempt from the "coaching staff in incompetent" bit from earlier. Nick Kwiatkoski played the run well, but Christian Jones was nothing special. Also not helping the run defense – Mitch Unrein followed up the best game I've seen him play with a total clunker.
Akiem Hicks turned in another excellent game. Eddie Goldman was solid. The team struggled to get consistent pressure on Hundley; Floyd's performance was the best of a bunch of mediocre ones. Both safeties played well.
The offensive talk is getting merged in to the next section:
#FireFox Status (not the Mozilla product though if Mozilla wants to sponsor this section, I will gladly extol the virtues of the Mozilla product)) 
Fire this idiot now and send Loggains packing with him.
Fox challenged himself into a turnover and had this team come out of a bye week looking sloppy on their home field against their rival. One can make the case that there wasn't enough evidence to call a turnover on the review, but even if you want to make that argument, there's still no reason to throw the challenge flag in the first place. The call on the field was 1st-and-goal from the 1 and there was enough time left that the timeout he was risking could have been relevant. The risk is not worth the reward. John Fox has no business coaching an NFL team anymore. Period.
I would like to know what Dowell Loggains does Monday through Saturday, because it's clearly not coaching and developing the players and I don't think it's watching film, either. Early in the game, Trubisky hit Kendall Wright on a slant with the Packers leaving plenty of space in the middle of the field. The Packers have given that up all year. Did the Bears take advantage of it? Maybe go back to it regularly until the Packers commit to stopping it? Nope. That's a play where Trubisky can get the ball out quickly and mitigate the O-line problems and that we've seen the Packers routinely give up and Loggains just went back to banging his head against the same wall he's been banging it against since Trubisky took over at QB. I mean, look at this:
Clay Matthews called the #Bears' offense one-dimensional. Sold out to stop the run. Of course they did: pic.twitter.com/h6dnDejAQ0

— Adam Jahns (@adamjahns) November 13, 2017

There are nine guys up near the line. They are begging the Bears to throw and Loggains still didn't until he had to.v
Except for the TD to Bellamy and one 3rd-and-4 in the 3rd quarter, here were the #Bears 3rd-down distances on the final plays of their other 9 offensive drives vs. #Packers:

3rd and 14
3rd and 15
3rd and 12
3rd and 13
3rd and 16
3rd and 15
3rd and 18
3rd and 10
3rd and 10

— Jeremy Stoltz (@BearReport) November 14, 2017
Yeah, that's definitely a recipe for success. And then Wednesday, the moron said this:
#Bears coach John Fox was asked if he would like to get Tarik Cohen the ball more: "You're looking at one game. The defense dictates who gets the ball."

— Zach Zaidman (@ZachZaidman) November 15, 2017
He said that. He actually said that, I kid you not. That is a mind-boggingly stupid thing for anyone to say, much less the offensive coordinator of an NFL team. First of all, while Cohen can't really pass protect, he could have been very useful in the slot in this one. More to the point, and I can't believe I have to explain this to an NFL coordinator, THE OFFENSE DICTATES THE ACTION. YOU'RE THE ONE WITH THE BALL.
Look, everyone has ideas as to what he or she would do if they were the coach and second-guessing is part of the fun. This weekly space is almost entirely Monday morning quarterbacking. But at the end of the day, there's a reason that the professional coaches are the professional coaches and I'm just some blogger and you're some guy or gal reading some blogger. The professional coaches know better. Well, they're supposed to, anyway.
Since the Baltimore game, I've seen a trend and it's ridiculous and infuriating – Loggains has no idea what to do when teams are prepared for the stuff he's put on film and totally unprepared for the stuff opposing teams have put on film. Detroit gave the Bears a blueprint on how to beat these guys when they torched them on their home field last Monday night, and Loggains comes out with just about the dumbest game plan imaginable. And the cherry on top of all this was the brainless quote from the presser. That was the point where I saw that the offensive coordinator of an NFL team really might not be smarter than some freaking blogger. Incredible.
Loggains had some help laying this egg – the offensive line had a black hole in the middle of it. Last week, I addressed some of the things I've seen fans and the media talk about and one of them was the idea of trading Josh Sitton at the deadline for a draft pick. I was wholeheartedly against the idea of letting Sitton go this year or next, or really at any point where he's still playing well, and fortunately, the Bears didn't get rid of him, because the result would have been a worse version of this. The "guard depth" folks clamored about doesn't exist. Once you get past Tom Compton, you're left with trash. There's just no nice way to say it – Hroniss Grasu stinks. That was a new record for being terrible. Draft Dr. Phil clipped a couple of his plays:
Grasu on the very first play from scrimmage commits the deadly sin at center. Stands straight up – this is the play you send the message to your opponent. @BearsBarroom pic.twitter.com/0ahi3so60M

— Draft Dr. Phil (@FulphilO) November 13, 2017
That is a third-year professional offensive lineman doing the kind of silly crap I get irritated about high schoolers doing when I watch recruiting film. He did that at least a half-dozen times. Then there was stuff like this:
Here's Grasu again I'm sick to my stomach this is only 4 plays in….he knows the snap count, he doesn't get help on the shade, but has to work hard to the whistle and stick to his man for cutback. He's content @BearsBarroom pic.twitter.com/iwdjYP32jm

— Draft Dr. Phil (@FulphilO) November 13, 2017
He goes for a ride and then just quits on the play. I do not need to see him on the field again.
Mitchell Trubisky had a better day than his grade would indicate; this was pretty much the opposite of the New Orleans game. In that game, an otherwise meh grade was inflated by a couple runs. In this one, an otherwise good grade was hurt by a couple sacks he can't take. He did try to do too much a few times; in addition to those sacks, he had a couple really dangerous throws. He also had a few really pretty throws and showed he was capable of handling a bigger load passing the ball. Hopefully, the Patton Oswalt-looking OC gets the hint.
Staley Nickels
My award system can give up to three nickels per player. Keep in mind that I might not award the optimum amount of Staley Nickels to the highest-graded players since different grades mean different things to different players.
Offense
3: Josh Sitton
2: Dontrelle Inman, Jordan Howard
1: Kendall Wright
Defense
3: Akiem Hicks
2: Nick Kwiatkoski, Adrian Amos
1: Eddie Jackson, Eddie Goldman, Leonard Floyd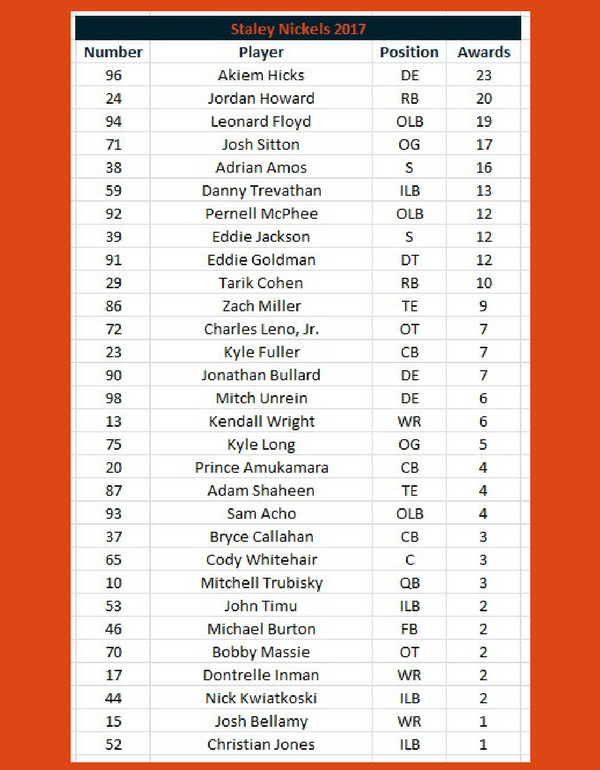 Would love to hear your thoughts… hit me up on Twitter @KSchroeder_312
Kevin Schroeder
Football guy, be it NFL or college, even the CFL. If you take football out of his life, he's not going to function well. Kevin also writes about Michigan football and Blackhawks hockey at goodifitgoes.com. Find him on Twitter @KSchroeder_312.
---
---
Related Articles
I have game notes. Some of the players played well, most did not. Don't care. I do not give a
The time for the Chicago Bears to draft their quarterback of the future has past. Ryan Pace should have done
The Barroom's first NFCN player of the week award for 2015 goes to Aaron Rodgers. The panel of six distinguished