Kevin Schroeder's Bears Player Performance Grades vs Bengals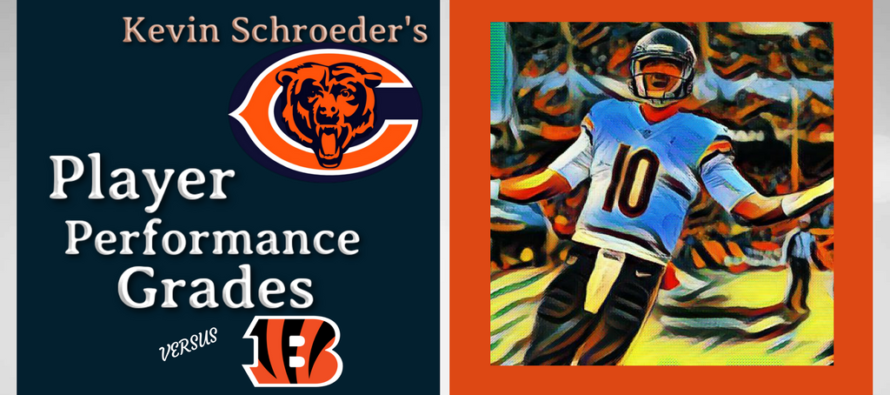 Okay, be honest – who saw this coming?
You can give a real answer here. Don't worry, nobody's fan card is getting taken away. There comes a point where the evidence that the coaching staff's incompetence is hamstringing this team becomes so mountainous that predicting a game like this is no longer an act of believing in your team, but rather one of delusion. We officially reached that point last week with "Dowell Loggains's Bash Your Head Against a Brick Wall for Three Hours and then Wonder Why There's a Big Red Mark On Your Forehead Spectacular." From last week's post:
"I have no idea why Dowell Loggains has this love affair with outside zone. The strength of this line is the interior and Howard's a strong runner. Why are we not seeing more inside zone? Or split zone? Or power? Or anything that doesn't require multiple guys executing reach blocks?"
We saw more of those concepts this week. And it worked. And they turned Trubisky loose. And that worked, too. Huh. How about that?
Player Performance Grades
The grading scale goes from -3 to +3 for each play. Penalties are counted in whatever phase they were committed. "Short" throws are 10 yards or less, "Medium" is 10-20, "Deep" is over 20. Everything else (scrambles, throwaways, etc.) is under "Miscellaneous."
IF VIEWING THESE GRADES ON A PHONE DEVICE YOU WILL NEED  TO HOLD IN LANDSCAPE FORMAT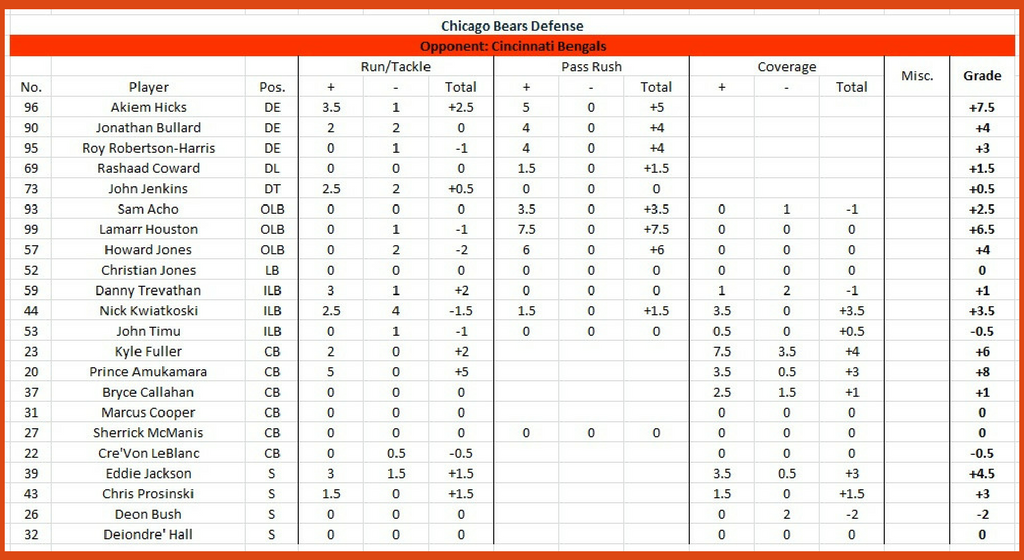 So what happened?
Basically, the Bears took everything we've been imploring them to do for weeks and actually did it. The "run-run-pass" stuff was gone. They were mixing up play calls, throwing on first downs, and varying runs. Mitchell Trubisky had the best game of his young career and while his ability to put the ball on the money was a major factor, so too was the play calling. The staff was scheming guys open, something that's been sorely missed this year.
Both Jordan Howard and Tarik Cohen were excellent. We started to see more of them on the field together. Kendall Wright had a great game of his own. Adam Shaheen's role was expanded and he was up to the task.
The offensive line was a major factor in the blowout victory. Tom Compton had a couple big biffs in pass protection, but everyone else was passable to good. Charles Leno's performance, in particular, was encouraging. PFF had him down for zero pressures and named him to their team of the week. In the run game, they were fine to outstanding. Leno had a strong game here as well. Josh Sitton did Josh Sitton things. All of you who wanted him traded at the deadline owe him and Ryan Pace an apology. Cody Whitehair joined Leno on PFF's team of the week and had a few plays where he straight-up paved dudes. Let's revisit Jordan Howard's first touchdown run.
Here's the play: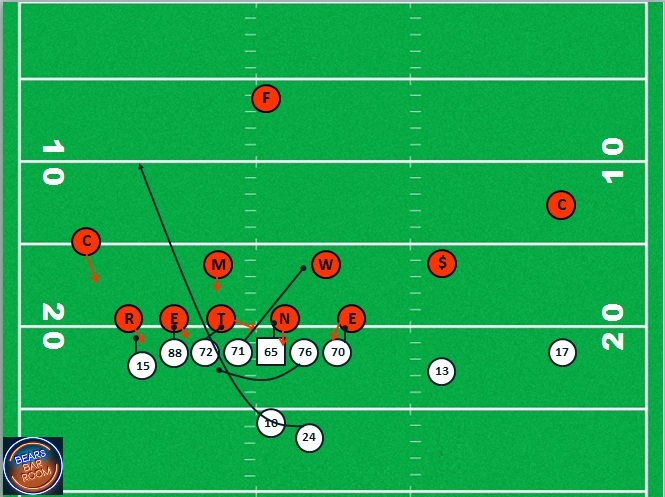 This is the look at the snap. Prior to the snap, Bellamy had moved inside, the corner had stepped back, and the strong safety (R for "Rover") moved down to where he is in the diagram. The 3-tech, Ryan Glasgow, comes hard inside and Leno seals him off. Whitehair handles the nose. Sitton releases and seals off the backside linebacker, Kevin Minter. Compton pulls and was in great position to block the Mike, Vincent Rey, but Rey took a bad angle and took himself out of the play, so Compton was able to help seal off the playside end. The corner, too, took a bad angle and Howard's off to the races. 6-0 Bears. See what happens when you mix up your play calling?
Defensively, we saw less of the soft zone coverage that had been allowing teams to move the ball down the field consistently. Kyle Fuller had another strong game. Pay the man. Prince Amukamara was impressive as well. The Bears had their best game rushing the passer in quite some time. Lamarr Houston had his second strong outing in as many weeks since his return to Chicago. Howard Jones had an impressive day after coming off the practice squad. The run defense was just okay; even excluding Giovanni Bernard's 21-yard run on which the referees missed two different holds, the Bengals still ran for four yards per carry. It's hard to have too many complaints, though, when you hold a team to seven points.
Bengals drive chart:
| | | | | | |
| --- | --- | --- | --- | --- | --- |
| Start | Spot | Plays | Yards | Time | Result |
| 15:00 1Q | CIN 8 | 6 | 11 | 2:54 | Punt |
| 11:00 1Q | CIN 20 | 3 | 9 | 1:13 | Punt |
| 6:14 1Q | CIN 28 | 7 | 72 | 3:59 | TD |
| 12:38 2Q | CIN 29 | 6 | 17 | 2:41 | Punt |
| 1:46 2Q | CIN 7 | 3 | 2 | 1:14 | Punt |
| 11:48 3Q | CIN 15 | 3 | 5 | 1:39 | Punt |
| 4:54 3Q | CIN 33 | 3 | 3 | 1:39 | INT |
| 14:52 4Q | CIN 25 | 4 | 53 | 1:21 | Fumble |
| 9:18 4Q | CIN 25 | 9 | 39 | 2:59 | Downs |
| 4:30 4Q | CIN 18 | 8 | 36 | 1:49 | Downs |
| 0:23 4Q | 50 | 1 | 2 | 0:23 | End of game |
The Bengals had four drives that went anywhere: one touchdown, one fumble, and two turnovers on downs down 26 points. Not bad.
Okay, if all you want is good news this week, you may stop reading here. With the way this season's gone, you're well within your rights to do so – I don't blame you at all. If you're stopping here, thanks for reading, enjoy the blowout win, and I'll see you next week, hopefully with more good news.
For those of you still here,
#FireFox (not the Mozilla product (though if Mozilla wants to sponsor this section, I will gladly extol the virtues of the Mozilla product)) status
Don't become a prisoner of the moment here – Fox and Loggains both still deserve to be canned. First off, the Bengals looked like they were just mailing it in. The good news there is that instead of getting into an apathy fight, the Bears just creamed them. Before we get too excited about what we saw Sunday, let's see how the team plays against the Lions who a) will actually care about the game and b) will have seen what the Bears did Sunday on film. We've seen this before where they break out some clever plays and then the next week, after that's on film, it's back to banging their heads against the wall. And speaking of putting clever plays on film, why in the world are you breaking out the direct snap package up 19 points in the fourth quarter? What is the benefit there?
Staley Nickels
My award system can give up to three nickels per player. Keep in mind that I might not award the optimum amount of Staley Nickels to the highest-graded players since different grades mean different things to different players.
Offense
3: Mitchell Trubisky, Cody Whitehair, Josh Sitton, Jordan Howard, Kendall Wright, Adam Shaheen, Tarik Cohen
1: Josh Bellamy
Defense
3: Prince Amukamara
2: Akiem Hicks, Kyle Fuller
1: Lamarr Houston, Eddie Jackson
Staley Nickels Count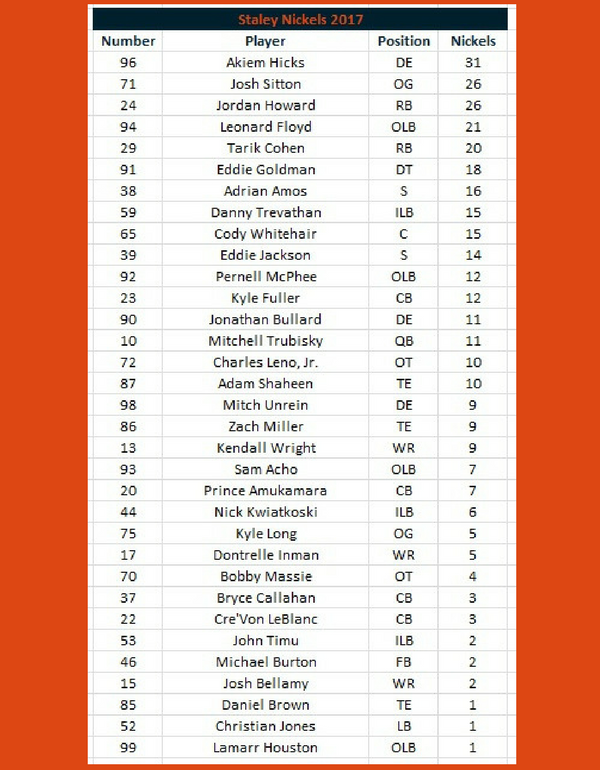 Would love to hear your thoughts… hit me up on Twitter @KSchroeder_312
Bear Down!
Kevin Schroeder
Football guy, be it NFL or college, even the CFL. If you take football out of his life, he's not going to function well. Kevin also writes about Michigan football and Blackhawks hockey at goodifitgoes.com. Find him on Twitter @KSchroeder_312.
---
---
Related Articles
Welcome back to the Barroom!  As you may recall from last week's talk, it's time for Minnesota to end its
31-year old Quintin Demps is on a plane to Chicago to sign a new contract. He will become the Chicago
Remember getting the Christmas gift of your dreams and as soon as you were close to winding down the yells of