Kevin Schroeder's Chicago Bears Player Performance Grades vs 49ers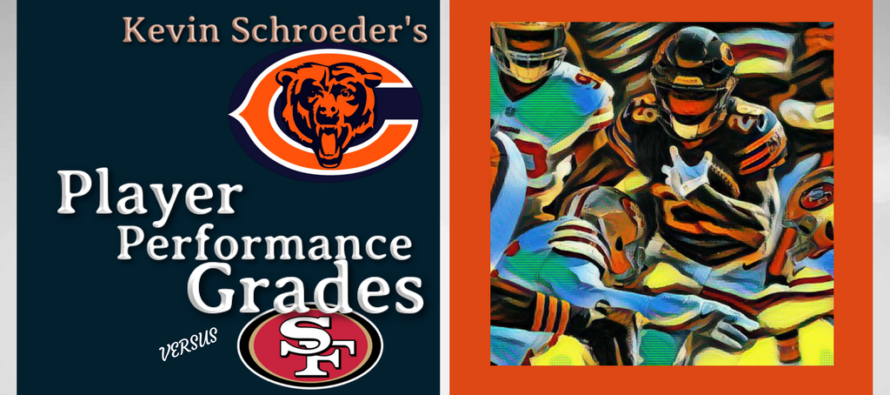 I don't have any stories for you this week. There are no overarching themes here. There are no clever parody songs, partly because, to my knowledge, there's no band called "The 49ers," but mostly because what really is there to say?
The Chicago Bears lost to a team they had no business losing to. They lost to that team because their coaching staff never learns anything from anything. There is no grand conspiracy here. They are not angling for another year by showing they don't have anything to work with or anything like that. They are just bad at their jobs.
That's it.
If Fox and company were truly set on saving their jobs, the way to do so would have been to get to 8-8 or so and, barring a major turnaround these next four weeks, they're not going to get anywhere near there, despite ample opportunities to make it. Fox is gone and I'm pretty sure he knows it. Really, you could have fired him any week since the bye and it would have been justified.
Player Performance Grades
The grading scale goes from -3 to +3 for each play. Penalties are counted in whatever phase they were committed. "Short" throws are 10 yards or less, "Medium" is 10-20, "Deep" is over 20. Everything else (scrambles, throwaways, etc.) is under "Miscellaneous."
YOU MAY NEED TO HOLD YOUR PHONE HORIZONTAL TO SEE THE GRAPHIC IN FULL




So what happened?
From Kris's postgame column:
"San Francisco was ranked 30th in rushing defense and Jordan Howard rushed for 38 yards on 13 carries. Why? Hmm, here are the first down play calls:
Run
Pass
Run
Run
Run
Pass
Pass
Run
Run
Run
Run
Run
Run
Run"
That's utter nonsense and it's even worse when you consider that it's the same run plays over and over and over. I have no idea why Dowell Loggains has this love affair with outside zone. The strength of this line is the interior and Howard's a strong runner. Why are we not seeing more inside zone? Or split zone? Or power? Or anything that doesn't require multiple guys executing reach blocks? This brainless play calling isn't just hurting Trubisky, it's hurting the run game. Howard ran 13 times for 38 yards. The drive chart looks like you'd expect:
| | | | | | |
| --- | --- | --- | --- | --- | --- |
| Start | Spot | Plays | Yards | Time | Result |
| 8:12 1Q | CHI 25 | 3 | -1 | 1:51 | Punt |
| 4:41 1Q | CHI 41 | 8 | 59 | 4:31 | TD |
| 11:57 2Q | CHI 25 | 3 | 9 | 2:20 | Punt |
| 0:24 2Q | CHI 25 | 1 | 2 | 0:24 | End of half |
| 15:00 3Q | CHI 25 | 9 | 33 | 4:44 | Punt |
| 1:57 3Q | CHI 25 | 3 | -10 | 2:07 | Punt |
| 10:39 4Q | CHI 14 | 8 | 44 | 5:12 | Punt |
Take out the run to run out the clock at the end of the first half and you're left with four drives that gained yards. Against the 49ers. Good going, Dowell.
Mitchell Trubisky was pretty good. He didn't complete anything downfield, but then again, he didn't throw anything downfield. There wasn't much there for him, so for now, I'm taking this as "well, he didn't force anything." Of the 15 passes he did throw, 12 were complete, 2 were dropped, and one was a throwaway, so of 14 passes thrown toward a receiver, 14 were catchable. I had no minuses for him on passes; his Misc. minuses consisted of the dropped snap and a sack where he held the ball too long. Could be worse.
Elsewhere, Cody Whitehair and Josh Sitton had great games. For Whitehair, that's three great games in a row, very encouraging after a slow start to the year. At least someone on this offense is making improvements. Dontrelle Inman was decent. Adam Shaheen had only nine snaps, fewest among tight ends as we saw more of Dion Sims. Sims graded out the worst of anyone on either side of the ball by a lot. Bravo once again, Dowell.
On defense, the Bears once again played a lot of soft coverage and once again, it didn't go well. They've been doing this since the bye week and it hasn't worked once and yet they keep doing it. I no longer care about keeping Vic Fangio. I get that there have been some losses to injury, but come on, man. Before anyone frets about the prospect of hiring a new coordinator who wants to run a 4-3, don't. If such a change takes place, I'll do a more detailed post about it in the offseason, but the tl;dr version is that Fangio runs a one-gap system and the only major differences are whether the edge defenders stand up or have their hands in the dirt and that Hicks plays 3-tech. We already get sort of a look at what that front would look like when the Bears line up in the nickel.
The pass rush didn't do a whole lot. Lamarr Houston was okay in his return to Chicago. Hicks, Goldman, and Bullard were all quite good. Bullard should get some more work with Mitch Unrein headed to IR. Nick Kwiatkoski was good when on the field. I need someone to explain to me why he only got 12 snaps. Kyle Fuller had a very good game and was recognized with a spot on the Team of the Week in Madden Ultimate Team, for any gamers out there. Prince Amukamar and Eddie Jackson were fine.
#FireFox (not the Mozilla product (though if Mozilla wants to sponsor this section, I will gladly extol the virtues of the Mozilla product)) status
John Fox just called Cairo Santos Carlos and referred to his punter as Rob…and then stopped himself.

— Shayne L. Marsaw (@wasram) December 3, 2017
John Fox might really have Alzheimer's. If he does, I apologize for calling him Smitty the groundskeeper from King of the Hill a couple weeks ago. If he doesn't, I want him drug tested. Either way, he has no business coaching an NFL team.
Staley Nickels
My award system can give up to three nickels per player. Keep in mind that I might not award the optimum amount of Staley Nickels to the highest-graded players since different grades mean different things to different players.
Offense
3: Cody Whitehair, Josh Sitton
2: Mitchell Trubisky, Dontrelle Inman
1: Tarik Cohen
Defense
3: Akiem Hicks, Eddie Goldman, Jonathan Bullard, Kyle Fuller
2: Danny Trevathan
1: Nick Kwiatkoski
Special Teams
3: Tarik Cohen
Staley Nickels Count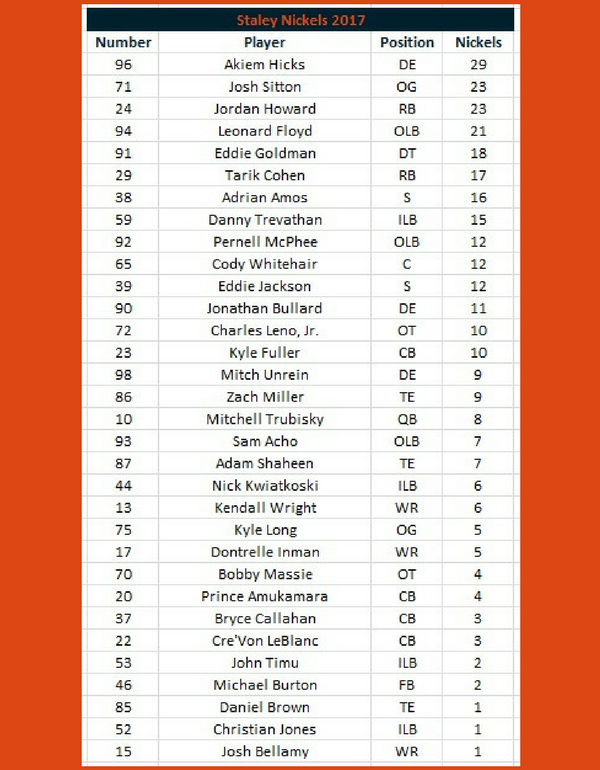 Aldo Gandia
Among my career highlights I have produced two films while in high school that received nationwide attention; leaned out of a helicopter over the Gulf of Suez at the age of 20 to shoot movies of oil rigs; won an Emmy award for a sports special and another for a kid's fitness show; and led a team of very talented creative professionals to produce break-through corporate communications.
---
---
Related Articles
Buffone 55 – The John Buffone show is the fastest paced Chicago Bears podcast available. John answers five questions about
If you are a regular listener to Bears Barroom Radio you know that Draft Dr. Phil Ottochian insists the Chicago
Our third NFC North Player of the Week award has been the toughest. The nominees are: DeAndre Levy, Detroit Lions