Who Is New Bears Offensive Coordinator Mark Helfrich?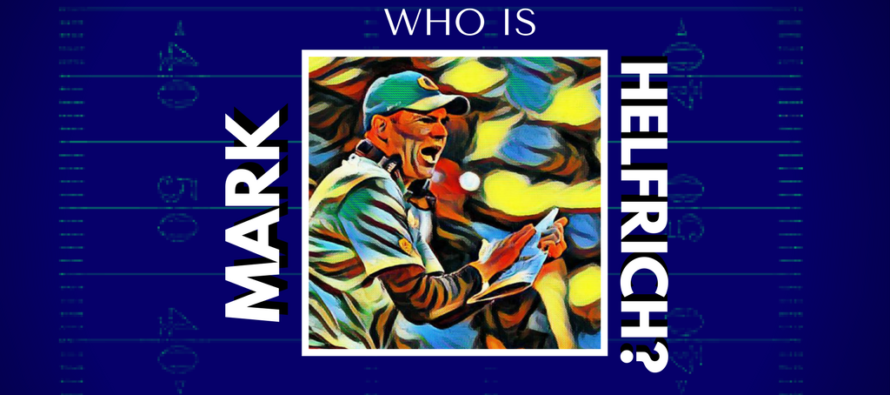 As Matt Nagy assembles the Chicago Bears coaching staff and we collect information on these individuals it only adda more positive expectations for what's ahead for this franchise. Mark Helfrich is a super-exciting addition to the Bears as he joins the team as offensive coordinator. (Offensive line coach Harry Hiestand and running backs coach Charles London were hired Wednesday and we'll have more on them in subsequent posts.) Helfrich worked with Chip Kelly at Oregon to help build the transformative offense the Ducks ran. Adam Hoge offered a tweet with a link to a great Grantland piece as a window to the Kelly's offense.
With Mark Helfrich on board as #Bears OC, this seems like a good time to share one of my favorite football pieces ever written: @smartfootball on Chip Kelly's offense back in 2012. Reid/Nagy + Kelly/Helfrich = fascinating #Bears offense in 2018. https://t.co/pWKg3g2fmt

— Adam Hoge (@AdamHoge) January 11, 2018
Who is Helfrich though? Take witness to him addressing his 2016 Oregon football team in a manner that will give you football chills.
Kevin Fishbain over at theAtlantic.com notes that with Nagy and Helfrich you can expect to see more RPOS. He writes:
Two of the Bears' better offensive performances incorporated Trubisky's legs, like his 53-yard rushing day vs. the Lions and 44 yards against the Browns. The Bears can't subject him to harm too often — Alex Smith had more than five carries only once this season — but they can mix things up when defenses close in on Jordan Howard and/or Tarik Cohen, something Mariota took advantage of at Oregon.
Fishbain shares video of the offensive concepts run by Helfrich at Oregon. You can find the article here (it is a subscription piece): https://theathletic.com/209366/2018/01/11/mark-helfrich-brings-college-flavor-to-matt-nagys-bears-offense/
I've asked Draft Dr. Phil to break down some tape for us in the next few weeks.
Those of us who love good sports journalism miss Grantland.com. Back in October of 2014, they ran a feature of Helfrich entitled, "The Quiet Genius." The most important paragraph for us Bears fans is:
It's clear that Helfrich knows how to develop quarterbacks: He did it with Bart Hendricks at Boise State, and he did it with Andrew Walter and Carpenter at Arizona State, and he did it with Darron Thomas at Oregon; he has done it with Mariota, the most stunning pure talent in Ducks history. He is, his former players say, thorough and utterly prepared and calm on the sideline, an intellectual at heart who happens to be a football coach. When Helfrich was at Arizona State, Carpenter says, he asked his quarterbacks to go back and study the history of the ASU program, to learn about Whizzer White and Ron Pritchard and John Jefferson. When Thomas was at Oregon, Helfrich once spent a session breaking down the ins and outs of Buddy Ryan's 46 defense.
The entire Grantland piece can be found here: http://grantland.com/features/mark-helfrich-oregon-ducks-chip-kelly/
Helfrich's greatest success as a coach? Arguably recruiting and developing Marcus Mariota. Dennis Dodd details that relationship here: https://www.cbssports.com/college-football/news/mariota-helps-legitimize-oregon-glitz-with-record-heisman-win/
When Helfrich took Oregon to the College Football title game, many suspected he was simply riding the tails of former head coach Chip Kelly. But, Dodd writes that Helfrich did not just maintain Kelly's space age offense, but perfected it. One of the ways he did it was by using his gift to connect.
"Chip Kelly was more business-focused, more operation focused," offensive tackle Jake Fisher said. "Helfrich kind of turned it more into a high school team. We bonded more. We had that camaraderie that a high school team had. There's no one on the team I wouldn't do anything for."
Mariota added this:
"Coach Helfrich finds way to make you laugh. Coach Kelly didn't do that but Coach Helfrich kind of has a knack for making fun of different situations. You'll know when Coach Helfrich is mad. His voice gets a little higher."
The rest of Dodd's article is here: https://www.cbssports.com/college-football/news/who-is-mark-helfrich-and-how-did-he-get-oregon-to-the-cfp-title-game/
The story behind Helfrich's firing at Oregon is complex, but, this one paragraph almost perfectly captures the scenario at the time of his firing.
The case for or against Helfrich had already been litigated… Supporters point to a young team, a new defensive scheme, an unproven quarterback, a run of injuries and a one-year plummet in production. Detractors highlight the Ducks' swoon since Marcus Mariota's departure following the 2014 season. There is rationale for either argument.
The entire story can be found in the following link – it mainly targets the toughness of maintaining a football coaching job.
https://www.usatoday.com/story/sports/ncaab/pac12/2016/11/29/mark-helfrich-oregon-ducks-college-football-coaches-stepbacks-costly/94618718/
Helfrich lost his father in 2011 hours before his dad was to see him coach a game in Arizona. Two years later Jason Quick of The Oregonian reported on  the relationship between the two.
… he thinks of him during every game. After his death, Helfrich had a photo laminated that he kept next to him in the press box when he was offensive coordinator. His father is walking away from the camera, hand-in-hand with little Joe, Mark's nephew, leading him onto the field of Pete Susick Stadium in their hometown of Coos Bay. After becoming head coach this season, Helfrich had the photo reduced and laminated on the back of a wallet-size chart that he keeps in his back pocket that tells him whether he should go for two or kick an extra point.
Read the entire story here: http://www.oregonlive.com/ducks/index.ssf/2013/11/for_oregon_coach_mark_helfrich.html
To conclude I love this sound bite from Helfrich at the Rose Bowl a few years ago when he was asked about yelling at players and he quickly shared what's important for a football coach: teaching.
UPDATE: Felt it important to include one more piece of information. Some fans are concerned about Helfrich's 12 losses in 25 games his last two season as he'd coach at Oregon. It's important to note that most of the sanctions imposed by the NCAA occurred two seasons after the organization announced Oregon was being penalized. That's two years after Chip Kelly and almost every person involved in the 2011 recruiting scandal left and that coincides with the team's performance decline. To learn more about the sanctions you can CLICK HERE.
Aldo Gandia
Among my career highlights I have produced two films while in high school that received nationwide attention; leaned out of a helicopter over the Gulf of Suez at the age of 20 to shoot movies of oil rigs; won an Emmy award for a sports special and another for a kid's fitness show; and led a team of very talented creative professionals to produce break-through corporate communications.
---
---
Related Articles
Vikings Barroom Assistant Editor Drew Mahowald breaks down the key matchups and potential x-factors of the Minnesota Vikings' Week 2
I don't have any stories for you this week. There are no overarching themes here. There are no clever parody
Winning is great. Winning ugly is still great. Yes, somehow less great. But, in many respects though, it was a