Bears Offense Needs an Enema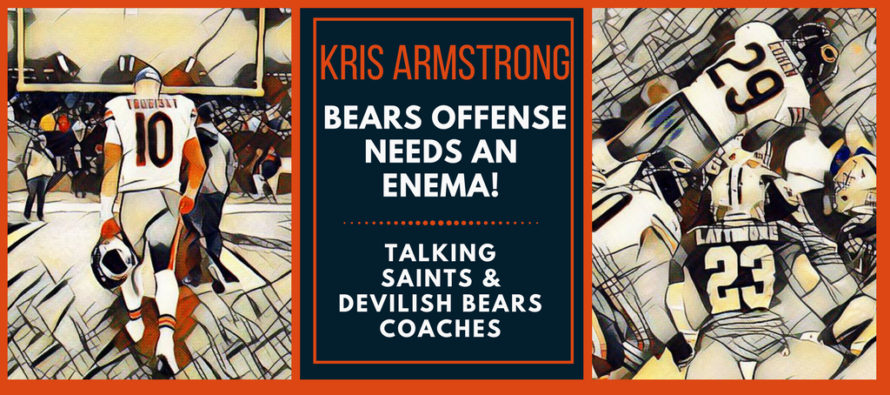 First things first, the Bears must fire Fox. But they won't so I'm moving on. Another week, another constipated offensive game plan. Seriously, does Fox have a commercial deal with Ex-Lax or something? My husband is a Bears fan, but doesn't know a 3-4 from a 4-3 and even he knows what plays are going to be called. And he know that when it's 3rd or 4th down and one  you don't call cutesy pass plays. We're going to have to sit through another eight games of this crap filled display unless someone sneaks into Halas Hall and gives Fox and Loggains well deserved enemas. Any volunteers?
As for the actual game, Mitch Trubisky was inconsistent. For instance. that dime TD (screw you NFL) to Miller was a beauty.
Mitch Trubisky with a dime to Zach Miller. #TD #Bears pic.twitter.com/TjMxXqnRyL

— ✶ Sports Mockery ✶ (@sportsmockery) October 29, 2017
But there were several passes that he clearly missed. I also want to give him credit for that huge scramble, something that I think he should do more of.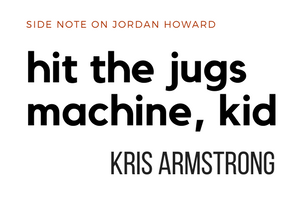 Jordan Howard had another good game, the other team knows he's going to get the ball but he keeps on grinding.
Cohen had a nice TD ala Sweetness and a nice return. Aside from Miller, did any other tight ends play? I had high hopes for Dion Sims but he's awful. Get Shaheen out there and let him learn along with Trubisky. Supposedly we had wide receivers other than Tre McBride out there but I didn't really notice them aside from the fact that none of them get separation.
How about our poor, banged up offensive line? My goodness, both Kyle Long and Cody Whitehair go out with injuries. Credit to Josh Sitton for moving over and doing a good job at center and Bradley Sowell did a good job filling in at guard. The tackles were not an embarrassment, so that's a positive.
Special Teams time. Three guys offside on a field goal? Unacceptable. Speaking of unacceptable, cut Barth.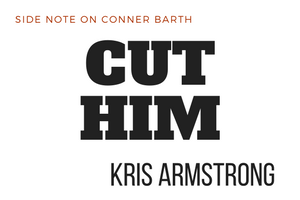 Moving on… The Monsters of The Midway abide. This is a championship D. To go into New Orleans and hold them to 20 points without a competent offense?!
They never gave up, ballin out until the end. Stripping the RB twice was ridiculous. Hustle and pride on display. The only play that bothered me was the late, long completion that should have been picked off by Jackson. How do you not locate the ball? The CB had decent coverage and it should have been an easy pick for Jackson, but I will give him a rookie Mulligan and give the WR credit for a subtle pushoff. Sticking with the secondary, they were consistent with run support and were good in coverage, with only a couple of perfect Drew Brees passes getting in for decent gains – credit to Brees and his WR's for that.
What more can be said of the front seven? Akiem Hicks is a first team All-Pro, no question. Eddie Goldman and Jonathan Bullard were both quick off the ball and Mitch Unrein was solid. Consistent QB pressure from both the linemen and linebackers. Good gap discipline, not allowing any big runs. I've got to say that I've been really impressed with Cheese Jones the last couple of weeks, something has clicked for him at ILB. My notes indicate that Floyd dropped into coverage often – not sure of the snap count – but it seemed like a lot. My other note of note is that Floyd & Phee were held constantly but it was never called. The only thing you can really fault the defense for is not scoring to win the game, that's it.
Overall, 3-5 seem about right for this team. Let's see if they're able to use the bye week to their advantage (guessing that's a big no). In the meantime, I'm looking forward to Aldo, Shayne and Phil dissecting this latest game on Bears Barroom Radio, where #FireJohnFox is not a plan but an anthem.
Kris Armstrong
Kris is an ex-jock who became despondent at an early age when she learned that she could not, in fact, become Dick Butkus. She is passionate about Da Beloved, Soroptimist International and her bemused and patient husband. Catch her on Twitter @krisarmstrong1
---
---
Related Articles
On Bears Barroom Radio, Lorin Cox from BearsHourLive.com shared his seven round mock draft. In the 5th round Cox chose
Vikings Barroom Assistant Editor Drew Mahowald breaks down the key matchups and potential x-factors of the Minnesota Vikings' Week 2
Bears Hour Live is our live weekly show we produce every Monday Night so fans can have a venue to