Bears News On Vic Fangio, Mark Helfrich, Bobby Massie & More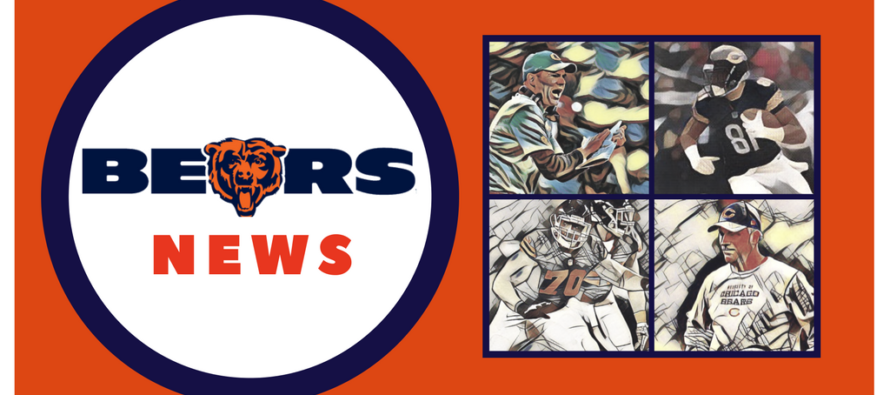 Here's some of the latest news hitting the web about the Chicago Bears. With an update at 11:33am CST
For many Bears fans, the re-signing of defensive coordinator Vic Fangio was almost as critical as bringing in a new head coach. Chris Emma writes that not bringing Fangio back would have been devastating for this budding defense.
The Bears surrendered 27.6 points and 377.1 yards per game in 2014, which ranked 31st and 30th in the league, respectively, and marked dark days for a franchise steeped in success on defense. At one point, Packers quarterback Aaron Rodgers threw six touchdown passes against the Bears during a primetime game that season — all in the first half.

Fangio, now 59, has overseen a transformation of a unit that finished ninth in scoring defense at 20 points per game and 10th in total defense with 319.1  yards allowed per game in 2017 — figures made more impressive by the injury attrition to the defense.
Emma believes that the team has invested heavily into players suited for Fangio's 3-4 schemes and that the possibility of having to find personnel to fit a new coach's playbook would retard the defenses's growth. You can read Emma's opinion by CLICKING HERE.
In another article, Emma reports that Ryan Pace was going to "attack the wide receiver" position this season. He notes, "Players like Jarvis Landry, Sammy Watkins and Allen Robinson should appeal to the Bears in free agency and could serve as a go-to target whom (Mitch) Trubisky needs to be successful. The Bears also will likely retain (Cameron) Meredith, set to become a restricted free agent, and can hope he has another big season in store." Read Emma's story by CLICKING HERE here.
Brad Biggs fielded a couple of questions in his mailbag about the receiver position. The big man shared news that at least two receivers is last year's free agency crop took less money than the Bears offered.
They went for some players last offseason and missed because when free agency opened, no one could say who the quarterback was going to be. Beyond that, it looked as if the head coach was heading into a win-or-else season. Kenny Stills and Ted Ginn Jr. took significantly less money to play elsewhere, and it's hard to blame them. They're far from top-tier receivers too. The Bears should be better positioned this time, but it's difficult to say who will be available in free agency. I expect the Bears to overhaul the position this offseason and that likely means a focus in free agency and the draft. 
If you're thinking the Bears are going to replace right tackle Bobby Massie during the offseason Biggs says you better take a closer look at the menu.
I think Bobby Massie was more than adequate this season and I believe the front office feels that way too. I don't expect there to be much in the way of quality tackles available in free agency, and Massie is under contract $5,584,375 in 2018. That's a relative bargain for an experienced starting tackle. The Bears likely will make a call on Massie sooner rather than later — he has a $1 million roster bonus due on March 16, the third day of the league year. Paying him wouldn't necessarily marry them to Massie and prevent them from drafting an offensive tackle high in the draft, but you'd hate to throw away that much money. We'll see how the new staff evaluates Massie.
You can read all of Biggsies' mailbag by CLICKING HERE.
How smart is new offensive coordinator Mark Helfrich?
"We figured out why Coach Kelly brought him in because he could check and balance him. He knew the ins and outs of every game, not only the spread offense, but the under-center, pro-style offense. That's one thing I know about Coach Helfrich is that he's a smart guy."
That's what Darron Thomas, the former Oregon quarterback, told The Athletic's Kevin Fishbain. Head coach Cody Hawkins worked with the new Bears coach at Boise State and then Colorado. He says that Helfrich is not only once of the smartest coaches he's ever interacted with (Hawkins says. "I've been around a lot of big-time football coaches, many of whom are in the NFL"), but he's also excellent at teaching:
"He's somebody that does a great job of connecting and teaching the game more so than a lot of coaches. "A lot of coaches are great at putting together the game plan, but not necessarily teaching why. He's big into the why and big into having answers for every coverage. Whenever he was game-planning, you always felt the utmost confidence going into the game that he was going to make sure he educated you on what was going to happen and how you were going to attack the situation."
Fishbain writes that Hawkins is familiar with what Helfrich likes to run from a spread formation perspective.
[Hawkins] discussed the two schools of running a spread offense — the Patriots' version, with pro-style plays from spread formations, or a college-friendly, half-field-read system.

"Some teams spread the field using their personnel to get them in space while still using concepts you see every single week on Sundays, and that's the school Helfrich comes from," Hawkins said. "He has been around NFL guys and he's an NFL mind, but he was using the system of the no-huddle, up-tempo offense at Oregon because that's what made those guys successful."
You can read the entire story at TheAthletic.com by CLICKING HERE (subscription needed).
Finally, one of the problems the Bears have to correct this offseason is improving the team's health. For two straight seasons the Bears' Injured Reserve list looked like half their starting roster. Brad Biggs writes that, "The club made its first significant change in personnel in that regard on Tuesday as strength and conditioning coach Jason George was informed he will not return." George was brought to Chicago by former head coach John Fox. Read more here.
On Wednesday morning, Brad Biggs reports that former Seattle Seahawks offensive coordinator Darrell Bevell could be under consideration as an addition to the Bears offensive coaching staff. It had already been reported that former Raider offensive coordinator Todd Downing and current Texans quarterbacks coach Pat O'Hara were being considered. Read all about it here.
Aldo Gandia
Among my career highlights I have produced two films while in high school that received nationwide attention; leaned out of a helicopter over the Gulf of Suez at the age of 20 to shoot movies of oil rigs; won an Emmy award for a sports special and another for a kid's fitness show; and led a team of very talented creative professionals to produce break-through corporate communications.
---
---