Chicago Bears Metrics For The Win Over Pittsburgh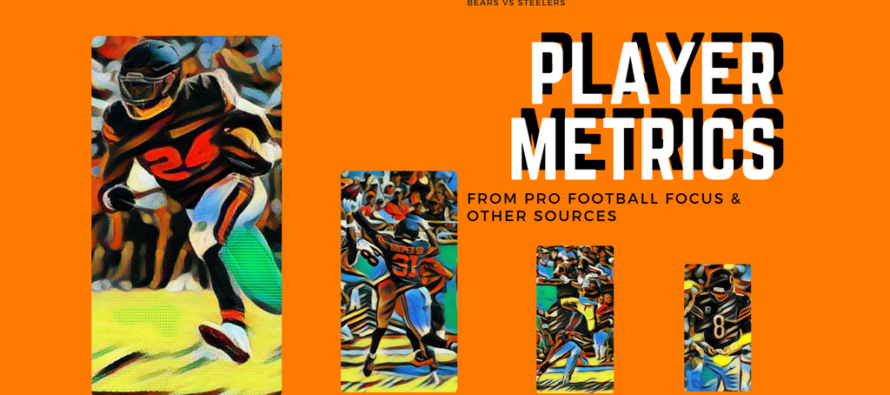 It is so much fun to look at the metrics of a Chicago Bears game after a thrilling win! And, the analytics also help bring you back to reality. There are certainly some areas that need improving.
Bears Metrics – Quarterback
Unfortunately we need to start with the bad news as Mike Glennon, once again, looked like a candidate for worst Bears quarterback of the 21st century. To be fair, Glennon had challenges before him as injuries on the offensive line meant changes and there were more dropped passes by receivers. But, to be truthful, Glennon doesn't pass the eye test and the metrics don't favor his play either.
Part of Glennon's troubles are that his game is very limited. He didn't throw to his wide receivers very much. According to Pro Football Focus (PFF) only four of his 22 pass attempts targeted his receivers. The rest were to his backs.  Only four passes of his long wind-up throws travelled at least ten yards in the air. Only one was completed, a 17 yarder.
As of the end of the day Sunday, Glennon's numbers for the season have him at 18th in passing yards, 24th in passer rating and his longest pass completion is 22 yards which ranks 36th among quarterbacks.
Bears Metrics – Running Backs
Jordan Howard offered up a courageous, gritty performance that would have made Walter Payton proud. He rushed for 138 yards on 22 carries and two touchdowns including the game winner in overtime. 65 of his yards came after contact. When you consider Howard was playing with an injured AC joint in his shoulder, which forced him to leave the game multiple times, and still forced ten missed tackles (per PFF) then you not only toast the guy… you buy him a drink from the very top shelf. The expensive stuff!
Howard had 74 yards rushing by halftime virtually carrying the offense on his back. He also had seven runs of ten yards or more.
PFF handed him the their player of the game award.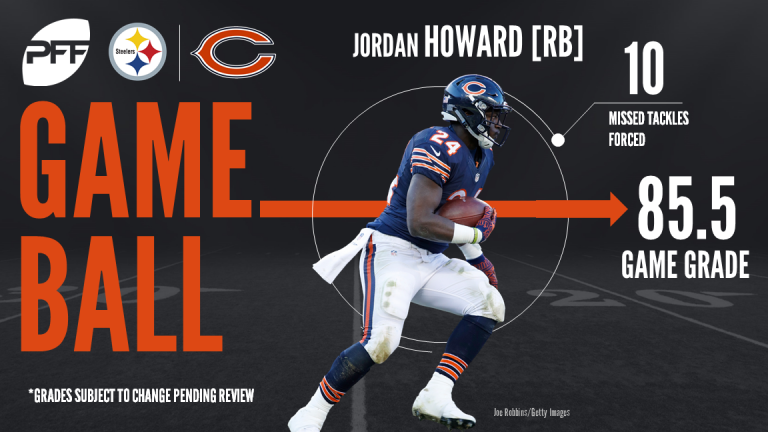 Tarik Cohen had 102 all-purpose yards and many believe he should have been awarded the game winning touchdown early in overtime when it appeared he scored on a 73-yard run.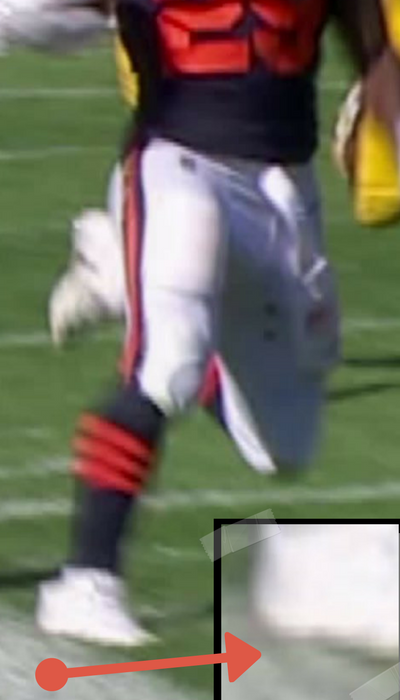 The officials, though, ruled it a 36 yard run and no touchdown after they checked the run on replay. They ruled he stepped out bounds.
What do you think?
After the game Cohen expressed his displeasure with the call in his usually super-polite way, "I definitely know that I scored a touchdown. I shot that dagger-three (pointer) like Ray Allen and I feel like I finished that game."
The rookie would have finished with 12 carries for 115 yards had the play been allowed to stand.
Howard was able to add 37 yards on two carries after the play and, of course, the game winning touchdown.
Cohen and Howard combined for 216 yards on 35 carries. They were also the two leading receivers in the game totaling 50 yards (Howard 26 and Cohen 24).
Cohen, interestingly, played 28 snaps and ten of them were in the wide receiver position, per PFF.
Bears Metrics – Wide Receivers & Tight Ends
The numbers are pathetic. We'll have to see how Kevin Schroeder grades out the receivers in other areas when his report comes out in the middle of the week. But, in terms of pass catching the numbers were awful. There were eight targets to receivers and tight ends with three receptions for 28 yards. Two of those yards included Adam Shaheen's first NFL touchdown. Markus Wheaton played his first game with the Bears and dropped the two passes thrown at him
Bears Metrics – Offensive Line
Incredibly, the Bears offensive line had a very good game despite the absence of Josh Sitton and the early game injury to Hroniss Grasu. Glennon was pressured on 28 percent of his drop backs. In comparison, against Tampa Bay last week he was under pressure 37 percent and an astronomical 40.9 percent in their opener against the Falcons. (Those percentages from PFF.)
In the run game, there were plenty of holes for Howard and Cohen as 137 of the team's 216 rushing yards came before contact.
The disconcerting news is that Cody Whitehair appears to have taken a step back from his super play of a year ago. The second year player allowed two pressures in pass protection, the most of any of the team's starters. He looked badly on those plays. Clearly he has not been helped by bouncing from center to guard.
Bears Metrics – Defensive Line
Akeem Hicks continues to play at a stellar level. Eye test, player stats or grades; it doesn't matter. Hicks gets an A. Sunday he led the defensive linemen with four tackles. By comparison only one other NFC North defensive lineman (and there are several good ones) had more tackles than Hicks and that was Kenny Clarke of the Packers with five. Hicks also recovered a fumble on defensive back's Bryce Callahan's strip sack.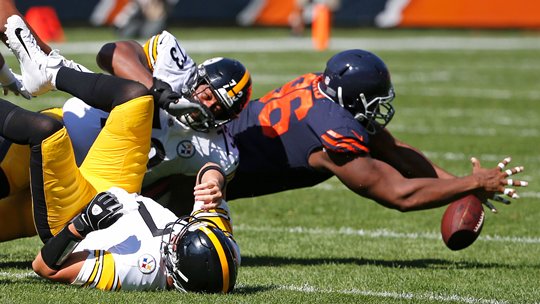 Jonathan Bullard and Eddie Goldman each had two tackles.
PFF cites that defensive coordinator Vic Fangio chose to blitz Ben Roethlisberger only six times on his 43 pass attempts. That put the onus on the defensive line to pressure the Steelers QB. And, although they had little to show statistically one can make the argument they'd have fared better, numbers-wise, if the Steelers offensive line had more players to contend with. Evidence of that is the fumble recovery by Hicks on a blitz.
Bears Metrics – Linebackers
Everything was shaping up for this to be a breakout year for Leonard Floyd but it hasn't happened yet. PFF tallied only one quarterback pressure for Floyd on 31 pass rushing snaps. On that play he was unblocked and still missed the tackle and potential sack. Just as frustrating was that Floyd dropped into coverage 13 times, was targeted twice and allowed two catches for 37 yards.He finished the game with just one tackle.
Pernell McPhee played on 27 snaps (Floyd had 60) and notched a sack. Willie Young played 39 snaps and had two tackles and a sack.
On the inside Danny Trevathan had his busiest day as a Bear since week two of last season. He saw 62 snaps and collected ten tackles. Despite playing 36 snaps Christian Jones and only one tackle. John Timu was more active, collecting two tackles and defended a pass.
Bears Metrics – Defensive Backfield
With the lackluster blitz attempts for the Bears a lot of pressure was put on the Bears defensive backs and for the most part they played well.
Marcus Cooper made headlines all across the football world, but, unfortunately it was for his failed attempt to score an easy touchdown after collecting a block punt. As a corner he was targeted nine times and allowed just one catch for ten yards. That's not enough to overlook his knucklehead-ed special teams play, especially when he also was penalized for defensive holding and would have given up a touchdown on the first play of the game had it not been for a dropped catch by the Steelers' Martavious Bryant.
It was great to see cornerback Prince Amukamara make his debut. He played 37 snaps and defended three passes while allowing just one catch, although it was for a touchdown against All-World wide receiver Antonio Brown.
Kyle Fuller had an interesting game. For much of the time he was impressing my eyes. But, the metric tell a different story. Fuller two missed tackles and that's the third straight game he's done so. He's on a pace for 32 for the season. He allowed seven catches for 82 yards on nine targets and zero touchdowns. Against the Steelers pass attack it's not a terrible effort, but perhaps some of the praise he's been getting so far this season is not completely warranted.
Bryce Callahan had a good day. He was targeted four times in 27 coverage snaps and allowed just three catches for 27 yards. Callahan also had one of the biggest defensive plays of the day when he stripped sacked Roethlisberger early in the game.
Make Sure You Stop By The Website at 9PM CST For BEARS HOUR LIVE … and Read Kris Armstrong's Take On the Game
Aldo Gandia
Among my career highlights I have produced two films while in high school that received nationwide attention; leaned out of a helicopter over the Gulf of Suez at the age of 20 to shoot movies of oil rigs; won an Emmy award for a sports special and another for a kid's fitness show; and led a team of very talented creative professionals to produce break-through corporate communications.
---
---
Related Articles
With the NFC North standings contracting after losses by both the Green Bay Packers and Minnesota Vikings it's reasonable to
Vikings Barroom Assistant Editor Drew Mahowald recaps what was an ugly Week 1 win for the Minnesota Vikings over the
John Buffone dishes up a fast-paced, info-filled look at the Chicago Bears – New Orleans Saints match. He does so by