Bears Lose, But Barroom Wins!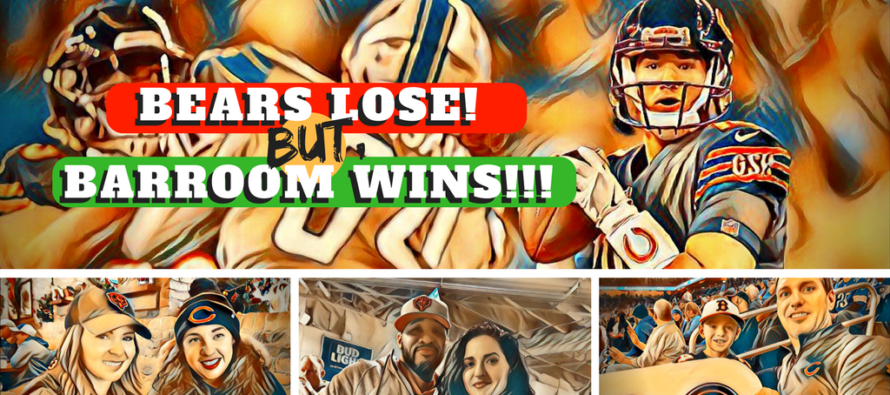 The Chicago Bears and Detroit Lions game on Saturday December 16th was the perfect embodiment of the 2017 football season for me.
The Bears played pathetic, gutless football. But, I had a great time interacting with Barflies and making new friends. These friendships, the result of the work we do at the Barroom and the engagement from Barflies, has made this unbearable season… FUN! It really has been special!
BARROOM WINS
I was at the fabulous Ford Field with my daughter, Kayla. She and I always try to make all of our hours and days together quality time. But, this was extra-special as she stepped into my Barroom world and really enjoyed herself. She even won this hideous sweater which she absolutely cherishes.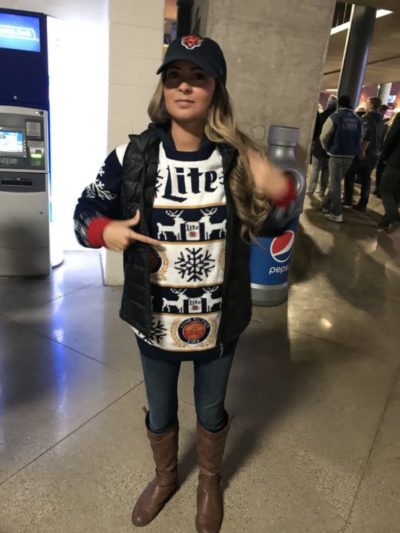 And I finally met up with BearsGrl who was attending the game with her good friend Don. For BearsGrl, the game was more than a social experience it was spiritual.
How does a girl from Canada, become a #DaBears fan?
His name was Tim. He loved the #Bears as much as he loved me.
He created #BearsGrl & taught me the game.
He died suddenly Dec 16, 2007.
To honour his memory, 10 years to the day, I'll be at #CHIvsDET cheering for a Win. 💙🐻😇 pic.twitter.com/UVOn27BB33

— BearsGrl (@BearsGrl80) December 13, 2017
Kayla and I were more than lucky to be there and support her and Don, who was Tim's best friend. BearGrl also told me that the hundreds of well wishes she got from Barflies meant so much to her. You are all the very best!
We were also fortunate to meet up with Barflies like Nedal from Windsor, Canada. He told me he's a big fan of what we do at the Barroom and really wanted to meet me. I failed to snap a picture of Nedal, but I will never forget the Kris Kringle gleam to his eye. I hope he knows he was giving me the great gift of his friendship.
Check out my man, BMoeSki, and his lady. We shared some drinks and had some laughs.
'@AF_SingleDad and his girl with #FireFox at Ford Field pic.twitter.com/lqb6YM7NIY

— Aldo Gandia (@AldoBarkeeper) December 16, 2017
Moe is all class. And, his passion for the Bears is resolute. He knows the game. Knows the organization. Knows what has to happen to fix the problems. #FireFox
Check out this outstanding story… Seated beside us was this father and son. Before the game was over we not only learned that we had the same disdain for John Fox, but that we are NEIGHBORS! That's right. We live a couple of blocks from one another and I now have a neighbor I can commiserate with about Bears football.
Father and son want Fox fired. Dad told me Fox is doing all the wrong things that got him fired at Denver. #FireFox pic.twitter.com/aAcU1NRXfp

— Bears Barroom (@BearsBarroom) December 17, 2017
Ford Field was filled with Bears fans… some of whom are now Barflies.
New #Barflies pic.twitter.com/dtX4hmuTFU

— Bears Barroom (@BearsBarroom) December 16, 2017
Recruited new #Barflies pic.twitter.com/yDMal0KASU

— Bears Barroom (@BearsBarroom) December 16, 2017
There were many more Barflies who unable to attend the game, but they were with us in Christmas spirit.
@BearsBarroom @AldoBarkeeper @BearsGrl80 We're with you in spirit 🐻⬇️. pic.twitter.com/1SNezp0bFA

— Bdiddy (@BQuinn34) December 16, 2017
One last thing about the experience… the most fun I had was when these two Lions fans trash-talked with me throughout the 4th quarter. At one point the little guy in the glasses said, "You guys have more penalty yards than rushing yards." His parents, were rightfully, very proud of him!
When the young #Lions cubs trash talk @AldoBarkeeper…#Epic. 😂🤣😂 #CHIvsDET @BearsBarroom pic.twitter.com/fg4bOW22kX

— BearsGrl (@BearsGrl80) December 17, 2017
We hope to make a Bears road game an annual event for Barflies to congregate at and I hope to meet many more of you.
Bears Lose
The game was emblematic of this Fox flub season. I have yet to review the tape, but from my angle on the 30-yard lone 20 rows up from the Bears sideline what I saw was another, mostly, listless effort. I said this in the middle of last season's Bears four game losing streak to close out 2016 – the team quit on John Fox. No one seemed to make a big deal about the anemic effort last season. This season we're getting the same uninspired effort. Fortunately, we fans are now making a big deal.
I see being a fan similar to being a citizen. It's a democratic-type of responsibility. Buying a ticket or tuning into a Bears broadcast isn't enough. We, as fans, are obligated to let management know whether we approve of their efforts or not. Perhaps, if we had launched #FireFox last season we might have had Sean McVay leading our re-building efforts this season instead of the excuse-machine that is John Fox.
How many times have we heard, "It's not an excuse, it's a fact," come from Fox's nicotine voice-box?
We are sick of it!
An analysis of the game begins with the play of Mitch Trubisky. He set personal professional highs is passing with 31 completions on 46 attempts for 314 yards. But, he threw three interceptions; each a backbreaker. Why did he throw the picks?  I beg you all to please listen to Bears Hour Live with Draft Dr. Phil tonight at 9pm CST or the podcast version on Tuesday morning. We will make some sense to the craziness that is surrounding Mitch Trubsiky. Do not be sucked into many of the Chicago media's "analysis" of what's happening. When I saw this headline I about lost my temper (again). Didn't read the story, because it's either click bait, rubbish or more likely both!
Our @Suntimes_sports Monday cover: If Mitch Trubisky doesn't pan out, could #Bears become the #Browns? – https://t.co/WtA4UOaESc pic.twitter.com/NBDSKRagYp

— Chicago Sun-Times (@Suntimes) December 18, 2017

Some numbers from Pro Football Focus analytics' team that you may not find on their website:
On passes that traveled less than 10 yards beyond the line of scrimmage, (Trubisky) went 23-of-29 for 168 yards, one touchdown and one interception for a passer rating of 87.9. That left him 8-of-15 for 156 yards and two interceptions on passes of 10 or more yards down field, good for a passer rating of 50.3. Out of his 15 total incompletions, one was a throw away, one was a batted pass and one was a dropped pass.
These numbers point to the type of performance you expect from a rookie. But, an in-depth analysis reveals that this goes well beyond rookie errors. That's why I implore you to listen to Bears Hour Live with Draft Dr. Phil. As a tease, I submit this:
I'm going to send this tweet to you @Mtrubisky10 because this city & Their Media love to point fingers to the wrong places. Keep getting up, mistakes are going to happen. You keep slinging it & stepping up in the pocket & delivering. Football people know what you're dealing with

— Draft Dr. Phil (@FulphilO) December 17, 2017
Can't wait to hear Phil and, trust me, I will offer up a thought or two.
One thing I'm going to bring up again is the awful use of player personnel by the Bears coaching staff. Tarik Cohen was on the field for 36% of the Bears offensive snaps. That's 25 compared to the 37 he had last week in the win over the Bengals. Kendall Wright had the same amount of snaps he had against the Bengals, but for the first three quarters I saw him on the sideline during critical plays. Inexcusable! Especially when you learn that No-Hands Josh Bellamy had seven more snaps (53) than the Bears best wide receiver.
How can Ryan Pace tolerate seeing Josh Bellamy get almost twice the amount of snaps than one of his biggest offseason acquisitions (a now healthy) Markus Wheaton? The former Steeler saw only 4 pass targets catching two for 42 yards.
On the defensive side of the ball, I applaud the effort by Vic Fangio's group. Akeem Hicks is a joy to watch. He is such a presence on the field. Hicks had a sack, two hits and two quarterback hurries on Matthew Stafford. He also drew a holding penalty and finished with four tackles.
In last week's preview of the game Ciarán Hall wrote that safety  Eddie Jackson should have been a first round draft pick and he certainly played like one against the Lions. Linebacker Nick Kwiatkoski missed two tackles, but he had a very solid game with 8 tackles and a QB hurry.
Long-time veterans Lamarr Houston and Sam Acho came to play, too. Between the two of them they had three sacks. It's funny that Houston is finally paying off on the Phil Emery investment after being cut by the Bears at the beginning of the season and a few weeks ago by the Houston Texans. Houston now has four sacks in three games with the Bears.
Bottom line is this: holding the Lions to 20 points at Ford Field is an accomplishment only one other team has been able to do in the six other home games the Detroit has had (Steelers). This game was there for the taking. But, Fox and his accomplice, Dowell Loggains, continue to practice coaching  malfeasance and that's a crime we shouldn't have to tolerate anymore.
Aldo Gandia
Among my career highlights I have produced two films while in high school that received nationwide attention; leaned out of a helicopter over the Gulf of Suez at the age of 20 to shoot movies of oil rigs; won an Emmy award for a sports special and another for a kid's fitness show; and led a team of very talented creative professionals to produce break-through corporate communications.
---
---
Related Articles
Week ten presented the Barroom with one of the closest races for our weekly NFC North Player of the Week
SKOL Brew No. 11 — Purple Postseason BJ Reidell: The Minnesota Vikings earned an epic victory at Lambeau Field over the
Shayne Marsaw has some strong opinions on Brian Kelly, Kyle Long, the possibility of drafting O.J. Howard and more. This