Chicago Bears Future Looks Better Than You Might Think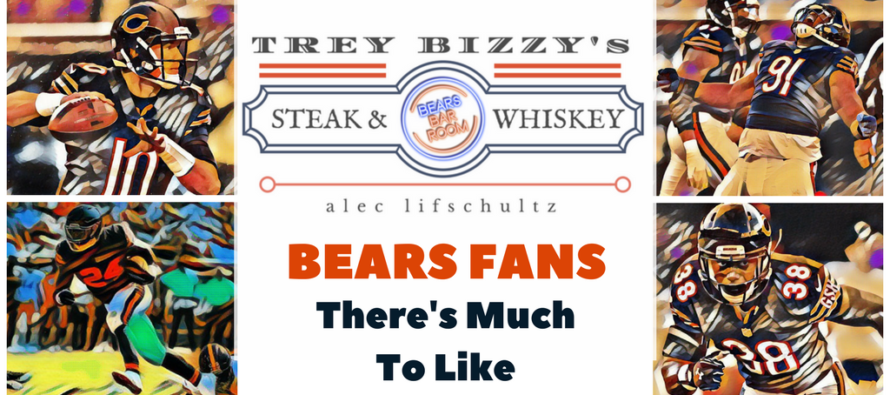 Hello Bears fans,
It was a long and grueling journey to get to the end of the John Fox era but it's finally here. Just about everyone knew it was coming to an end months ago. Maybe the only person who didn't know Fox's coaching career in Chicago was coming to an end was Ryan Pace. He claimed that he made the decision the day before the announcement. But, come on. Who the fuck does he think he's fooling?
During the Chicago Bears press conference, Ted Phillips announced that Pace was given an extension through 2021. If you've been paying attention all season then it was abundantly clear that this move was going to happen. Pace was tasked with remodeling Halas Hall by adding multi-million dollar improvements to the facility. He's also tasked with improving the decrepit roster he inherited from Phil Emery.
And, what's happened is that the Chicago Bears are in a very good place right now, and as fans we have a lot to feel good about.
The most promising thing the Chicago Bears have to look forward to is Mitch Trubisky. The team now has it's quarterback of the future! I know the stat nerds will stop jerking their tiny dicks and start comparing numbers and then type with their gooey little fingers that Trubisky didn't have a good season "statistically."
Deshaun Watson threw more touchdown passes (19) in seven games than Mitchell Trubisky and DeShone Kizer did in a combined 27 games (18).

— Brad Gagnon (@Brad_Gagnon) January 3, 2018
But, let's look a little deeper at his rookie season.
Trubisky was never set up for success in his rookie season. It began in training camp when he wasn't given the first team reps. Mike Glennon was "handed" the starting job without the team conducting a quarterback competition for the No. 1 job.
That's! A! Damn! Travesty!
If you saw Trubisky and Glennon at training camp there was no way you could convince me that Glennon was the superior quarterback. No fucking way.
Now take into account Trubisky had no first team snaps during the regular season and only four practices when he was thrown into the fire week 5 against the Minnesota Vikings on Monday Night Football. That's cruel. But, Fox had to make the move because everyone in the clubhouse knew that Glennon was inferior to Trubisky.
Stat nerds might want to go back and add up the number of Bears players who came to Glennon's defense and said he should remain the starter. Don't bother. Got you covered. The number is zero!
Mitch Trubisky's longest completion of his NFL career. 70 yards to Tarik Cohen. #Bears pic.twitter.com/QdgFgHSnH7

— Bears Barroom (@BearsBarroom) October 22, 2017
As the season wore on it became more and more obvious that John Fox's cuckoo conservatism begin to negatively impair Trubsiky. The game plans became so predictable that an adolescent could draw up a more mature approach  to advancing the ball.
2 down territory and he runs predictably vs the defense. Awful play design and look at Cohen as he doesn't get the fake. The offense is lost. Sitton lost. Shaheen completely whiffs. #Coaching pic.twitter.com/cy0Gqz2C6F

— Draft Dr. Phil (@FulphilO) November 26, 2017
Additionally, effort started to become an issue with some players as the coaching staff was too lenient and allowed players to get away with shit.
This is coaching @BearsBarroom @wasram pic.twitter.com/x6BQL1E9IY

— Draft Dr. Phil (@FulphilO) November 26, 2017
But, nonetheless the knowing eye can still see the traits that will make Trubisky a top tier QB.
The steps forward that Trubisky has made will not go unnoticed @BearsBarroom the local media and radio publications will arrogantly search for other stories. Like how Jordan Howard is easily replaceable – not here. Trubisky is taking great strides forward before your eyes 👀 pic.twitter.com/dyAszbp43i

— Draft Dr. Phil (@FulphilO) December 10, 2017
Only worry about Trubisky if Pace fails to get him the proper coaching and receiving weapons he needs to reach his potential.
The Bears have a top ten defense with young and emerging core players: Leonard Floyd, Eddie Goldman, Danny Trevathan, Nick Kwiatkowski,  Jonathan Bullard, Eddie Jackson, Adrian Amos, and Akiem Hicks are a pretty impressive unit. Re-sign Kyle Fuller and the core gets only better.
This defense is stout against the run, and great in pass coverage. Despite major injuries the defense was able to keep the team in a lot of games. The secondary was the biggest question mark coming into the season and they delivered in a special way. Fuller has ascended to an elite cornerback level and deserves a max contract today.
THE REAL #DBU 🔥

Dang, @KBFuller17 💪🏾

📽 via @ChicagoBears #LPD 💼 pic.twitter.com/6RUm6YyX5u

— VT Football (@VT_Football) December 4, 2017
Amos also finally started to produce takeaways, that was the biggest question mark of his game. As for his hitting game… clearly he's got all the pussy he can handle.
Adrian Amos monster hit on Jerick Mckinnon pic.twitter.com/9pQdY2KL7s

— NFL Update (@MySportsUpdate) October 10, 2017
Jackson came in as a rookie and played at an all pro level in my opinion. Jackson was all over the field causing havoc and getting turnovers. Prince Amukamara had an okay year, he could've been better in pass coverage and also holding on to interceptions. Amukamara also drew a lot of pass interference penalties.
Hicks, Fuller, Amos, and Jackson should've all been pro bowl nods because of the level of which they played all season long. Whoever steps in as the head coach will have a young and talented defense led by emerging talent.
Back to the offense. The backfield for the Bears is arguably one of the best combinations since steak and whiskey. Jordan Howard and Tarik Cohen are an explosive duo who can regularly wreak havoc on defenses. The craziest thing about these players is that they beat the bad coaching and play calling to have very good seasons.
Howard is scrutinized by the media because they believe he's not an efficient pass catcher out of the backfield. Howard may not have the hands of a Devonta Freeman or David Johnson but he is one of if not the best between the tackle runners.
Jordan Howard made history vs. Bengals, becoming the 1st #Bears RB to reach at least 1,000 rushing yards in each of his first 2 seasons. Howard rushed for 147 YDS, 2 TDs and a 6.4 AVG, forcing missed tackles on almost 20% of his carries. Here's proof that he's reeeaaalllyyy good: pic.twitter.com/zjaVVrYTlh

— Flo Ottis (@flo_ottis) December 11, 2017
Jordan Howard faced eight and nine man boxes all season and still rushed for over a thousand yards in his second season as a pro. Tarik Cohen was brought in to be a change of pace back or a joker back. Cohen is much more than just a 3rd down back (even though Dowell insisted on playing Cunningham on passing downs). Tarik Cohen has the pass catching and route running ability to line up in the slot, the x, or the y wide receiver positions. He also has the speed and shiftiness to take a jet sweep or outside toss straight to the house.
After an 18 yard pass play the #Bears roll with Cohen on a direct snap & 2 rushes by Howard for the TD. #CHIvsCIN pic.twitter.com/MZ6GJPrkIa

— Bears Barroom (@BearsBarroom) December 10, 2017
Cohen is the most explosive offensive player on the roster and it's not even close. One of the more notable plays from Tarik Cohen came on a punt return TD in which he ran 20 yards backwards then turned around and ran it back to the house.
Tarik Cohen 61 yard punt return to the HOUSE! pic.twitter.com/q3956m1TrG

— NFL Update (@MySportsUpdate) December 3, 2017
This backfield has to be intriguing to the next Bears play caller and hopefully they utilize the unique skill set of Tarik Cohen and the hard running of Jordan Howard.
Pace is set to have seven draft picks in the 2018 draft and he has shown the ability to utilize every pick in each round to find quality talent. On a recent 100 Proof Aldo Gandia believed that the top four picks Pace made in the 2017 draft were a hit and that's a rarity for any NFL team.
Under the radar play that speaks volumes for @Bears future. Howard, Cohen, Shaheen & Trubisky get it done on 4th down. The pieces are there pic.twitter.com/OwGg9quvPg

— Bears Barroom (@BearsBarroom) December 11, 2017
Mitch Trubisky, Adam Shaheen, Eddie Jackson, and Tarik Cohen are quality starters with very high ceilings. I'm hoping 5th round pick Jordan Morgan comes in his sophomore season ready to earn a starting or back up spot at the guard position. In the 2018 draft Pace has a first, a second, two fourth, a fifth, sixth, and seventh round pick. If he can find another "Eddie Jackson" and "Tarik Cohen" at let's say the wide receiver position in the 4th round this year that will be amazing.
The Chicago Bears franchise and fan base have a lot to feel good about. Yes, there's still a lot of work for Ryan Pace. He has a tall task in finding the right head coach. But, I'm convinced he will finally be able to pick "his" guy. The young players have an offseason to get better and improve their game. Trubisky, of course, is the most important piece to the puzzle and his growth and direction will be telling to how the franchise will turn out.
I got a good feeling gang. Steak and whiskey for everyone!
Alec Lifschultz
Commercial Carpenter by day, Avid Bears fan by night and on weekends. I'm a Chicago native that has been watching the Bears since I was a kid. I enjoy going over the game film and writing and tweeting about it from my own perspective and insight. You can find Alec Lifschultz on Twitter/Instagram @TreyBizzy
---
---
Related Articles
The scoreboard said 20-10, but the game never felt that close. The Detroit Lions scored the first 13 points. The Chicago
With a quarter of the season already done, the Barroom's Chief Editor wanted to explore what is the single most
Vikings Barroom Assistant Editor Drew Mahowald elaborates on a few things that caught his eye during first full pads practice