Time For Bears To Feature Their Tight Ends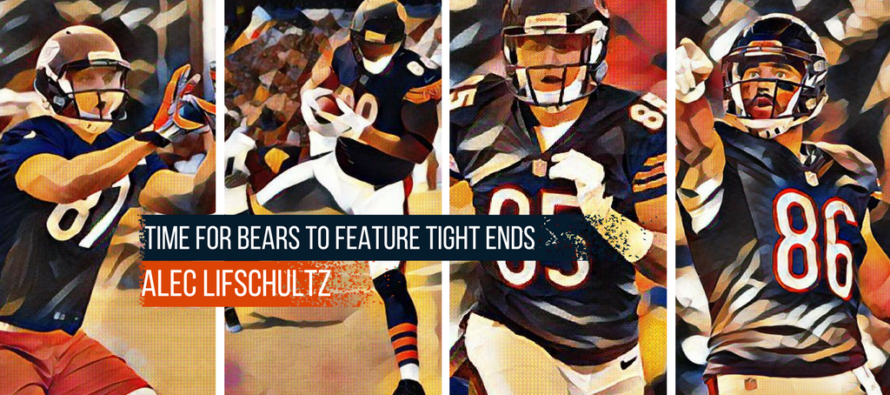 We've enjoyed two straight weeks of a Chicago Bears victory with a dominant performance from the defense. Defensive lineman Akiem Hicks and linebacker Danny Trevathan are putting up All Pro numbers. Free safety Eddie Jackson was the number one star of the game with a fumble recovery for a 75-yard touchdown and an interception return for a 76-yard touchdown. Nose tackle Eddie Goldman is the unsung hero of the unit because he's so disruptive and forces ball carriers right into the arms of defensive lineman Akiem Hicks and linebacker Leonard Floyd. But, this post isn't about how dominant the defense was in the 17-3 victory over the Carolina Panthers on Sunday. This post is about the offense and why they need to begin featuring their tight ends.
What is going on with the Chicago Bears' offense? It has been anemic this season. The offense is currently ranked 29th in passing and receiving yards. It's hard for a team to have success on offense when opponents are only going to play the run and not worry about any passing attempts. I've seen nine defensive players stacked in the box and the Bears coaches' still choosing the run.
Mitchell David Trubisky (I know I said his whole name for emphasis) threw the football seven times on Sunday. You won't win many games in the NFL throwing the football seven times. If it wasn't for a monstrous performance from the defense the team would be in dire trouble.
Why aren't we throwing the football more? Does John Fox not know his quarterback throws a highly accurate football? And, that a young quarterback's best friend is the tight end?
Throughout the course of the offseason I've read multiple posts and heard analysts say, "A strength for the Chicago Bears offense will be the tight end position." It's easy to see why people felt that way, the team is loaded with four tight ends on the roster: Adam Shaheen, Zach Miller, Dion Sims, and Daniel Brown.
Adam Shaheen
We haven't seen enough Adam Shaheen offensively. He was drafted in the 2nd round out of a Division II school (Ashland) because of his raw talent and potential. The knock on him was whether he could immediately help out in the blocking game. He has. We have game film of Shaheen not only making blocks, but also completely leveling players.
Adam Shaheen block is lethal. #Bears. #CARvsCHI pic.twitter.com/wMnB1DVi77

— Bears Barroom (@BearsBarroom) October 22, 2017
I want to see Shaheen running pass routes and catching footballs from Mitch Trubisky because that's what he was brought here to do. The rook has only one reception through seven games. It resulted in a two-yard touchdown against the Pittsburgh Steelers. According to FantasyPros.com that's the only time all season Shaheen has been targeted on a pass attempt. Come on.
Dion Sims
A day one free agent signing from the Miami Dolphins, Dion Sims was believed by some analysts to be the day one starter at the tight end position for the Chicago Bears. In Miami, Sims was mostly used as a blocking tight end and came here with a good reputation in that area. With the Bears he hasn't lived up to that rep. In fact, Pro Football Focus has graded him among the worst run blocking tight ends. Surprisingly  Sims has shown an ability to get open and catch some passes although he's had critical drops as well. So far he has six catches on 13 targets for 98 yards and a touchdown.
Mitchell Trubisky 27-yard TD to Dion Sims!pic.twitter.com/zhP0WVTd0g

— NFL Update (@MySportsUpdate) October 15, 2017
Daniel Brown
Claimed off waivers by the Bears in October of 2016, Brown was under radar until he scored his first touchdown against the Tennessee Titans (I was at that game and it was great) back in November.
@Daniel_Brown10 's first NFL touchdown 🙌🏾 #BearDown #Entourage pic.twitter.com/Wtpd5qzexn

— Brandon M. Taylor (@agent_bt) November 27, 2016
His potential as a pass catcher and willingness to block earned him a new contract for this year. Unfortunately Brown has yet to catch a pass or even be targeted.
Zach Miller
In my mind even Zach Miller is being underutilized. Miller has the hands, route running ability, and swiftness to get open routinely. Drafted in the 6th round out of Nebraska by the Jacksonville Jaguars, Miller quickly proved to be an efficient pass catcher. As a rookie he caught 21 passes out of 27 targets. A season later he had  20 receptions on 26 targets. The Jags released after an injury riddle third season.
Miller signed with the Bears and continued to show his prowess at being a reliable route runner and pass catcher. His game winning 25-yard one handed touchdown catch from Jay Cutler in November of 2015 remains on go the nicest catches by a Bears tight end.
Zach Miller 25 yard TD pass from Jay Cutler. #MNF #CHIvsSD pic.twitter.com/LLLo2YjcQe

— NFL (@NFLonLive) November 10, 2015
That play was not only electrifying but also eye opening. It was Zach Miller's first touchdown since 2011. One week later against the Rams Zach Miller caught five passes for 107 yards and two touchdowns, including an 87 yard touchdown pass from Cutler. That play was the longest touchdown reception by a Bear since Matt Forte in 2010. Miller's play that season gave Ryan Pace the confidence to deal problem-child Martellus Bennett to the Patriots for a 4th round pick. Pace also decided Miller had earned a two year $5.5 million dollar contract extension.
In November of 2016, the injury bugaboo hit Miller again when he broke his foot and placed on injured reserve for the remainder of the season. A lot of analysts believed Miller wouldn't make the team after the Bears signed Sims and drafted Shaheen in the 2nd round. I never doubted Miller would make the roster because he is the most explosive and dependable receiving threat on a roster. When healthy he has shown that he can get open in man-to-man or zone coverages regularly and has the best hands on the team.
Conclusion
Each of these four tight ends has the talent to be featured more in the passing game. A total of 27 receptions out of these four players seven games into the season doesn't make sense. It's time for offensive coordinator Dowell Loggains and Fox to rely on the tight ends more often. They really are capable of making plays. This week, in the Mercedes Benz Dome in New Orleans, it will be a good time to take Shaheen's pass catching hands out for a test drive, utilize Sims more often off play-action, let Brown see some playing time and allow Miller to become the quarterback's best friend.
Alec Lifschultz
Commercial Carpenter by day, Avid Bears fan by night and on weekends. I'm a Chicago native that has been watching the Bears since I was a kid. I enjoy going over the game film and writing and tweeting about it from my own perspective and insight. You can find Alec Lifschultz on Twitter/Instagram @TreyBizzy
---
---
Related Articles
There are a dozen reasons to bitch and moan about the Chicago Bears loss to the defending NFC champion Atlanta
Vikings Barroom Assistant Editor Drew Mahowald recaps what was an ugly Week 1 win for the Minnesota Vikings over the
(I received the following e-mail from Brett Maly while I was on my way to the Bears game. I wish