Being a Bears Fan Means Being In The Bears Family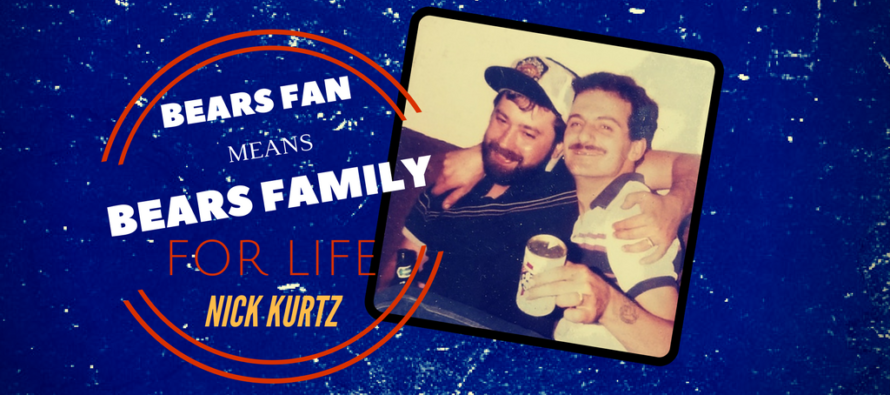 As another Chicago Bear season has come to an early close, I sit at my dining room table having the bizzy special (steak and whiskey) reflecting on the highs and lows of this season, and pondering the future of our beloved franchise. I'm also giving thought to a question I am being asked all too often: why am I such a loyal fan to an organization that seemingly can care less about fans compared to the amount of money they bring in? After three John Fox seasons that question struck me a bit so i continued to eat my steak and drink my whiskey and ponder.
As die hard Bear fans, throughout the highs and lows, we are and always will be Chicago Bear fans. It's that orange and navy blue that run through our veins. Some of us are born with it some of us are raised with it and some of us have both. My answer to that question is this: My twin brother and I were born on January 19th 1986. Yes that's right seven days before the Bears last won the Super Bowl XX! We were the offspring to the biggest, toughest, proudest, loyalist, sport knowledgeable father on the planet.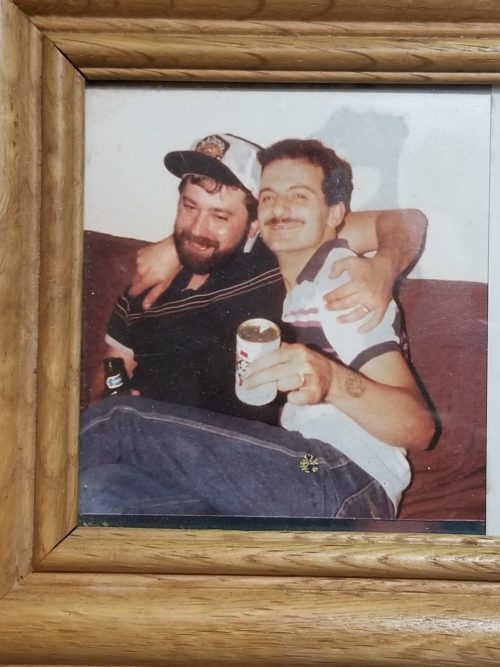 My foul mouthed (like myself) father, who easily enjoyed slamming down over half a case of beer a night and the occasional smoke during any Bears game, wanted to watch his beleoved win the Super Bowl with each boy on his lap.
Of course, I'll never have the actual memory of it as I was seven days old but the videos, pictures and retold stories comfort me more often than you might guess.
That was my very first introduction to Chicago Bears football. Hell my first words were "Da Bears" shortly after that came "Packers suck."
My father, most known in my neighborhood as one of the best baseball coaches in the area, instilled that fiery football passion and Bears history since before i could talk.
He would preach and teach from the  beginning with the Decatur Staleys. He told me all about Sid Luckman, Dick Butkus (one of his favorites), Gale Sayers, Sweetness and Suhey (a real fullback not that POS Loggains and Fox cuddled) Jimmy McMahon, Tommy Thayer, Willie Gault, Tom Waddle, Dan Hampton, Mongo and more. The man was teaching us I formation, triple flex options and the cover 2 and the difference between man and zone defense AT THE AGE OF FOUR!
I won't get into much more, because I could really go on forever.
What I want you to know is that it was in those moments with my father, who knowingly or not, implanted a ferocious and tattooed love of the game in me. Ironically one of his very best friends was a Packers fan but always rooted for the Bears when he came over on Sundays to watch the game. He was also the only Packer fan allowed to step foot in his home If I ever brought home a girl his first question was, "Do you like sports?" When she answered, 'yes.' the next question was, "What team?"
And if she even remotely hinted that she liked the Packers … that was the end of that.
With the exception of a few games since I was 15 my father and I never missed a game together. (He was saying even then how Ted Phillips needed to go. I can imagine the look and expressions from him now. Haha).
My father passed away September 12th, 2010 at 6:40ish in the morning. That was just hours before the Bears opened the season against the Detroit Lions. Carrying on the tradition, my dad's best friend, his son, and a good friend of mine sat with me and watched that game. The Bears were winning in the 4th quarter and in typical fashion the Lions were driving and almost within field goal position to win the game.
Suddenly, BAM! Stafford throws a deep ball to Megatron… touchdown.
But, wait, NO CATCH! BEARS WIN!
Thus the birth of the catch rule. We joke today that it was my old man's goodbye.
As the years have passed and the Bears have just finished their search for our fourth head coach since his passing (Lovie, Trestman and Fox) my fire is still lit. In fact, it's raging with the announcement of Matt Nagy and his coaching staff! This is fire   that will never be extinguished – not even John Fox and Ted Phillips can do that!
To conclude, my answer to the question I hear all too often is this: For those that like Phillips and his 'treat the Bears as a business first' persona. I say football is a business yes, however, to some of us it's more, much more. It's an undying passion. It's a lifestyle. It means family, friends, good food, better memories. It's bred deep within us since youth. It's something we can't change or avoid. It OUR LOVE OF THE GAME. We can't live in '85 anymore, but we can make 2018 and beyond mean something similar to 85. Especially for our kids. Like my dad did for me.
I cherish being able to make new memories with my son. I'll do so with a spice of old traditions and the hope that Matt Nagy, Mitch Trubisky, Jordan Howard, Tarik Cohen, Akiem Hicks, Eddie Jackson, Adrian Amos, Leonard Floyd, Kyle Fuller and others will supply my boy with the memories of a Super Bowl win.
(Nick Kurtz is a member of the Bears Barroom staff. You can find him on twitter @KurtzN119)
---
---