Chicago Bears Defense – Talent, Hustle and Scheme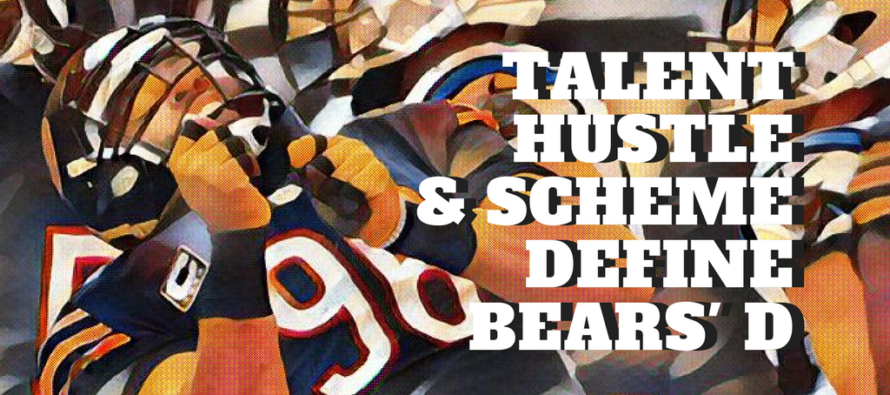 On the very first play from scrimmage Kyle Fuller detected an inside run to Christian McCaffrey. The four year corner came running in from eight yards back to dive on top of the pile that had swarmed on the rookie running back. The play netted two yards and the Bears were woofing and barking like the junkyard dogs of another era.
On the next play Eddie Goldman and Akiem Hicks were the only two down linemen. Leonard Floyd and Pernell McPhee were on the edges. At the snap, Floyd dropped into coverage and the Panthers' offensive line failed to detect inside linebacker Danny Trevathan, starting three yards from the line of scrimmage, rushing the quarterback. Untouched Danny T sacked Cam Newton for a seven yard loss.
These two plays, seen below back to back, set the tempo for the Bears defense. Fuller's zeal and high energy rush to participate in the tackle and Vic Fangio's clever scheming to confuse and frustrate Cam Newton were about to be a major theme for Sunday's 17-3 Chicago Bears win over the Carolina Panthers. Add in a full display of the defensive talent the Bears have acquired over the past few years and we're witnessing the beginning of a new chapter in team history.
First two defensive plays for #Bears defense epitomize their day: hustle and scheme pic.twitter.com/JipxObUBsK

— Bears Barroom (@BearsBarroom) October 23, 2017
Later in that opening series, the Bears created the first of their three turnovers, two of which resulted in explosive touchdowns. Curtis Samuel couldn't handle a pitch from Newton and Bears safety Eddie Jackson was there to scoop and run for a 75-yard touchdown.
#DaBears up 7-0, thanks to this 👇.#CARvsCHI pic.twitter.com/3ZjND0eUay

— Chicago Bears (@ChicagoBears) October 22, 2017
Last week the Bears defense also forced three turnovers; one resulting in a 90-yard touchdown interception return by Adrian Amos.
For the season that's nine Bears turnovers and counting. There's little reason to think that this is some quirk. Yes, the Bears have not exactly been a turbine for turnovers in recent years, but the turnover on the roster is fueling this transformation.
Fact is that it was last year when we expected to see the Bears defense approach this type of tenacious play. The team assembled the components of a ferocious front seven and when injuries and poor secondary play suspended that debut depression set in for Bears fans.
Now, the polar opposite is happening for fans. It's okay. No need to seek medication. This is a natural and healthy response. Cheers!
The Bears now have a back four that compliments a fairly healthy front seven (the team's 2016 leading tackler Jerrell Freeman is out for the season). Eddie Jackson, Adrian Amos, Kyle Fuller and Prince Amukamara are all proving capable of getting hands on footballs for deflections and/or turnovers. They all know that's expected because of what the front seven delivers: pressure. Pro Football Focus notes that Cam Newton was under pressure on 23 of his 43 drop backs (53.5 percent). That's the type of heat that melts a QB's effectiveness. Newton's completion percentage dropped more than 15% when under pressure and over 30% when blitzed. Blitzing is something Fangio is dialing up more often (a season high 43.5% on Sunday) with his confidence in the secondary soaring.
Ladies and gentlemen… @EJackson_4. #DaBears pic.twitter.com/Q8S8iiS1Aq

— Chicago Bears (@ChicagoBears) October 22, 2017
What lies ahead for the Bears' defense is their sternest test of the season, the New Orleans Saints. Drew Brees' offense is averaging 391 yards per game (4th highest in NFL) and playing in the Big Easy will be very difficult. But, the Bears' defense comes in with three notable strengths: talent, hustle and scheme. Mix in the success they are now having and next week's challenge doesn't look as daunting.
Aldo Gandia
Among my career highlights I have produced two films while in high school that received nationwide attention; leaned out of a helicopter over the Gulf of Suez at the age of 20 to shoot movies of oil rigs; won an Emmy award for a sports special and another for a kid's fitness show; and led a team of very talented creative professionals to produce break-through corporate communications.
---
---
Related Articles
Bears Hour Live is our weekly live show with Draft. Dr. Phil Ottochian. In this episode he goes over all
With the NFC North standings contracting after losses by both the Green Bay Packers and Minnesota Vikings it's reasonable to
The question isn't whether Aaron Rodgers is this week's NFC North Player of the Week winner. That's too easy. The