Bears DB Deiondre' Hall Tased & Arrested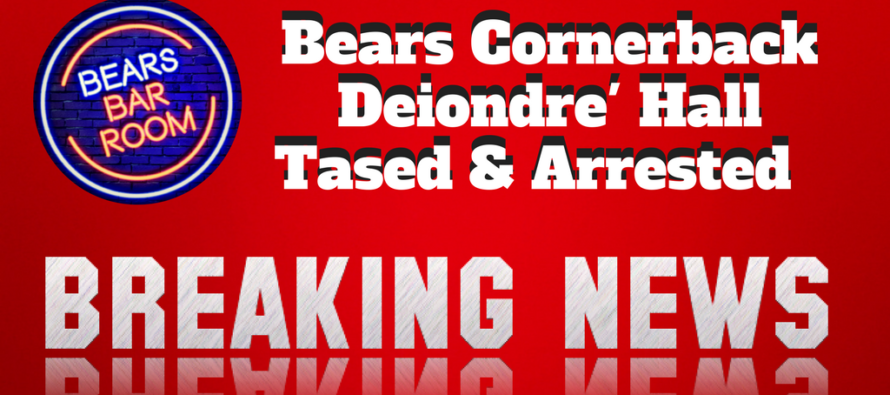 UPDATED 9:13 pm March 26, 2017
Chicago Bears' 2016 4th round draft pick Deiondre' Hall was tasered and arrested Sunday morning at 1 am for public intoxication, disorderly conduct & interference, according to several news reports. The incident occurred in Cedar Rapids, Iowa outside a bar named Sharkey's. Also arrested was Hall's college teammate at the University of Northern Iowa, Makinton Dorleant, who is a member of the Green Bay Packers. Hall and Dorleant are good friends. Doreleant's charge was interference.
Video of #Bears Deiondre Hall being dragged by police.

Please give credit to me. pic.twitter.com/1gRPnfJhlm

— Chicago Sports News (@ChiSportUpdates) March 27, 2017

Witnesses told kwwl.com, that a fight broke out inside Sharkey's a popular bar in the college town. Cedar Falls police, UNI police and members of the Black Hawk County sheriff's department were dispatched. According to the police complaint, authorities found Hall "flailing his arms and yelling profanity at bar staff and patrons."  Hall was not cooperating, according to police, and yelling at officers. Hall spat in their faces and was tasered by an officer in an effort to put him into the police vehicle. The entire altercation lasted about 30 minutes.
One Cedar Falls police officer was hit in the back of the head with a beer bottle and a bar employee had a cut to the back of the head. Neither suffered a serious injury according to the Police Chief.
Police say they are looking at surveillance video to determine if they can identify anyone who may have struck the employee who claimed he was assaulted.
Dorleant told the Milwaukee Journal Sentinel in a telephone interview that the altercation was blown out of proportion. "The bouncer at the front door, he wasn't letting us in. He forced me out, and then Deiondre' saw it and there was a little shoving, like other guys too that we were hanging out with. Then the police came and they just had to separate us.
"They took me and Deiondre' — not away but they drove us off just because there was a scene. We ended up driving away downtown. Then we got let go. That was really it. Nothing else really happened from what I know."
Dorleant denies that Hall was involved in a fight with police. "There was no altercation with no officers," Dorleant said. "Nothing really happened. There were a lot of people out, actually. … Cedar Falls is like a three- or four-hour drive for me and (Deiondre'), so we were hanging out. There was a lot of people in the area, so (the police) were already there.
"They fined me. After that, I don't know what they did with Deiondre'. … Nothing really happened. Deiondre' went about his way and I went about my own way."
Hall and Dorleant were star players at the University of Northern Iowa. Both were leaders as they were easily the two most animated and vocal guys on a good defense. It was almost a year ago today that both players excelled at their pro day. Hall was the star of the show as he wowed scouts with his long reach and stayed after his performance to cheer on Dorleant. Scouts point to Hall's workout at the Combine and his pro day for his jumping up in the draft.
Dorleant went un-drafted, but was quickly signed by the Green Bay Packers. He had an excellent training camp, but wasn't expected to see any action after making the Practice Squad. Dorleant was forced into some action because of the rash of injuries the Packers had at cornerback.
Aldo Gandia
Among my career highlights I have produced two films while in high school that received nationwide attention; leaned out of a helicopter over the Gulf of Suez at the age of 20 to shoot movies of oil rigs; won an Emmy award for a sports special and another for a kid's fitness show; and led a team of very talented creative professionals to produce break-through corporate communications.
---
---