Bears Continue To Add Depth, Sign Benny Cunningham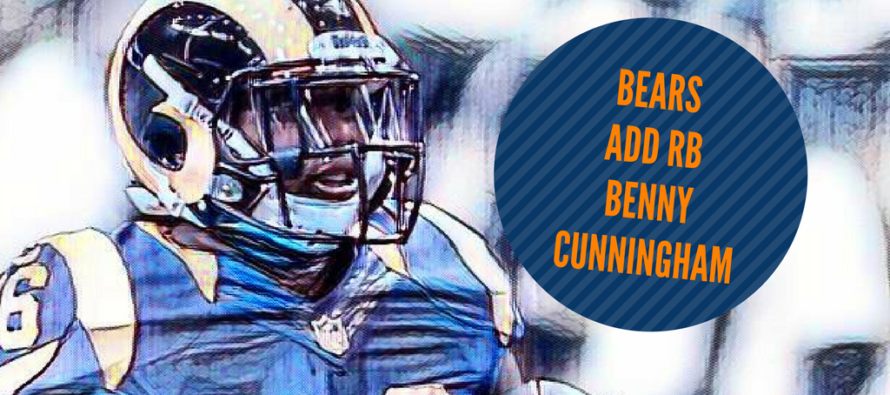 The Chicago Bears continued desire to add depth and competition by signing running back and return specialist Benny Cunningham. The 26-year old suffered a neck injury last season and was put on injured reserve for the final three games. Indications are that he's recovered and ready for camp in the spring. Contract details were not disclosed, but the deal is apparently for one year.
The 5 feet 10 and 209 pound Cunningham was having an anonymous college career at Middle Tennessee State until 2012 when the team brought in a new offensive coordinator. Buster Faulkner transformed the team into a run first-and-often offense (69% of their plays were run plays) and it wasn't long before Cunningham started to shine. His 217-yard five touchdown game against Georgia Tech dropped jaws. Two weeks later he added 230 yards and two touchdowns against Florida International. There were whispers of Cunningham becoming a Heisman Trophy candidate but then he suffered a ruptured patella tendon and missed half the season. He finished with 600 yards rushing on only 97 carries and 11 touchdowns.
Unable to work out at his Pro Day was probably why Cunningham went un-drafted.
The Rams signed him when head coach Jeff Fisher kept noticing his play as he was watching film of defensive players. "He kept popping up every time we were looking at some defensive players and common opponents," Fisher told the St. Louis Dispatch. 
Cuuningham began the season as the team's fourth back on their depth chart. His special teams play was why he suited up for every game as he became the team's No 1 returner.
By week 10 Cunningham, who had been averaging 3 carries per game, finally flashed what he could do. He rushed for 72 yards on just seven carries in 38-8 win over Indianapolis. The following week, against the Bears, starter Zac Stacy was unable to return for the second half due to injury and Cunningham got the call. He carried 13 times for a career-best 109 yards and his first NFL touchdown as the Rams clobbered the Bears 42-21.
In his second season with the Rams, Cunningham had settled into his role: return specialist (he led the NFC in kickoff return average at 27.5 yards per attempt) and 3rd down running back where he'd average four rushing attempts and targeted as many times in the passing game.
Cunningham's opportunities and production dipped in his third season as Todd Gurley and Tre Mason assumed more responsibility.
In 2016, he played in 11 games and the workload diminished even more. He had only 101 rush yards, good for 4.8 yards per carry and caught 16 passes.
By the time he was put on injured reserve in mid-December there were doubts that Cunningham would re-sign with the Rams as he knew he'd get better offers from other teams.
Brandon Bate at Turfshowtimes.com recently detailed why the Rams should re-sign the super back-up back. Bate heralded his footwork…
… his pass-catching ability…
… and more. (CLICK HERE TO READ THE STORY.)
Cunningham's comes to the Bears as one of the NFL's better return men. For his career he has averaged 27.1 yards per kick return. While he's not guaranteed a roster spot, he certainly has an excellent shot at becoming the team's primary return man and third-down running back on passing downs.
Currently, here's who the Bears have on their roster at the running back position:
Brian Addison
Ka'Deem Carey
David Cobb
Benny Cunningham
Jordan Howard
Jeremy Langford
[graphiq id="4oH6dXi2eJn" title="Benny Cunningham Overview" width="640″ height="755″ url="https://w.graphiq.com/w/4oH6dXi2eJn" ]
Aldo Gandia
Among my career highlights I have produced two films while in high school that received nationwide attention; leaned out of a helicopter over the Gulf of Suez at the age of 20 to shoot movies of oil rigs; won an Emmy award for a sports special and another for a kid's fitness show; and led a team of very talented creative professionals to produce break-through corporate communications.
---
---