F*#K, MARRY, KILL: Bears Coaching Candidates (NSFW)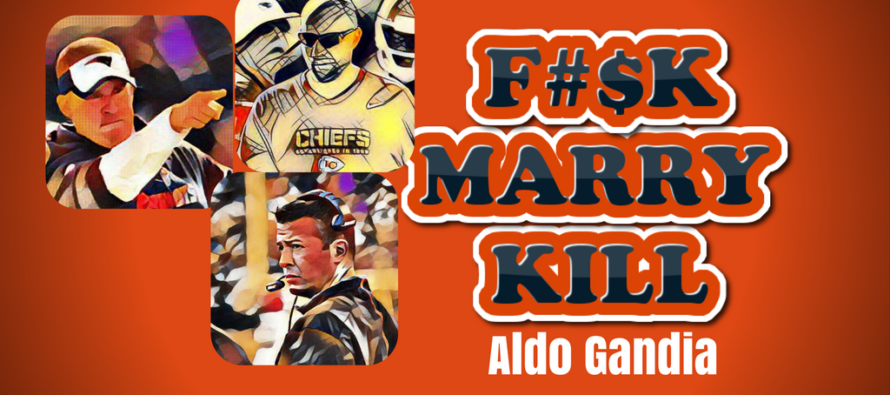 If you've never played Fuck, Marry, Kill the rules are pretty simple. You name three people and you determine whether you would fuck that person, marry him or her or kill them. It's a game I first heard on the Howard Stern show and from time-to-time we've adopted it here at the Barroom. This is a video were we used the technique:
Today, I'm playing Fuck, Marry, Kill with thre of the candidates for the Chicago Bears head coaching job. The names I've picked are not necessarily my top three. They are simply three coaches I know general manager Ryan Pace is scheduled to interview  and I basically picked these names out of a hat.
KILL – Josh McDaniels
Pace is scheduled to interview with McDaniels today (1/5) and the Chicago Sun-times' Patrick Finley thinks he's the best candidate for the job. He cites his work with Belichick and Brady and his proven record over a long period of time…
In his 10 seasons running the Patriots — from 2006-08 and again from 2012-present, McDaniels' offense has led the league in points per game twice and ranked n the top three for more times.
I admit he's an intriguing candidate. But, I still question his skills in relating to players. McDaniels had a disastrous two season head coaching stint with the Broncos. Retired punter Mitch Berger had this to say about McDaniels
"I felt like I was playing for an equipment manager or something, he was like a little punk."
Former Bear D.J. Williams played for McDaniels and said this:
"[Bill] Belichick seems kind of standoffish, but a lot of guys that I know that played with him, when [they're] one-on-one with him, he's relatable—you can talk to him. I don't think Josh McDaniels [had] learned that yet, Josh got all the knowledge and came here with all the knowledge. That's why we were successful in the beginning and won those games, but when it hit the fan and things got tough, guys didn't want to go the extra mile for him."
McDaniels claims he's a more patient, understanding coach now then he was ten years ago. I think it is totally possible that he is. I've been around enough successful people to know that re-inventing yourself is a key to long-term success, The questions for me are, do I want to take a chance on someone with a poor background as a leader? Does working for an organization that fails to turn out quality head coaches factor into this? Does the fact that McDaniels only long-term success is primarily attributed to his coaching one of the best quarterbacks in NFL history?
I believe Josh McDaniels can become a quality NFL head coach. But, he's a part of the Bill Belichick coven and that's just not appealing. Belichick is evil. Pure incarnate evil. I want no part of any of his brood.
I'd rather Detroit take a chance on McDaniels. Me, I'm sticking him into the oven and turning up the gas. (Put Belichick in there, too.)
FUCK – Matt Nagy
The more I learn about Nagy the more there is to love. He falls to the fuck category, because I think, unlike many, there is a good group of coaching candidates to interview.
Nagy comes from the Andy Reid coaching tree which has been much more fruitful than the Belichick tree (Doug Pederson, Ron Rivera and John Harbaugh). Nagy caught the attention of many when he took over the playcalling duties this season for a Chiefs team that was struggling offensively. The team had lost five of six games and it was the offense that was stalled. Nagy helped turn things around and the team average points per game jumped almost a touchdown to 29.
Nagy is credited with adding spice to Reid's traditional west coast offense by introducing college spread formations and Run, Pass Options. This has resulted in KC being one of two teams in NFL history to finish the season with a 4,000-yard passer (AlexSmith), 1,000-yard rusher (Kareem Hunt), 1,000-yard receiver (Tyreek Hill) and 1,000-yard tight end (Travis Kelce).
It's interesting that Reid, who loves to call plays, relinquished that duty to Nagy. That speaks volumes.
Nagy is said to be highly interested in the Bears job, and according to David Kaplan of ESPN 1000, is a fan of Trubisky.
Here is a great piece of intel: Source close to Matt Nagy tells @ESPN1000 that Nagy loved Trubisky in 2017 NFL Draft and the Chiefs loved him. Nagy has stayed close to him during this season. Nagy believes you can win big with Trubisky.

— David Kaplan (@thekapman) January 4, 2018
The knock on Nagy is his lack of long-time experience. Nagy became offensive coordinator for the Chiefs when Pederson left the job to become head coach of the Eagles. And, I have a hunch that Nagy may be more intrigued in going to Indianapolis to work with GM Chris Ballard who was at KC from 2013 to 2016. Ballard's reputation is sterling. (No offense Ryan Pace.)
Nonetheless, if Nagy does come to Chicago, that's one fuck I could take a long-time liking to.
MARRY – John DeFilippo
Flip, as his players call him, is the new sexy name on the street. Flip has the communication and leadership skills I covet in a head coaching candidate. He's shown success in developing quarterbacks. He worked at Oakland during Derek Carr's rookie season and Carr threw for 21 touchdowns and 12 interceptions that year. His resume with other pro quarterbacks is also impressive: Carson Palmer, Mark Sanchez, Carson Wentz all have excellent things to say about Flip's teaching methods.
Wentz threw for 3,296 yards and a franchise-record 33 touchdowns with only seven interceptions this year. It's not just the work he's done with young quarterbacks that excites me most. But, clearly, that's huge when so much of the franchise's immediate future lies with Trubisky's progress.
There are knocks on Flip that mostly have to do with his inexperience at the highest coaching levels. He's been offensive coordinator only once – at Cleveland. The Browns overall offense was severely criticized but they did throw for 4,155 yards, fourth-most in franchise history, and rushed for over 1,500 yards. Tight end Gary Barnridge had over 1,000 yards receiving.
I hear lots of people say Flip is better suited to be offensive coordinator. I wouldn't mind that. But, wouldn't that be the same error Pace made when brought in Adam Gase as OC. Gase was a head coach candidate in 2015, didn't land a job, but was quickly whisked away the following year. I say jump ahead of the curve.
There's also an argument that because the 31-year old Sean McVay performed an incredible turn around with the Rams in his first season that people are now trying to emulate that almost nearly impossible scenario. Well, the reason it's nearly impossible is because teams are usually too conservative to take risks on young coaches. That's why we have the John Fox's, Jeff Fisher's, Jack Del Rio's stinking up the league. They pass their prime as coaches and everyone thinks they can resurrect their success.
Give me the guy who is hungry for success, eager to prove himself, loves to innovate and communicates with confidence and knowledge. That's John DeFillppo. Give him a wedding ring, Ryan Pace. In return, he'll likely give you a Super Bowl ring.
Aldo Gandia
Among my career highlights I have produced two films while in high school that received nationwide attention; leaned out of a helicopter over the Gulf of Suez at the age of 20 to shoot movies of oil rigs; won an Emmy award for a sports special and another for a kid's fitness show; and led a team of very talented creative professionals to produce break-through corporate communications.
---
---
Related Articles
Believe it or not there are some fantasy leagues already holding their drafts for this upcoming season. Hope you haven't
The last time Humboldt State University in Arcadia, Calfornia, had one of its football players drafted it was in 1991
Can you recall a Chicago Bears draft that has been as vilified as Ryan Pace's third with the team? We've