Kris Armstrong On The Bears Coaching Catastrophe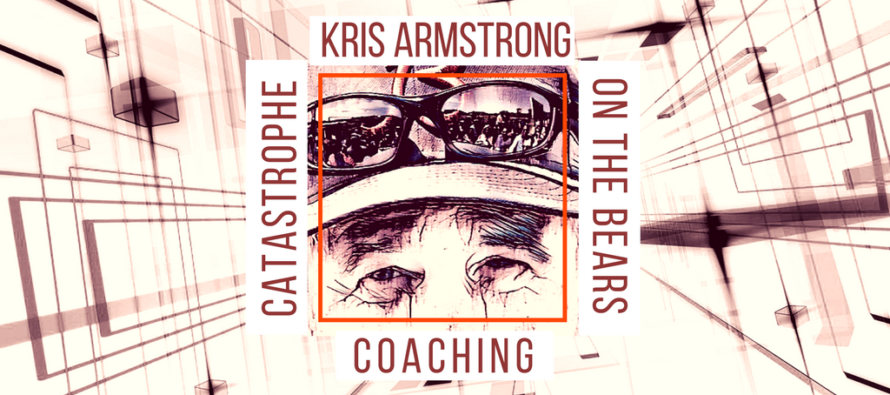 My goodness, where does one even start with this game? Oh, I know – how about the $18m QB? Did you know that he passed for over 300 yards and a TD in this game? Plus two picks, one returned for a TD, and a lost fumble. I started taking notes and then stopped after the third series, my final entry was "FUCK THIS SHIT".
Speaking of shit, let's discuss the coaching staff. This team was not prepared to play, a hallmark of the John Fox era. What is our offensive identity aside from one of futility and ineptitude? Dowell Loggains, did you even have an offensive game plan other than the ol' student body right, student body left? The Bucs had their entire defense within 10-12 yards of the line of scrimmage, just daring the Bears to throw it downfield. And like last week, Mike Glennon refused. Lots of short routes which did nothing to keep the defense from crowding the line of scrimmage. Glennon could even find he open man on short pass routes!
Glennon had Shaheen with an easy throw – then decided to throw to a triple covered TE? @BearsBarroom lost on this throw pic.twitter.com/i5PWVL7VMK

— Draft Dr. Phil (@FulphilO) September 17, 2017
Jordan Howard had 9 runs for 7 yards. Relying on Tarik Cohen to live up to his Chicken Salad nickname is not a plan.
The players though, are not free from scorn – more dropped passes from the receiving corps. Or is that corpse? Why didn't we see more of the new guys? You're in the midst of a blow-out loss and there's Zach Miller, probably your best receiver, who is also made of glass, out there running routes in the 4th quarter. Where's Shaheen, Gentry, McBride? Missed opportunity to get the young guys some game experience. Simply pathetic.
Mike Glennon & Josh Bellamy and it's not even Halloween 👻 to be having this nightmare pic.twitter.com/O8FhjkJibs

— Draft Dr. Phil (@FulphilO) September 17, 2017
Our defensive coordinator came into Chicago with the reputation of a genius. Wrong. He was a great DC in San Francisco. Do you know why? He had great, All-Pro players. Otherwise, meh. Crossing routes are going to eat us alive again this year – this defense has been soft across the middle during Fangio's reign and I don't see that it's likely to improve any time soon. Generally speaking, they weren't awful today, Fangio is not Mel Tucker after all. It's not their fault the offense sucks, but it sure looked like they were going through the motions after the first quarter. Unless there's improvement, I'm done with Fangio.
Seems to be only the fans that are pissed off at this point. Sad. https://t.co/JZiV92eKQz

— Shayne L. Marsaw (@wasram) September 17, 2017
Finally, we come to Coach Fox… He should be fired as soon as he steps off the plane in Chicago. But he won't be. The Bears have yet to win a game in September under his tutelage. Let me repeat that…
yet to win a game.
Fox has a 128-114 career record but take Peyton Manning out of the equation and it's 90-104. Count me as one of the folks who was happy to see him named as the Bears HC. After the stench of the Trestman years, I was happy to get a hard-nosed, real live football coach to bring the team back to respectability. I was wrong. He and his staff have not proven that they have the ability to game plan or coach. His strength and conditioning staff appears to be the worst in the league. How many guys are on IR already?
Bears radio broadcast reports ILB Danny Trevathan is out of the game because of cramps.

— Rich Campbell (@Rich_Campbell) September 17, 2017
Bottom line: The Bears fired Lovie after a disappointing 10-6 season. Trestman was awful, but Fox is worse. Worse than Trestman! Fox has won 9 games out of 34. He needs to be shown the door sooner rather than later. The question then becomes – who does Pace hire? I don't know. But I'm guessing the Barroom analysts have some ideas. Guys?
Kris Armstrong
Kris is an ex-jock who became despondent at an early age when she learned that she could not, in fact, become Dick Butkus. She is passionate about Da Beloved, Soroptimist International and her bemused and patient husband. Catch her on Twitter @krisarmstrong1
---
---
Related Articles
With the NFL Combine days away, trade talks for Jay Cutler are expected to heat up. Jeff Darlington of ESPN
Originally established as the Central Division in 1967 as part of the NFL Western Conference prior to the AFL-NFL merger, what
Welcome back to the Barroom!  As you may recall from last week's talk, it's time for Minnesota to end its