Bears Broncos Preseason Game: Ciarán's Commentary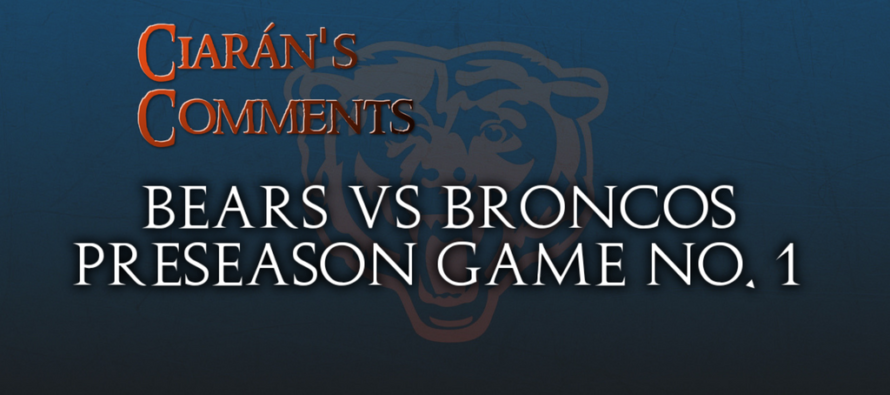 Before the kick-off to the Chicago Bears first 2017 pre-season game at Soldier Field against the Denver Broncos there were many questions surrounding the Bears. But, the question most people wanted answers for surrounded the quarterback position. Mike Glennon was set to get first quarter snaps, Mark Sanchez would get the second with some work in the third and Mitch Trubisky would finish the game.
However, the Bears coaching staff was nothing short of exceptional with the way the snaps played out for Mitch Trubisky. The 1st round pick was drafted into action for the a 2-minute drill that ended the 2nd quarter. Past Bears' regimes would have certainly fumbled away this opportunity. So before I give my winners and losers, a special mention to the coaching staff must be emphasized.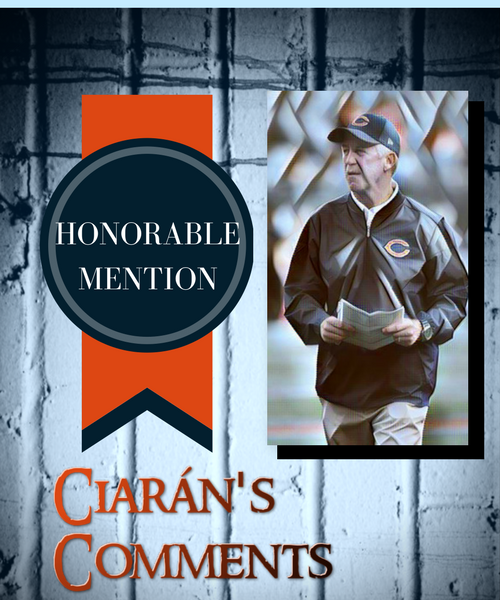 There's been concern that the Bears current coaching staff might not be the appropriate staff to develop Trubisky. Well, last week Fox brought in Trubisky at an absolutely perfect time, offensive coordinator Dowell Loggains diagrammed plays that perfectly suited his young QB and he called a great game. What we saw was something we've never seen: a confident, athletic Bears' quarterback driving his team downfield and making his receivers look better.
Winners 

I'll get the obvious winner out of the way. Mitch Trubisky was fantastic! He showed why Ryan Pace risked his reputation and selected No. 2 in the NFL Draft. He possessed tremendous athleticism, diagnosed the defense quickly and was extremely accurate. It does not matter if the first, second or the third stringers were on defense. Trubisky displayed excellent accuracy. If not for some bad luck he would have thrown for multiple touchdowns. Reuben Randle was thrown a perfect pass to reach the endzone only to get stopped on the 1-yard Line and Daniel Brown missed a very catchable pass in the endzone. Overall Trubisky was great, he ended the game with 18/25, 166 yards and 1 TD and began his Bears career with 10 straight completions. With more reps Trubisky could eventually push Glennon for the starting spot much earlier than expected.

Believe in the Tarik Cohen hype. He's exactly what was advertised in Bourbonnais. Making things more promising is that he took NFL hits, stayed on his feet and looked upfield. His speed was evident as he showed he can go from 0-60 MPH faster than a Corvette. Will he eventually become Jordan Howard's primary backup?  We'll see, but Jeremy Langford better beware. Without question, Cohen showed that he is going to be a serious option in the team's offense.

Many wondered what effect the Eric Kush injury would have on the team's offensive line depth… well the OL really came through against the Broncos. Hroniss Grasu had a very good game and opened up some big holes for the RB's. He clearly has worked hard to get back in shape and continue the progress he showed in last year's camp before his season ending ACL injury. Jordan Morgan, Dieugot Joseph and William Poehls all had solid starts to their preseason games and gave Trubisky the space he needed to operate from inside the pocket. Tom Compton and Taylor Boggs also impressed.

Look at the Bears' first play on defense and you'll know why Leonard Floyd is a winner. He beat his man with speed and strength and the Broncos' QB was his first unofficial sack of the season. Floyd was a cannonball. He looked stronger, was physical at the point of attack and looked more polished than last year's edge rusher. Floyd flashed the ability of a double digit sack rusher and the sky is the limit. He is without question the top pass rusher on the team and now it is up to the Bears to ensure Willie Young, Lamarr Houston, or whomever, is opposite Floyd can provide a dual sack team and elevate the Bears defense to where it belongs – among the league's best.

Eddie Jackson has been one of the most impressive players in camp. The Alabama rookie has shown his center field ability with has vision, athleticism and instincts. It's what every team craves when looking for a free safety and something the Bears haven't had in a long time. Ryan Pace may have hit one out of the park by selecting Jackson in the 4th Round. He not only showed his center field ability against the Broncos but he also came down with speed into the box and made impressive tackles. Going into the draft he was criticized by some scouts for some tackling issues. Against the Broncos he had no issues filling the gap and putting a hit on the ball carrier. Excellent debut for Eddie Jackson. If he continues to play at this level I would be shocked if he is not the starting free safety alongside Quintin Demps in week 1 against the Falcons.

Jonathan Bullard looked like the Jonathan Bullard that wowed at Florida. He was fast, strong and demanding of double-team from the Broncos offensive line. He made plays in the backfield and for the first time since joining the Bears looks like a legit starting candidate for defensive lineman. With Akiem Hicks, Eddie Goldman, Jaye Howard and Mitch Unrein, the Bears have quality in the trenches and Bullard will look to play a key role in the defense moving forward whether it's off the bench or starting immediately after the opening gun.

It has to be said the winner of the first preseason game is Bears general manager Ryan Pace. He got criticized nationally by football analysts, anonymous NFL general mangers, scouts and the Chicago media. (Even our Chief barkeep Aldo Gandia threw a temper tantrum! See here! ). It seems like he, Pace not Aldo) knows what he's doing. All of his players from his 2017 draft class played well (although tight end Adam Shaheen was, admittedly mediocre) and all showed why each will play an active role in the upcoming season and beyond. Even Tanner Gentry an undrafted rookie from Wyoming has continued to impress and has staked a claim to be part of the final 53 man roster. Grasu, Bullard, Floyd, Goldman, Kwiatkowski, Trubisky, Cohen, Shaheen, Jackson and Morgan all look like they belong and if this trend continues the sky is the limit for Pace's last two draft classes.
LOSERS

While everyone in Chicago, around the country and here in Ireland, from where I'm writing, were catching Trubisky fever it was Mike Glennon who made us feel queasy with his sickening Bears debut. Glennon was slow in his reads, flat footed and didn't anticipate his throws while staring down receivers. He threw a pick 6 into triple coverage looking for Zach Miller when Kendall Wright was open on a crossing route. He looked nervous and gave the Bears fans déjá-vu of old Todd Collins. Glennon needs to have a good game against Arizona because the Trubisky train has left the station and Glennon looks like the caboose.

Jeremy Langford is not only one of my losers for the Bronco preseason game, but also of training camp. He was the starter coming out of Bourbonnais last season and is now in danger of disappearing off the depth chart. Langford suffered a debilitating ankle injury that has caused him valuable playing time. (He returned to practice on Wednesday.)  While Langford nursed his ankle Cohen, Ka'deem Carey and even Benny Cunningham have (unofficially) passed Langford. Fox and Pace have reiterated that the" best ability is availability" and Langford just hasn't been available for the Bears when they have needed him.

Where in the world is Kevin White? Where is the dominant receiver we all witnessed at West Virginia? Where is the excited confident man who lit up Chicago in the 2015 draft? He was on the field with the 1st team offense, yet you would not blame someone for thinking he was inactive. White has been invisible for most of training camp and was invisible against the Broncos. If he was not the number 7 overall pick, he would be a guaranteed cut. However, the Bears will not give up on Pace's first draft pick. White needs to build up his confidence and do it quickly because once the regular season begins it is a cut throat business and demands for cutting White might commence.

Deandre Houston-Carson was one of the guys I loved watching tape of in college. However, now his NFL tape reveals the game is too fast for him. The second-year safety is still thinking too much and not reacting instinctively. He missed open tackles and was one of the main reasons why Denver put themselves ahead in the game. Fortunately, there are reports that he's responded well in Bourbonnais making plays all over the field. He has a big fight on his hand to make the final 53 with the likes of Eddie Jackson, Adrian Amos and Quintin Demps all guaranteed locks to make the squad.

By no means was Adrian Amos bad or even average against the Broncos. He was fine, he was solid much like his career has been in Chicago. However, the reason why I believe he is one of the losers of the first preseason game is because Eddie Jackson was so good. Amos might be seeing his starting position taken away right before his eyes and he may not be able to do anything about it. He will never be the center fielder that the Bears need and that Jackson looks to be. But, Amos does provide the Bears with consistent play and someone who won't make many mistakes at the safety position. He just doesn't make enough plays. Big plays.
Game Analysis 
As first preseason games go this was an enjoyable one for Bears fans. Many young players stepped up and showed that they belonged in the NFL. The first team defense looked exceptional. If not for the dreadful QB play of Mike Glennon and inexcusable performance by the 3rd string defense it is clear that this Bears' roster is much improved.
Mike Glennon had a game I'm trying to forgive and he's trying to forget. He missed open receivers, he showed a severe and concerning lack of mobility and determined where he was going with the ball before the ball was snapped. Glennon, marked down firmly as the starting QB, is now looking over his shoulder. He must improve Saturday against the Arizona Cardinals or the pitch forks and torches will be out among Bears' fans clamoring for the Trubisky era to begin.
However, it's important to note that Glennon is not solely to blame for the ineptitude of the 1st team offense. Charles Leno Jr. was beaten off the edge for Glennon's interception, Kevin White was anonymous and receivers and TE's dropped catchable passes.
As noted above, the offense moved freely with Trubisky at the helm. He led the Bears on two scoring drives and linked up numerous times with Deonte Thompson and Victor Cruz. The backup offensive line showed strength, opened up holes for the running backs and gave Trubisky enough time to makes plays behind them. Overall in terms of offensive plays there are many positives and negatives. If Glennon can improve and make better decisions, the first team offense should develop nicely over the next few weeks.
The defensive play for the Bears was excellent for the majority of the game. Leonard Floyd and Akiem Hicks showed how important they will be for the first unit and Eddie Jackson and Nick Kwiatkowski stepped up in their roles and appear ready to cement themselves as key contributors. (We need to keep an eye on Kwiatkowski who is under concussion protocol.)
Points to Note
In terms of final roster spots and position battles I'm focused on the battles at cornerback and safety. Amukamara (who suffered a hamstring injury, but does not appear to be serious) and Marcus Cooper are locks at the CB position. Amos, Demps and Jackson are locks at the safety position. However, all other jobs are up in the air.
B.W Webb showed an innate ability to stay with his receiver, make important tackles but he struggled with getting his head turned around to locate the football. Bryce Callahan and Cre'Von Le Blanc both showed impressive coverage skills and made key tackles to put themselves in a position to stick. Kyle Fuller could end up being the odd man out at the end of the preseason. The former first rounder is being outclassed by Le Blanc and Callahan. Fuller needs to turn heads in the upcoming or he'll be turned away when rosters are set.
At safety… the competition is also thick. Many backend roster safeties were draft picks by Pace including Houston-Carson, Deon Bush and Deiondre' Hall . Add in his free agent acquisition of Harold Jones-Quartey and Chris Prosinski and the field is crowded.
Another battle to watch is the one between incumbent kicker Connor Barth and new addition Roberto Aguayo. The former 2016 second round pick had a turbulent time in Tampa Bay. It appears all that's wrong with Aguayo is between his ears. If the the surroundings at Halas Hall can help him save his career than Barth is in trouble as the Latino kicker is muy bueno. Aguayo fits what Ryan Pace is looking for: young and low-risk.
It is interesting to note that during Aguayo's first day in Bourbonnais with the team, Barth was perfect and hit 100% of his kicks. Competition brings out the best in football players.
Also a note on waivers, expect to see the Bears make many more acquisitions like Aguayo with Chicago being third in waiver priority this season. This may be extremely helpful for when teams make final cuts and talented players hit waivers.
Make sure you listen to the Bears Barroom podcast (be forewarned it is NSFW) and follow me on twitter @PowerSportzHall.
---
---