Bears Barroom Presents Draft Dr. Phil's "Silent Fox"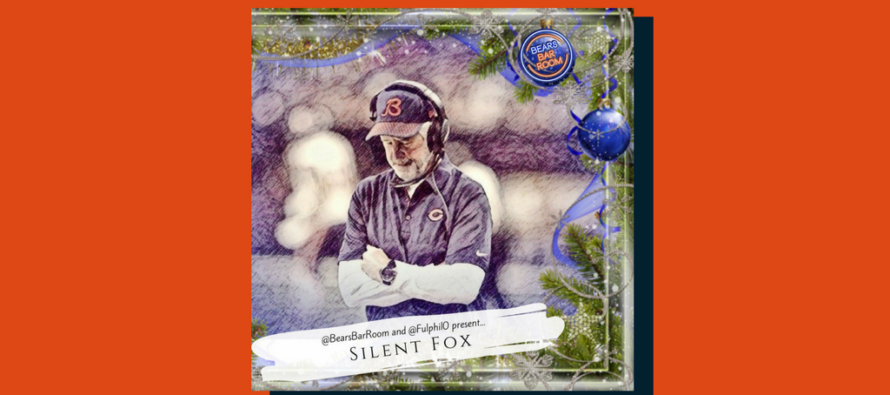 You'll never again listen to the traditional "Silent Night" without changing the words to, "Please John Fox go away…" Draft Dr. Phil's "Silent Fox." an instant classic!
Remember, Draft Dr. Phil's A Special Truthful Christmas CD with all 22 songs is available to sweepstakes winners.
Not getting the podcasts? Go here to Podbean, or iTunes and subscribe to the Bears Barroom Radio Network. If you get your podcasts from GooglePlay click the Podbean link and they will hook you up.
Silent Fox
Produced by: @BearsBarroom & @FulphilO
Lyrics by @FulphilO
Performed by @FulphilO
Artwork by @BearsGrl80
Bears Win Over Bengals Means Fox Should Have Been Fired Last Year
Aldo Gandia
Among my career highlights I have produced two films while in high school that received nationwide attention; leaned out of a helicopter over the Gulf of Suez at the age of 20 to shoot movies of oil rigs; won an Emmy award for a sports special and another for a kid's fitness show; and led a team of very talented creative professionals to produce break-through corporate communications.
---
---
Related Articles
The Bears Barroom has submitted the following song, Fire Fox Christmas, to the popular Waddle and Silvy show for their
We know Danny, Mitchell, Tarik and Dion. Jordan, Kyle, Dontrelle, and Cre'Von. But do you recall…  the most embarrassing player
Benny Slacks' immature work is intended for mature readers. People sometime ask why I don't spend more time on twitter and