Bears Barroom Presents Draft Dr. Phil's Joy To Jordan Howard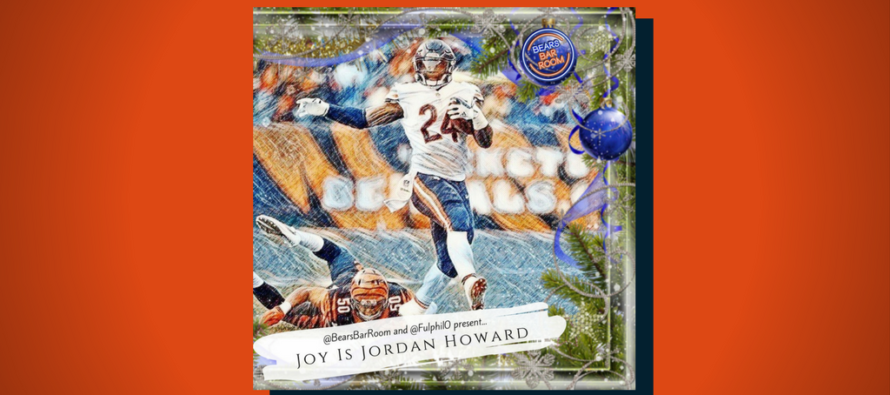 After Sunday's gift of greatness by Jordan Howard we re-arranged our distribution calendar for our Bears parody Christmas songs. Joy To Jordan Howard is Draft Dr. Phil's way of giving us a joyful way to celebrate the Bears running back.
Remember, all 22 songs will be downloaded day-by-day on our podcast stream. Not getting the podcasts? Go here to Podbean, or iTunes and subscribe to the Bears Barroom Radio Network. If you get your podcasts from GooglePlay click the Podbean link and they will hook you up.
Want a chance to win a CD with all 22 songs? Go here an enter our sweepstakes! It's easy!
Joy To Jordan Howard
Produced by: @BearsBarroom & @FulphilO
Lyrics by @FulphilO
Performed by @FulphilO
Artwork by @BearsGrl80
Check Out What Aldo Gandia & Draft Dr. Phil Had To Say About The Bears Win At Cincinnati
Bears Win Over Bengals Means Fox Should Have Been Fired Last Year
Aldo Gandia
Among my career highlights I have produced two films while in high school that received nationwide attention; leaned out of a helicopter over the Gulf of Suez at the age of 20 to shoot movies of oil rigs; won an Emmy award for a sports special and another for a kid's fitness show; and led a team of very talented creative professionals to produce break-through corporate communications.
---
---
Related Articles
The Grinch that steals the gift of the playoffs year after year is… Bears CEO Ted Phillips. The latest Christmas
Our first On Tap video features Aldo Gandia on Ryan Pace, BJ Reidell on why Mike Zimmer has peg board
No. He did not. Dick Butkus of the Chicago Bears did not kill Lions wide receiver Chuck Hughes. But, for