Bears 100 Proof – Reviewing Trubisky's 1st Presser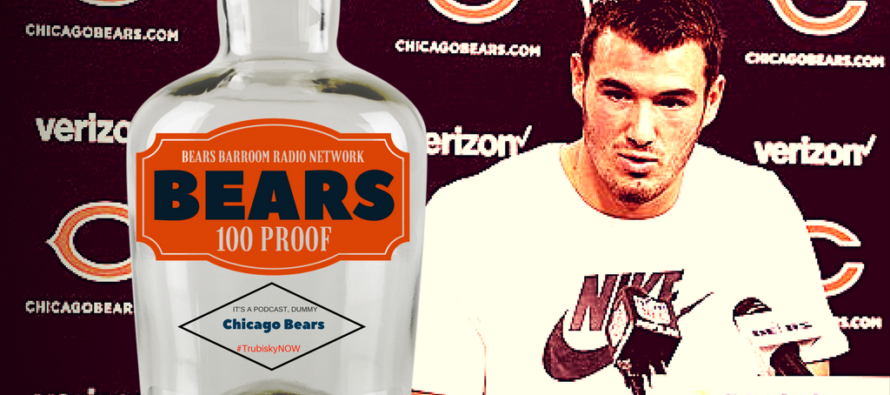 Mitch Trubisky held his first press conference as the starting quarterback of the Chicago Bears. Draft Dr. Phil Ottochian, Shayne Marsaw and Aldo Gandia dissect his comments, disagree on the Danny Trevathan suspension, hand out awards, rap, make fun of Cris Carter's last brain cell, talk John Fox's future and do some shoutouts. Here's our rundown:
OPEN …
00:00 – 01:30
TRUBISKY
01:31 – 41:14
DANNY TREVATHAN SUSPENSION
41:14 – 49:05
TWEET AWARDS FROM THE SMARTEST MAN IN THE BARROOM
49:06 – 1:17:51
BEAR UP/BEAR DOWN with ALDO'S RAP INTRO
1:17:52 – 1:34:08
CRIS CARTER COCAINE RELAPSE
1:34:09 -1:37:49
FUTURE OF JOHN FOX
1:37:50 – 1:49:18
CLOSE AND SHOUT OUTS
1:49:19 – 1:59:00
THE CREW's Twitter Handles
Phil Ottochian (@FulphilO)
Shayne Marsaw (@wasram)
Aldo Gandia (@BearsBarroom)
Aldo Gandia
Among my career highlights I have produced two films while in high school that received nationwide attention; leaned out of a helicopter over the Gulf of Suez at the age of 20 to shoot movies of oil rigs; won an Emmy award for a sports special and another for a kid's fitness show; and led a team of very talented creative professionals to produce break-through corporate communications.
---
---
Related Articles
Welcome to Chicago, Matt Nagy… Fuck, I'm happy you are here. To me you are like Baby Jesus. The three
A little more than halfway through the 2016 season the Chicago Bears find themselves entrenched in the cellar of the
We all love playing NFL general manager. That's what I'll do here by creating my own Big Board of NFL