Bears 100 Proof: Shots At Fox & Ready For Week One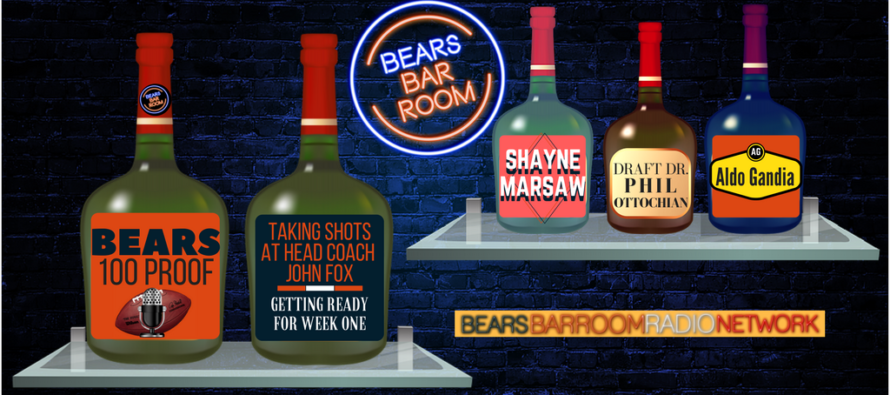 This is the premier episode of Bears 100 Proof. Every Wednesday during the 17-week regular season Phil Ottochian, Shayne Marsaw and Aldo Gandia bring their unique R-Rated humor and their Chicago Bears passion.
This week they focus on theses topics:
Opening Tease | 00:00 – 1:45
John Fox's Decision Making With The QBs | 1:45 – 37:00
Bear Up/Bear Down – a weekly feature where the trio pay tribute to a player that's impressed and another who hasn't | 37:00 – 57:15
Key to Beating the Falcons | 57:15 – 1:04:40
Tribute to Twitter Followers | 1:04:40 – 1:13:15
Post Show Laughs | 1:13:15 to end
The crew:
Phil Ottochian (@FulphilO)
Shayne Marsaw (@wasram)
Aldo Gandia (@BearsBarroom)
Make Sure You Read Kris Armstrong's Debut Post
Kris Armstrong On The Bears Burning Question & What To Drink This Fall
Aldo Gandia
Among my career highlights I have produced two films while in high school that received nationwide attention; leaned out of a helicopter over the Gulf of Suez at the age of 20 to shoot movies of oil rigs; won an Emmy award for a sports special and another for a kid's fitness show; and led a team of very talented creative professionals to produce break-through corporate communications.
---
---