Bears 100 Proof – It Is Now The Ryan Pace Show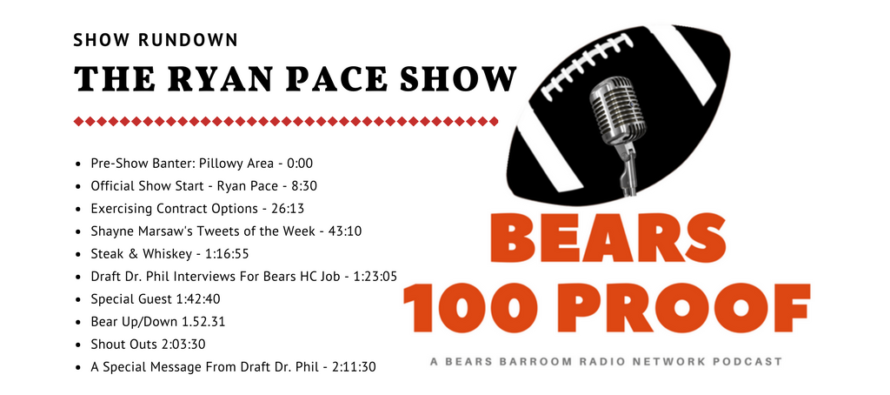 It is now the Ryan Pace Show. Now that his weird father-son-like relationship with John Fox has been severed, the fourth year Chicago Bears general manager begins his search for a new head coach with the full support of the team's management. Here's the show rundown:
Pre-show banter: Pillowy Area – 0:00
Show Open/Pace's Presser  – 8:30
Exercising Contract Options – 26:13
Tweets of the Week 43:10
Steak & Whiskey 1:16:55
Draft Dr. Phil Interviews For Bears Job  1:23:05
Special Guest 1:42:40
Bear Up/Down 1.52.31
Shout Outs 2:03:30
A Special Message From Draft Dr. Phil – 2:11:30
---
---
Related Articles
It's Tuesday, September 27th. 2016. Chicago Bears Daily Dose with Phil Ottochian is one for the history books. Draft Dr.
Chicago Bears Daily Dose is your only daily podcast dedicated to the Monsters of the Midway. Host Phil Ottochian, aka
Every week John Buffone answers five questions about the Chicago Bears and five about their upcoming opponent. All responses are