Bears 100 Proof Podcast: Packer Week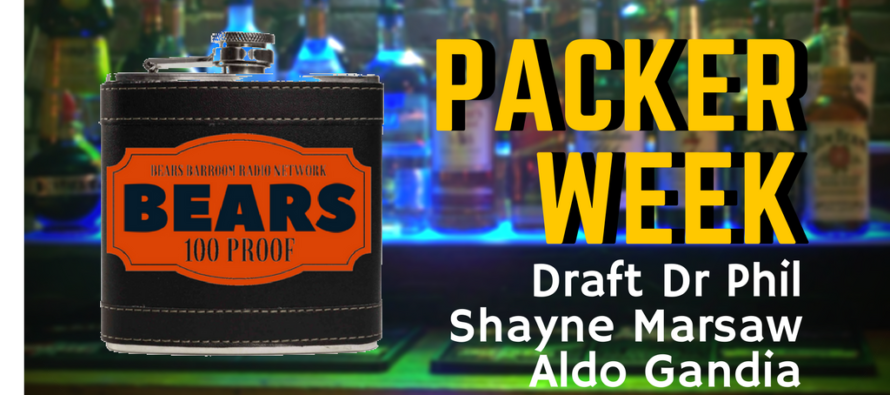 The guys had a lot to share… why… it's Packer Week!
But, they also look back at what happened Sunday in the Chicago Bears win over the Pittsburgh Steelers
OPEN – 00:00 – 03:40
Dowell Loggains' Press Conference… 03:41 – 20:55
Jim Miller on Mike Glennon… –  20:56 – 28:30
Marcus Cooper… 28:31 – 29:14
Adam Shaheen…  29:15 –  30:35
Does Glennon Have Wide Open Receivers…  30:36 37:33
Bear Up/Bear Down… 37:35 – 55:00
Packers…  55:01 – 1:11:20 
Tweets of the Week…  1:11:21- 1:29:00
Packer Predictions… 1:29:01 – 1:43:50
Aldo Rant and Post Show Banter….  1:43:51 —- 
TRASH TALKING PACKERS FANS
Aldo Gandia
Among my career highlights I have produced two films while in high school that received nationwide attention; leaned out of a helicopter over the Gulf of Suez at the age of 20 to shoot movies of oil rigs; won an Emmy award for a sports special and another for a kid's fitness show; and led a team of very talented creative professionals to produce break-through corporate communications.
---
---
Related Articles
It's draft week! Finally! The barflies have so much to talk about they ran this week's show into two parts.
Emory Hunt, the CEO and Founder of FootballGamePlan.com joins Aldo Gandia to provide everything Chicago Bears fans need to know about
About an hour after free agency started there was a frenzy of complaints leveled at Ryan Pace and the Chicago