Bears 100 Proof – Final John Fox Days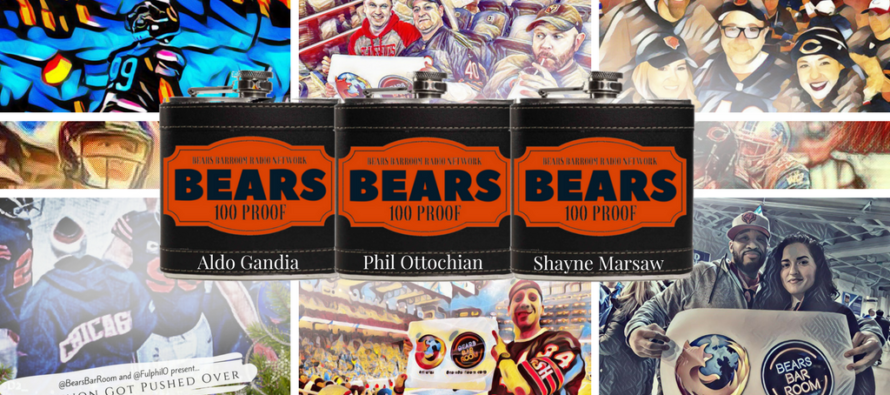 Another fun fest of laughs, parody songs, football analysis and mayhem with Draft Dr. Phil Ottochian, Shayne The Smartest Man in the Barroom Marsaw and Aldo the Barkeep Gandia. This week's show features the debut of Trey Bizzy's Steak & Whiskey: Who Needs Pussy? segment.
Rundown:
00:00 – Pre-show Banter
02:45: Debut of Glennon Got Pushed Over
06:08 – We Hate John Fox
08:51 – Welcome
15:07 – Can Fox Survive?
34:05 – Trubsiky
48:35 – Tweets of the Week
1:16:20 – Steak & Whiskey: Who Needs Pussy?
1:25:15 – Bear Up/Bear Down
1:49:25 – Shoutouts & Close
Frustrating Moments In Bears History — Episode IV: The Bears Trade for Rick Mirer
Aldo Gandia
Among my career highlights I have produced two films while in high school that received nationwide attention; leaned out of a helicopter over the Gulf of Suez at the age of 20 to shoot movies of oil rigs; won an Emmy award for a sports special and another for a kid's fitness show; and led a team of very talented creative professionals to produce break-through corporate communications.
---
---
Related Articles
Today's installment of Chicago Bears Daily Dose with Phil Ottochian is filled with frustration. Like millions of Bears fans Draft
Phil Ottochian and Lorin Cox delve into the Green Bay Packers and what the Chicago Bears need to accomplish to
The Chicago Bears and San Francisco 49ers battle this Sunday at Solder Field and Phil Ottochian and Jose Cotto break down the