Kris Armstrong With a Priority Letter To The Bears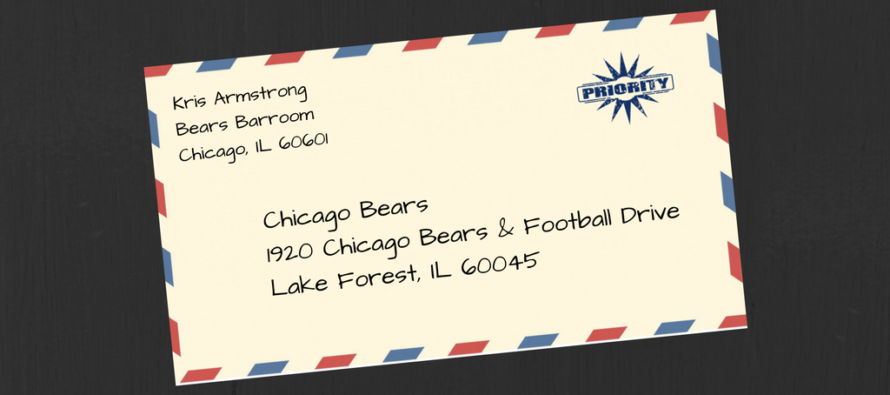 Chicago Bears
Attn: Anyone That Will Listen
1920 Chicago Bears & Football Drive
Lake Forest, IL 60045
September 28, 2017
Well, this was a surprise. Who expected Mike Glennon to play so well? Buehler? Mike Brez? Ok, we got one. Ha, ha, just kidding. Glennon sucked, again. Fumbles! Timid and slow in the pocket. The usual passes behind the line of scrimmage. A few barely past it. Fewer down the field. Three out of four before the break for God's Wrath. Mike Glennon, starting QB of the charter franchise of the National Football League. He is a member of an elite fraternity: Todd Collins, Jon Quinn, Moses Moreno, Caleb Hanie, Jimmy Clausen, Rick Mirer, Mike Phipps. I realize that it's not a complete list, but I only chose dudes with short names. And there are a few that I can't bear to type.
Stop it. Please, for the love of Papa Bear, stop it. It's not just that we're not winning – it is that too. It's that we're the Cleveland Browns West. You amazed the world by drafting a QB with the number two pick. Bold move. The fan base was stunned and excited to see what the kid could do. And wow. The kid looked great in practice and even better in pre-season. He looked better than every other QB on the roster. But you have a secret plan for his development. Wouldn't want to put him out there too soon behind a very good offensive line, with very good running backs, a very good defense and good special teams. Lordy. Why subject him to that?
Bears fans will be Bears fans until we die. We will never give up our love for this team. However, we will give up buying game tickets. We will give up buying merchandise. We will give up watching every single game. And we will give up hope. Hope for a competent front office. Hope for a competent coaching staff. Apathy had already begun to creep in. And then you drafted Mitchell Trubisky and our hope revived. Feelings of hope in the fans across the planet, who want to celebrate this team. Through social media, I've met Bears fans from Russia, England, Germany, Japan, Canada, Australia, Scotland and even Mississippi. We could look to the future with enthusiasm. We could look forward to winning again. We caught a deep breath of hope about kicking ass in the NFCN and maybe the entire NFL again. But no. Number 10 sits on the bench while his talented teammates ball out and you continue to start Glennon. With Trubisky, I believe that this team is a contender. Any sort of reasonable QB play, say above the ability of a ficus tree, this team gets at least nine wins.
I know, I know. What if Trubisky struggles? We're ok with that, let him learn by doing. Put him out on the field to gain some game experience. Let's see what he can do. Let him get that experience so that he can build on it. Because, it's not just experience he's building. He's building hope and that is something of which we have a desperate need.
Signed
The Denizens of The Bears Barroom
Kris Armstrong
Kris is an ex-jock who became despondent at an early age when she learned that she could not, in fact, become Dick Butkus. She is passionate about Da Beloved, Soroptimist International and her bemused and patient husband. Catch her on Twitter @krisarmstrong1
---
---
Related Articles
Hello Barflies and all Chicago Bears fans, When strong safety Adrian Amos isn't on the field for the Chicago Bears I
Coming into the season most analysts believed the Chicago Bears would have a ferocious strong front seven. I agreed because NT Eddie Goldman,
I'd like to take this opportunity to welcome myself to the Bears BarRoom writing staff since nobody else has bothered