Alshon Jeffery to the Philadelphia Eagles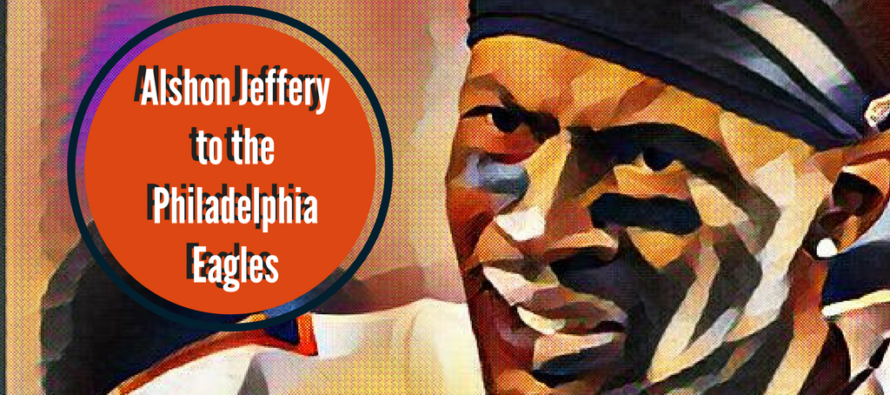 Ian Rapoport reports that Alshon Jeffery and the Bears were unable to work out a new contract and the wide receiver is headed to the Philadelphia Eagles for a one year contract valued at $14 million.
Jeffery was the Bears second round pick of the 2012 draft. Then general manager Phil Emery traded up to the No. 13 slot to pick up the 6′ 3″ 215 pound receiver. Jeffery's rookie season with the Bears was cut short by a broken finger that he suffered catching a touchdown. But in his second and third seasons with the Bears he wowed football fans with incredible catches and Pro Bowl stats.
[graphiq id="iZbaom5xVbf" title="Alshon Jeffery Overview" width="640″ height="746″ url="https://w.graphiq.com/w/iZbaom5xVbf" ]
Then when Ryan Pace and John Fox arrived things went downhill for Jeffery. Perhaps no fault of theirs, but Jeffery suffered an injury filled season in 2015 and in 2016 was suspended four games for Performance Enhancement Drugs.
Jeffery was franchise tagged in 2016 as he and Pace were unable to agree on a long-term contract last season. Pace and Jeffery's agent agreed that testing the market was the best option for both sides this season. That ended up costing the Bears as the Eagles were willing to pay Jeffery a one-year prove-it deal. The Bears reportedly were not moving north of $12 million per season.
Did the signing of Mike Glennon by the Bears factor into Jeffery's decision? Reports are emerging that Jeffery was intent on moving on. The reasons are not fully known yet, but it is said that Jeffery wanted to play on a winning team and clearly the Bears are not there yet.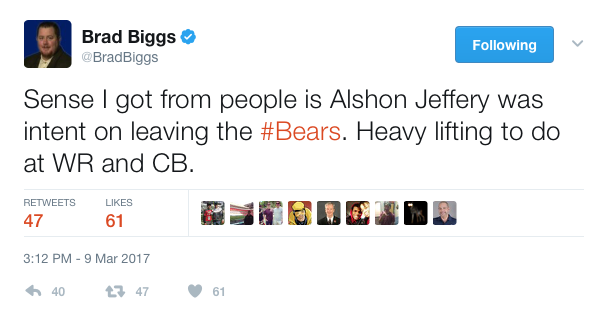 Rapoport also reports that Jeffery turned down a multi-year contract from the Minnesota Vikings that offered more security. Jeffery told his agent he wanted to bet on himself and figured a season of playing with Carson Wentz could get his performance into the Antonio Brown area and therefore complimentary dollars. Jeffery will also re-unite with wide receivers coach Mike Groh. It was under Groh that he had his two best seasons where he totaled 2,554 yards, 174 receptions and 17 touchdowns.
Hindsight is 20-20, but Pace should have nailed a deal with Jeffery last season. Now, the Bears wide receiver depth chart begins with undrafted free agent Cameron Meredith and is followed by Kevin White who has played four games in two seasons. Eddie Royal is expected to be released soon.
Aldo Gandia
Among my career highlights I have produced two films while in high school that received nationwide attention; leaned out of a helicopter over the Gulf of Suez at the age of 20 to shoot movies of oil rigs; won an Emmy award for a sports special and another for a kid's fitness show; and led a team of very talented creative professionals to produce break-through corporate communications.
---
---